Cheese And Crackers Just Got A Major Upgrade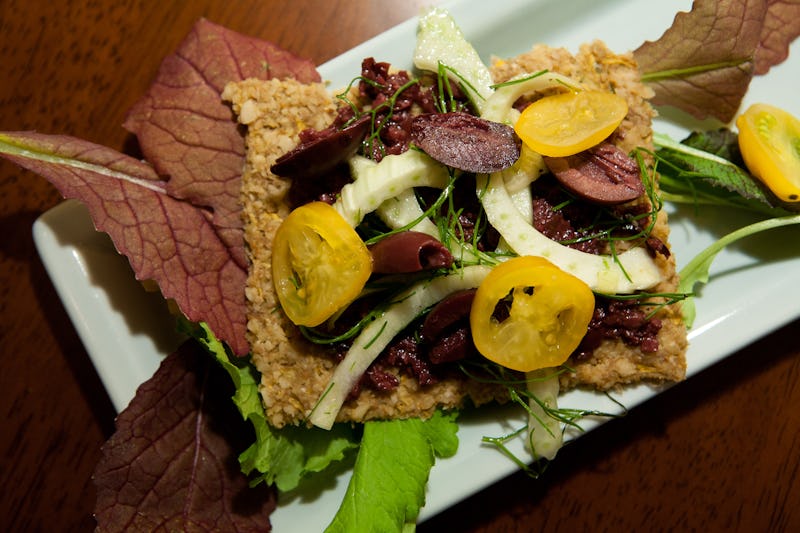 Brendan Hoffman/Getty Images Entertainment/Getty Images
You know that moment. You are getting ready for a friend's holiday party when it dawns on you — you completely forgot to make something to bring. Friends, don't underestimate the power of creative holiday cracker toppings. I'm not talking about your regular old cheese and meat set-up (although that can be delicious too). The ideas here are way more sophisticated, and taste extra amazing. There is no need to rush out the door and spend money on a forgettable pigs-in-a-blanket tray, or a sheepish bottle of wine. Instead, open your cabinets and pull out that unassuming box of crackers. That box is here to save your day.
Crackers — so plain, so innocent, so crispy and light. They are the snack everyone has on hand, just waiting to be loaded up with cheese and guac, and to help satisfy any and every emergency salt, carb, and peanut butter craving. But these flat, salty squares are so much more than a craving-buster of a snack. They are your secret appetizer weapon. They are vehicles for deliciousness. They are tiny canvases ready for flavor. OK, so I exaggerate, but in all seriousness, these crispy, tangy, sweet, crazy-good cracker hacks will help you transform pantry staples into glorious holiday morsels.
1. Whip Up Some Christmas Crack
Got saltines, butter, brown sugar, and chocolate chips on hand? Even if you don't think you have the 10 minutes it takes to throw together this salty, sweet, insanely delicious snack (it's called "Christmas Crack" for a reason), do it. Having this on hand upon arrival will ensure that you are a (fashionably late) party hero. Table for Two's recipe is a winner, and as the name warns, this stuff is addictive. Put it in the backseat on the way to your shin-dig, or else it'll be gone by the time you arrive.
2. Reinvent Deviled Eggs
Foodiecrush's sophisticated twist on a Triscuit will win guests over: add a slice of hard-boiled egg, a few capers, dill, a drizzle of olive oil, and a dash of paprika. In minutes, these simple ingredients transform this school-lunch snack into a tangy, spicy, unique treat worthy of a shiny party tray.
3. Surprise Guests With Goat Cheese, Pickles, And Honey
Pickles and honey? Goat cheese? It sounded totally weird to me, but this idea from The Jelly Toast blew my mind. I could have eaten 20 — and, well, I did. Bring these to your ugly sweater bash!
4. Top With DIY White Bean Dip
If you have a blender, a can of white beans, and a box of crackers on hand, this delectable standby spread comes together faster than you can sing "Jingle Bells." Even vegans will applaud Good Life Eats' version — its bright, floral, lemony flavor and smooth texture is a crowd-pleaser.
5. Bake Them With Rolos
Something Swanky is so onto something with this insanely simple, unique treat. Ritz + Rolos = serious tidings of comfort and joy. Pair a whole handful with a warm holiday cocktail for pure bliss.
6. Add A Dab Of Pesto And A Slice Of Mozzarella
Mediterranean flavors ooze out of this flavorful bite, concocted by Foodie Crush. Feel free to add your own flair — an olive or a red pepper, or perhaps a slice of pepperoni for a spicy twist. Enjoy!
7. Be A Holiday Party Hero With Salami, Avocado, And Brie
Who doesn't love a slice of avocado on a cracker? Pair with salami and cheese, and you're out the door and ready for your entrance.
8. Sweeten Them Up With Berries And Cream
Craving something sweet and fancy? Borrow this delicious twist on a cracker from Mel's Kitchen — combine sugar, cinnamon, cream cheese, and yogurt for a pillowy base on which to lay your fresh berries. Drizzle with honey, add some mint, and voila — plain crackers become that unexpected sweet treat everyone asks about!
9. Add Some Prosciutto
I mean, prosciutto never fails to wow. And a little piece goes a long way when The Steamy Kitchen combines it with spicy arugula, creamy ricotta, and fresh honey. My mouth is watering.
10. Pair Them With Creamy Edamame Dip
For a healthy crowd, turn edamame into something special. In this recipe by Oh She Glows, frozen edamame teams up with garlic, lemon, and tahini to create hummus with a twist. Your crackers will sing in heavenly peace.
11. Stack Turkey, Pepperjack, And Pepper Jelly
Sometimes, melted cheese and a hint of spice makes everything right. House of Yumm's take on a cracker's combination of melted pepperjack, turkey, and spicy-sweet pepper jelly is a winner. Yum!
12. Make Some Cracker Nachos... And Watch Them Disappear
Nachos on a cracker? Yes please. Domestic Fits' heavenly bites of cheese, salsa, sour cream, and guac are worthy of the holiday season. You can change the toppings up to suit your mood, too. Leave these out for Santa, and he will leave you extra presents.
Looking for more holiday cheer? Check out Bustle on YouTube.