9 Hanukkah Picture Books Adults Will Love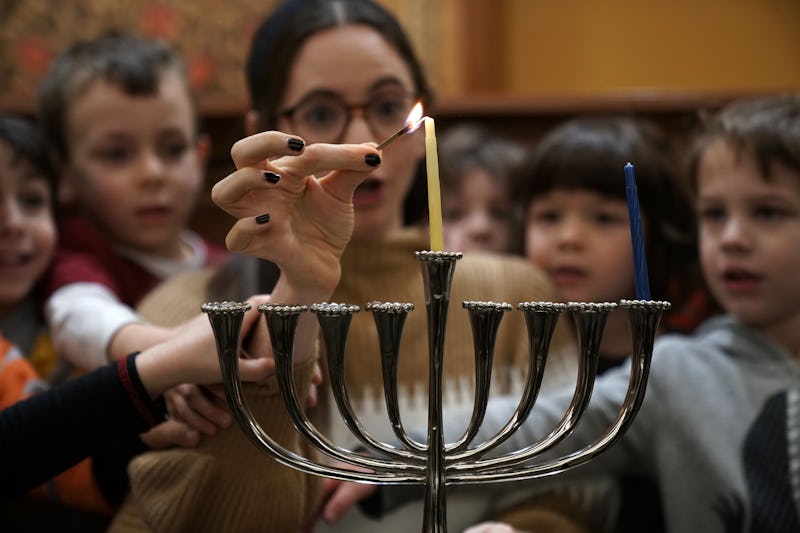 Alex Wong/Getty Images News/Getty Images
When I was growing up, every year on the day after Thanksgiving my mother would venture deep into the garage to dig out our box of holiday children's books. We had hundreds of these books — year after year it seemed as though there were even more — and my mother would line them all up on a shelf in our family room, where they would stay until well after the New Year. For me, this was one of the best parts of the holiday season.
In my house, we celebrated all the holidays through these books. There were Hanukkah picture books and Christmas children's books, chapter books filled with characters who celebrated Kwanzaa and the Winter Solstice, Chinese New Year, Three Kings Day, and the arrival of St. Nicholas. There were even a handful of Nightmare Before Christmas-esque books that featured slightly more haunting winter holidays. Even when I was well into my teens, and too old for many of the books my mother had collected over the years, I still curled up with these holiday picture books and children's chapter books, losing myself in the festivities of the holiday season.
Here are nine of the best Hanukkah picture books for children that adults will love too — because what better time to feel like a kid again than around the holidays?
1. The Miracle Jar: A Hanukkah Story by Audrey Penn and Lea Lyon
As Sophie and her brother prepare for their family's Hanukkah celebration, their father shares the story of the miracle of Hanukkah with them. When Sophie's family realizes they too might not have enough cooking oil to last all eight days of Hanukkah, the history of the holiday has even more meaning. With each latke fried in The Miracle Jar the family watches their jar of cooking oil become more empty, as they learn the true meaning of Hanukkah together.
2. The Night Before Hanukkah by Natasha Wing and Amy Wummer
When you're young, the night before the holidays begin is always filled with such excited anticipation — and the family preparing their latkes, arranging their candles, and spinning their dreidel in The Night Before Hanukkah are no different.
3. Menorah in the Night Sky by Jacques J. M. Shore
Zev and David are best friends living in a concentration camp during the Holocaust, and hoping for a Hanukkah miracle. Without a menorah the boys cannot celebrate the lighting of the candles each night, so instead they look to the night sky for illumination. Menorah in the Night Sky is a sad, but hopeful children's book.
4. Honeyky Hanukah by Woody Guthrie
What's better than a children's book with a little musical accompaniment? Well Honeyky Hanukah is just that. Folk singer Woody Guthrie follows a young boy and his dog around his family's home as he gathers everyone together for the Hanukkah holiday celebration — singing all the while.
5. The Dreidel that Wouldn't Spin: A Toyshop Tale of Hanukkah by Martha Seif Simpson
This toy store owner and his shoppers alike are baffled when the most beautiful dreidel sold in the shop refuses to spin — at least, for the two greedy children who bought it, that is. But when the shopkeeper gives the dreidel to another child, one who isn't quite so greedy, the toy works perfectly. Filled with lessons about generosity and Hanukkah spirit, The Dreidel that Wouldn't Spin is a great holiday title.
6. Hershel and the Hanukkah Goblins by Eric A. Kimmel and Trina Schart Hyman
When Hershel discovers that a group of goblins is haunting the synagogue of a small village, preventing the villagers from celebrating Hanukkah there, he decides to step in and rid the village of its pesky goblins once and for all. Hershel and the Hanukkah Goblins tells the story of one man's determination to save Hanukkah.
7. Chanukah Lights Everywhere by Michael J. Rosen and Melissa Iwai
In a world with so many different holiday customs, Chanukah Lights Everywhere tells the story of a young family learning about their own holiday traditions, as well as the different traditions that surround them in their neighborhood — a children's book filled with light, love, and a whole lot of holiday joy.
8. Moishe's Miracle: A Hanukkah Story by Laura Krauss Melmed and David Slonim
In Moishe's Miracle, Moishe is gifted with a magical frying pan that cooks up as many latkes as anyone could ask for; hundreds and hundreds of latkes even. (Getting hungry?) The only catch is that Moishe is the only person allowed to use the frying pan — a guideline that his stubborn wife refuses to follow. Oops.
9. Simon and the Bear by Eric A. Kimmel and Matthew Trueman
Young Simon is on his way to America to find his fortune and help bring his family to New York as well. Before he sets sail, his mother reminds him to always celebrate the miracle of Hanukkah, no matter where he is. When his ship sinks and Simon becomes stranded alone on an iceberg, his mother's words turn out to be what will save not only Simon's life, but his family's future. Simon and the Bear is all about hope and miracles.