Delicious & Healthy Ways To Start The Day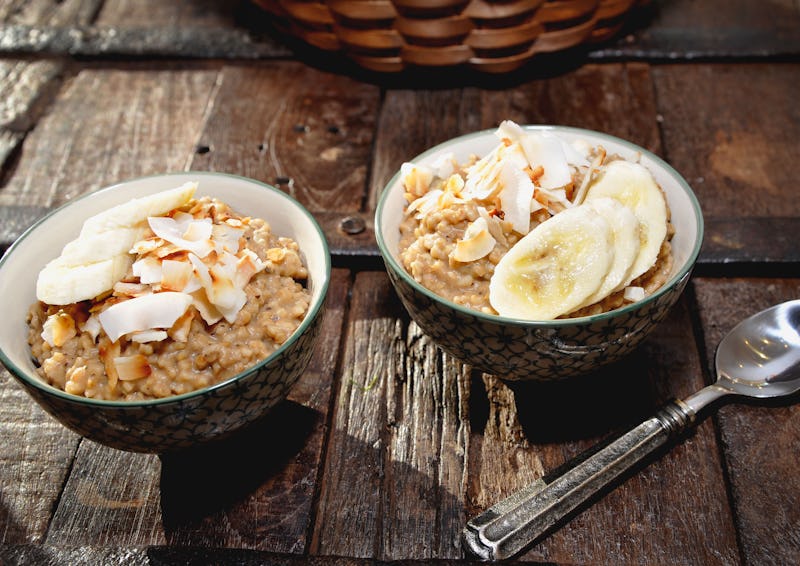 John Sciulli/Getty Images Entertainment/Getty Images
I love an unhealthy breakfast. A stack of pancakes heaped in butter and syrup with a side of bacon is kind of my jam. However, I also know that I actually need a little thing called nutrition to function well, and it's because of this that I'm always collecting healthy breakfast recipes to keep me going and satisfy my taste buds.
I used to run out the door after downing a sugary treat, like a donut or chocolate muffin — or worse, eat nothing at all because I didn't actually have anything in the house that enticed me. This would inevitably lead to feeling hungry and unfocussed by the time I started work, which would then lead to a trip to the vending machine (spoiler alert: there's nothing particularly good for you in those things).
After finally getting sick of the pre-lunch sugar crashes, I made an effort to actually prioritize breakfast, and the results were pretty awesome. I not only just felt better overall, but I found that actually being excited for my morning meal helped get me out of bed each day. It also had the added bonus of making me feel like I had a little "me time" before work, as actually sitting down to a meal before getting dressed gave me some time to center myself for the day.
If you're looking to make a change in your morning breakfast routine, or already have it down but are just on the prowl for some new recipes, here are nine healthy breakfasts that actually taste good.
1. Three-Ingredient Banana Pancakes
I freaking love these things. There's no added sugar and even though they're called pancakes, they actually taste more like banana french toast. Personal trainer and YouTuber Cassie Ho even recommends them as great fuel for before a workout. Seriously — this is so worth trying!
2. Yogurt Parfait
Yogurt parfaits are not only incredibly good for you, but they are so incredibly easy. They don't even really count as cooking as much as just mixing stuff together. Dawn Jackson, RD, and Fitness Magazine advisory member, recommended using greek yogurt specifically, as it can contain twice the protein of regular yogurt. I personally recommend making them in a pretty transparent glass, as it makes them way more fun to eat.
3. Eggs And Smoked Salmon Scramble
In article for Business Insider about what real nutritionists actually eat for breakfast, Sara Cowlan, MS, RD, CDN, said she just eats different kinds of egg scrambles, as they're super easy to make and versatile. This is one of those recipes that looks super fancy, but is actually super simple. Just throw some sliced locks in with your scrambled eggs, throw some whole grain toast in the toaster, and you're done. And you can always add some veggies to the mix if you'd like.
4. A Homemade Breakfast Sandwich
Breakfast sandwiches are not only super filling, but they can be way healthy if prepared with nutrition in mind. Professional chef and nutritionist Cathy Parsons has some great tips for healthy breakfast sandwiches on her website. All you really need is some whole grain bread, turkey, avocado, and an egg, with salt and pepper to taste (and feel free to spice things up with a little cheese if you want to indulge).
5. A Breakfast Smoothie
In the same Business Insider piece, nutritionist Joan Salge Blake and author of Nutrition & You said she starts her morning off with a breakfast smoothie, as it's an efficient way to pack in a ton of nutrients.
I'm personally not the biggest fan of breakfast smoothies since I loathe cleaning out my blender, but my roommate who can get to work a little later than I can swears by them as the absolute happiest way to start the morning.
6. Whole Wheat Breakfast Muffins
Dietician Heather Mason and founder of The Nutty Nutritionist recommends oat-based muffins for a super portable breakfast that is also actually good for you. And you can make a ton in advance and keep them in the freezer so that you have an instant healthy breakfast even when in a rush.
7. Mini Breakfast Quiches
Like the muffins, these are awesome in that you can make a whole batch on Sunday and have breakfast ready to go for the entire week, and holistic nutritionist Christal Sczebel, founder of Nutritionist In The Kitch said, "They are so easy to put together and a great healthy choice." And bonus: they look super fancy.
8. A Baked Sweet Potato
OK, you're probably thinking that this can't be it: a baked potato? But a pre-cooked sweet potato with a dash of cinnamon is not only delicious, but it's super nutritious as well. Plus, as YouTuber and Lifestyle expert Miranda Valentine said in the above how-to video, you're getting complex carbohydrates that will keep you full for much longer than sugary cereal or baked goods.
9. Oatmeal With A Twist
In a piece for Shape, registered dietician and author Mitzi Dulan said, "I really focus on eating clean foods that taste great but also satisfy," and noted that because of this, she starts her day off with oatmeal. And oatmeal doesn't have to be totally boring — it can actually taste amazing when prepared the right way. The Food Network even has a recipe for "Hot Chocolate" Banana-Nut Oatmeal made from nutritious ingredients.
A healthy breakfast doesn't have to mean egg whites or flavorless oats — there are actually a ton of good for you recipes that you'll actually be excited to eat. So go forth and breakfast like a champion!