The 30 Best YA Book Covers Of 2015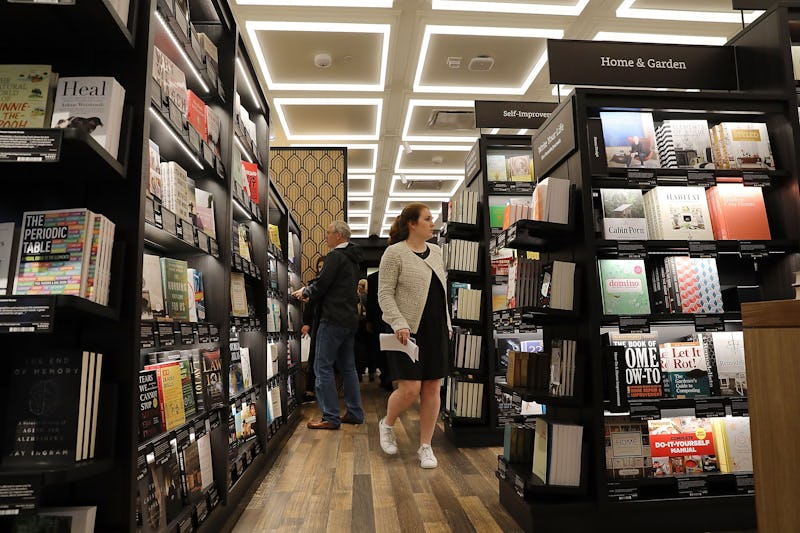 Spencer Platt/Getty Images News/Getty Images
One of the first life lessons we ever learn is "don't judge a book by its cover." And while I definitely agree that we shouldn't make surface-level judgments, I'm 100 percent on the side of championing the most beautiful, creative, coolest, and best book covers. And if you have been collecting young adult books this year from your favorite independent bookstores, then it's safe to say your bookshelves are looking pretty killer gorgeous right now because publishers and designers are releasing top-notch YA book covers in 2015.
A great book cover can amplify the text and themes of a book, using color, font, photographs, illustrations, or even completely stark visuals. And in an abundance of YA riches, a cool cover, for better or for worse, can make the difference between pulling a book of a library shelf or not. It's like the cherry on top of an already delicious ice cream sundae; a great book cover only makes things better.
No matter your taste or style, the young adult books this year had a book cover that would catch the eye of anyone. But it would be hard to argue with any of these 30 best YA book covers on the list. They would amp up any bookshelf.
1. Made You Up by Francesca Zappia (Greenwillow Books)
Photographer: Tristan Lane
2. 5 to 1 by Holly Bodger (Knopf Books for Young Readers)
Illustrator: Jen Heuer
3. Mosquitoland by David Arnold (Viking Children's)
Designer: Theresa Evangelista, Illustrator: Andrew Fairclough
4. Audacity by Melanie Crowder (Philomel)
Designer: Jeanine Henderson
5. The Wrath and the Dawn by Renee Ahdieh (G.P. Putnam's Sons Books for Young Readers)
Credit: Michelle Monique Photography, Rauluminate/istock
6. Vengeance Road by Erin Bowman (HMH Books for Young Readers)
Designer/Illustrator: Teagan White
7. The Way We Bared Our Souls by Willa Strayhorn (Razorbill)
Designer: Theresa M. Evangelista
8. Placebo Junkies by J.C. Carleson (Knopf Books for Young Readers)
Designer: Ray Shappell
9. Believarexic by J.J. Johnson (Peachtree Publishers)
Designer: Nicola Simmonds Carmack
10. Ten Thousand Skies Above You by Claudia Gray (HarperTeen)
11. About a Girl by Sarah McCarry (St. Martin's Griffin)
Designer: Elsie Lyons, Photographer: Sandy Honig
12. The Loudness: A Novel by Nick Courage (Sky Pony Press)
Designer: Rain Saukas
13. Suicide Notes From Beautiful Girls by Lynn Weingarten (Simon Pulse)
Designer: Regina Flath
14. Bone Gap by Laura Ruby (Balzer + Bray)
15. I Crawl Through It by A.S. King (Little, Brown Books for Young Readers)
Designers: Liz Casal and Maggie Edkins
15. Red Queen by Victoria Aveyard (HarperTeen)
Jacket artist: Michael Frost, Jacket Designer: Sarah Nichole Kaufman
16. The Queen of Bright and Shiny Things by Ann Aguirre (Feiwel & Friends)
Designer: Anna Booth
17. Sweet by Emmy Laybourne (Square Fish)
18. Hit by Delilah S. Dawson (Simon Pulse)
Designer: Regina Flath
19. Weird Girl and What's His Name by Meagan Brothers (Three Rooms Press)
Designer: Victoria Black
20. The Ghosts of Heaven by Marcus Sedgwick (Roaring Brook Press)
Designer: Elizabeth Clark
21. Tangled Webs by Lee Bross (Disney Hyperion)
Designer: Whitney Manger, Illustrator: Teagan White
22. No Parking at the End Times by Bryan Bliss (Greenwillow Books)
23. X by Ilyasah Shabazz and Kekla Magoon (Candlewick Press)
Designer: Matt Roeser, Everett Collection/ Superstock
24. Cleo by Lucy Coats (Orchard Books)
Designer: Orchard Books Design
25. I'll Meet You There by Heather Demetrios (Henry Holt and Co.)
Designer: Ashley Halsey
26. Alex as Well by Alyssa Brugman (Henry Holt and Co.)
27. Show and Prove by Sofia Quintero (Knopf Books for Young Readers)
28. The Way Back from Broken by Amber J. Keyser (Carolrhoda Lab)
29. I Am Princess X by Cherie Priest (Arthur A. Levine Books)
30. We'll Never Be Apart by Emiko Jean (HMH Books for Young Readers)
Getty, Hand Lettering Art: Leah Palmer Preiss