9 Tips To Make Wedding Dress Shopping Better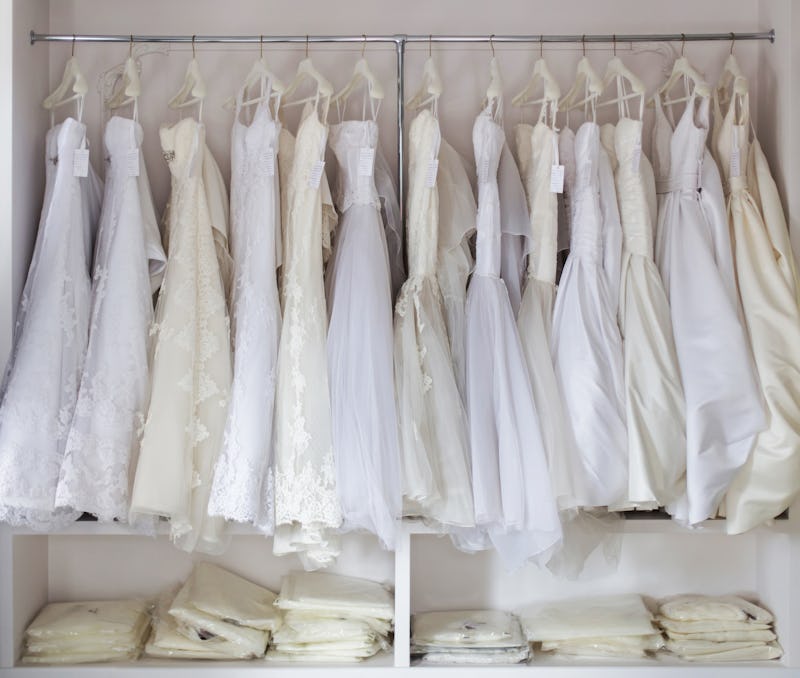 Shopping for a wedding dress can be absolutely magical. Sitting around with your girlfriends, drinking champagne and trying on beautiful gowns for the happiest day of your life?
Though bridal dress shopping seems like it should be all laughs and lace, it can actually be super stressful. After all, there is a lot of pressure to get the absolute perfect dress. Throw in some less-than-helpful friends and relatives and pushy salespeople and you've got a tough situation. You going in thinking it's going to be like this:
But it will actually be more like this:
Lucky for you, we've compiled some tips on going dress shopping without losing your mind.
1. Don't expect to find your dress the first day
If you do, great. But that is not the norm. You should expect that you will have to take multiple trips and go to different stores. Be patient. This is why you should also start your shopping process early. You don't want to feel rushed.
2. Do your research
Really think about what style you want, but also factor in the wedding venue (a ball gown may not be the way to go for a beach wedding) and theme of your wedding. Are you going for elegant, romantic, classic, etc.? The more you can tell the stylist, the easier it will be. Think about what you really want.
If you are having a beach wedding you probably aren't going to go for a Kate Middleton-type wedding dress. Monica Ferguson, wedding expert and co-founder of high heel shoe protector Solemates, told Bustle, "The first thing to consider when picking out a dress is the type of wedding that you want to have — casual, formal, beachy, traditional, hipster, etc. The feeling of your wedding does not mean the "theme" of your wedding. The feeling of the wedding is just the extent to which your personality as a couple is reflected in the event. Be true to yourself — this is not the time to take a sartorial risk."
3. Photograph the dress from every angle
If you ever wanted to feel like a movie star being stalked by the paparazzi, this is the time. Have your friends photograph the dress from literally every angle. Do you like every detail of it? The back? The train? The corset? Take photographs until you can't take any more, and make sure to move around in the dress. Yes, you will be standing still for a lot of photographs at your wedding but you'll also be walking down the aisle, tearing up the dance floor, and running across the venue to greet old friends. The dress may look great when you are standing perfectly still but if you can't move in it, it will show.
4. Bring a supportive group
The group you choose to accompany you is of the utmost importance. Most women bring their moms or maybe their future mother-in-laws and a few friends or sisters. You probably can't get around certain relatives but you have to be careful with friends. You need to bring people that will offer the perfect amount of support and honest feedback. Just like you need to inform the stylist of what you want, you should also tell your group so that they can envision your ideal style and help find gowns that fit that mold.
5. Buy the dress that fits now...not in six months
This is an important one. Yes, you will probably go on the bride diet and lose weight for the big day, but do not buy a dress that doesn't fit. It is easy to take a dress in, but it is much more difficult to add fabric to it. Also, don't get upset because it seems like things only come in sizes that would fit an Olsen twin. You can still try on dresses due to the magic of stretchy bands and clips. "Do not fixate on the actual size but instead on how your measurements compare to the particular line on the specific designer's size chart," Gesinee of Gesinee's Bridal in Concord, CA, told Bridal Guide.
6. Don't let on that you are a pro
When you are on your fourth or fifth trip don't tell the saleswoman that you know the routine by heart. Maressa Brown of TheStir wrote, "Assuming you're high maintenance, salespeople might show you fewer gowns and attempt to steer you to "the one" faster than they would otherwise."
7. Don't try a dress on you know you can't afford
Unless you are just doing it for fun, but do not try on a dress you know you will love but would require you to sell your kidneys on the black market to afford. It will just lead to heartbreak. According to Fox Business News, the average cost of a wedding dress in the U.S. is around $1,100, but experts say fiscally-savvy brides can save 50% or more on their gowns if they know where to look.
8. Don't fall for sales
There will always be another sale. This is not the be-all and end-all day of wedding dress sales. Brown wrote, "Do your best not to be swayed/pressured by a trunk show that's going on the day you hit the shop. The reps may make it seem like it's your last opportunity to get an awesome deal, but you may be able to get just as good a deal in other ways — at sales elsewhere, at stores willing to negotiate, etc.
9. Keep an open mind
You should definitely know what you want in a dress, but don't cross anything off the list at first. Try on dresses of different styles (in your price range!) because you never know what you'll fall in love with.
Image: Fotolia