Devon Sawa Is a Dad & 6 Other Childhood Crush Updates That Will Make You Feel SO Old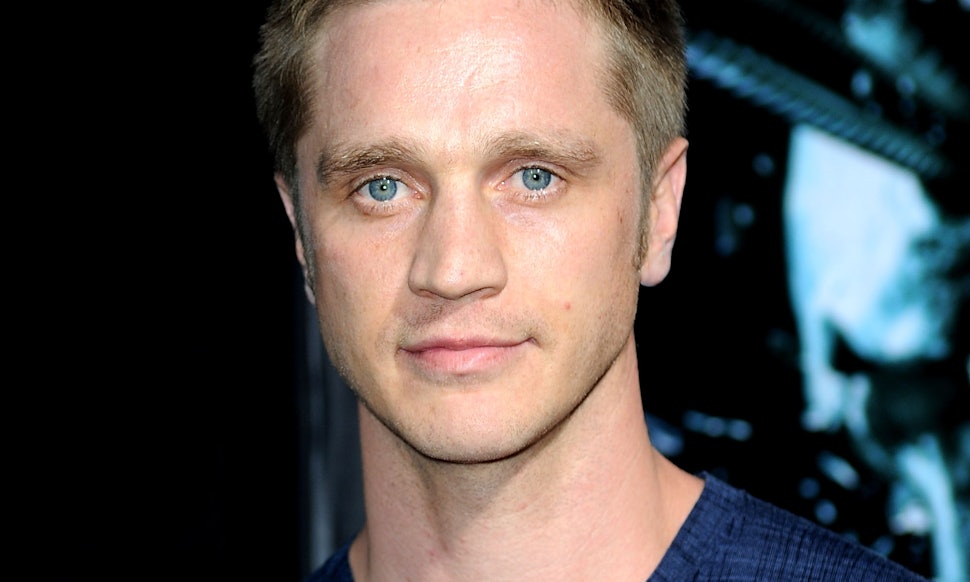 Frazer Harrison/Getty Images Entertainment/Getty Images
So, Thursday news officially broke that Devon Sawa became a father last week. Let's make sure that's really sinking in: On Jan. 9, 2014, Casper's wife had a baby. That guy that Christina Ricci kissed in Now and Then is a dad. Mark from Wild America has procreated. How old do you feel right now? Think that hurts? Check out our gallery of 6 other crushes from your childhood who are all approaching Clooney territory.
Image: Getty Images
Devon Sawa is a Dad
Meet Hudson. He was born last week and is "8 lbs., 1 oz. of pure love,"as Devon told People. Devon Sawa used to be the kind-of bad boy you crushed on hard in the 90s. Now, he uses his Twitter to post endless pictures of Hudson's nursery. Basically, if Devon Sawa were a guy you went to high school with, you would have unfollowed him now. So. Sad.
Image: Twitter
James Marsden is a Silver Fox
Oh, James Marsden. You remember James Marsden, right? He played Cyclops in the X-Men movies and stole your heart as the lovable, gorgeous, genuinely-nice guy in movies like Sugar & Spice and The Notebook. Like, if there was anyone who could have made you want Rachel McAdams to end up with anyone other than Ryan Gosling, it would be him. (No such person exists, of course, but James Marsden is about as close as we were ever going to get.) Well, now James is 40 and his hair is going gray. Luckily, he's one of those fine wine kind of men and he's really working it (so your crush can continue into the depths of middle age, ladies), but it's still kind of a wake-up call.
Image: Getty Images
Zachery Ty Bryan Hangs Out at Home Depot
The oldest Taylor son from Home Improvement is all grown up. So grown up, in fact, that he spends his free time doing boring, adult things like hanging out at hardware stores (where employees understandably go ape shit and want pictures with him - he is Tim "The Tool Man" Taylor's TV son, after all). He also famously reunited with costar JTT (another mega heartthrob from your past) last year to less-than-positive response from the Internet Hotness Police. It's okay, Zach. We still love you. Not as much as we did in the 90s, but you know, love. Image: Twitter
Uncle Jesse...Erm, John Stamos Dated a Grandma
Last season, John Stamos appeared in the gone-too-soon Ryan Murphy comedy The New Normal. That's not so weird. He's collaborated with Murphy before (hello, dentist on Glee). What might have marked a change for those of us who grew up crushing on Uncle Jesse from Full House is that John appeared as the love interest for the grandmother on the show. Yes, she was the young grandma. Yes, she was vivacious and sexy and played by the awesome Ellen Barkin. But Uncle Jesse still wined and dined someone's Nana. Wrap your head around that one.
Image: Instagram
Freddie Prinze Jr. is a Stay at Home Dad
Freddie Prinze Jr., who you may remember as the male lead of almost every teen comedy made between 1998 and 2001, is now the stay at home father of two. He and Sarah Michelle Gellar (AKA Buffy) have been married (yeah, married) for 13 years now. To put that into perspective, your childhood crush has been married for longer than most One Direction fans have been alive. He and Sarah have an amazing marriage and two beautiful kids, Charlotte and Rocky. Sarah says that they take turns playing stay-at-home parent and since she's currently committed to her gig on CBS' The Crazy Ones, that means Freddie is home with the kids. Does he mind? Not at all. They fight for the honor.
"He loves it. We fight over who gets to stay home. You'd think it would be the opposite, that the parents would be like, 'No, I'll go to work!' but he's like, 'You stayed home for two years! It's my turn!'" Sarah explains. So yeah, he grew up to be the dream husband, just not yours.
Image: Getty Images
The Hansons Have Enough Babies to Start Like, Six New Bands
The Hanson brothers are still a band, but they have other priorities too. They each have wives and kids. SO. MANY. KIDS. Isaac, the oldest one who almost no one had a crush on, has the fewest kids with a respectably normal two. Zac, AKA Baby Hanson, has three and Taylor, AKA Your Hanson Crush, has five children.
Baby Hanson is only 28 and Your Hanson Crush is only 30. Imagine the multitudes of babies with which they could still impregnate their wives. Oh and speaking of the Mrs. Hansons, two of the three brothers ended up marrying girls they spotted at Hanson concerts, but all post-Middle of Nowhere. The lesson here is to stay a dedicated fan after the hype dies down if you want to marry your famous crush. Take heed, Directioners and buy your tickets for the 2017 tour now.
Image: Getty Images
Andrew Keegan Has Wrinkles, Wears Cardigans
WWJDW: What Would Joey Donner Wear? Answer: Not this tee-shirt + cardigan ensem. Andrew Keegan might have been the popular, rich douchebag you weren't supposed to cheer for in his movies (or, at least in the one that matters: 10 Things I Hate About You), but in real life, he was prime 90s crush material. Today, Andrew looks more like your slightly-creepy uncle than a mega-hunk. RIP, Pensive Joey Donner. RIP.
Image: Getty Images