'Six Feet Under' Gave These 10 Famous Stars a Guest Starring Role Before They Were Huge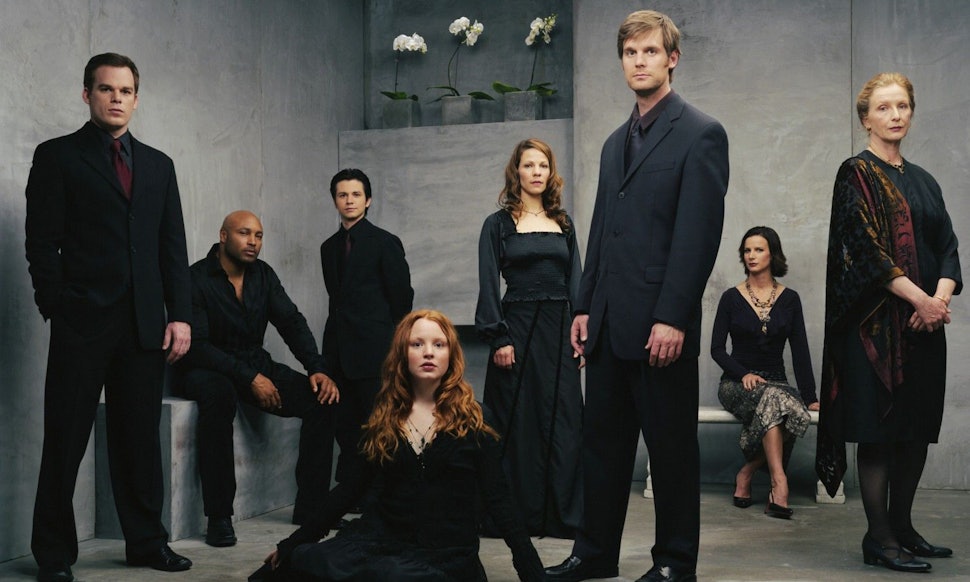 From 2001 - 2005, Six Feet Under was the Breaking Bad of the TV world: ambitious, dark, compelling. The show centered around an independent funeral home and the family that runs it. Beyond the impeccable script and superb acting (just watch a video of Jeremy Sisto as Billy if you're skeptical), the beginning of each episode uniformly portrayed death in the most shocking ways.
In this prolific series, a multitude of current high-profile stars pop up. Here are 10 current TV stars who have appeared in Six Feet Under:
Image: HBO
Anna Gunn
Best known for her role as Skyler White on Breaking Bad, Gunn did a 2004 episode of Six Feet Under in between her roles in The Practice and Deadwood. She also got to roll around naked with Peter Krause.
Image: HBO
Josh Radnor
Before Radnor was Ted Mosby, the lovable dork looking for love in How I Met Your Mother, he was featured in a 2003 episode of Six Feet Under. Playing a dead person that is alive in Nate Fisher's (Peter Krause) imagination, Radnor dons a mustache and acts as a foil for Fisher. You can watch the clip here if you don't mind the cursing.
Image: HBO
Sandra Oh
Is that you, Dr. Cristina Yang? Oh played a friend of Viveca St. John, a porn star who was accidentally electrocuted in her bathtub back in 2001, way before her securing her acclaimed role on Grey's Anatomy.
Image: HBO
Rainn Wilson
Before Dwight Shrute there was Arthur Martin, an intern at the funeral home. Wilson has a talent for playing the odd, and has a bunch of great lines as a reoccurring character. He's basically a mellowed-out version of Dwight, way before The Office was on NBC.
Image: HBO
Jenna Fischer
Speaking of The Office, Fischer had a two-episode arc as the date of Fisher & Sons' embalmer, Rico (Freddy Rodriguez) in 2005. That year Fischer went on to star as Pam Halpert (née Beesly) in the nine-year-long sitcom.
Image: HBO
Chris Messina
It's already been proven that Messina is the most hardworking actor in the industry. In 2005, Messina played Ted, the soon-to-be husband of rebel daughter Claire Fisher (Lauren Ambrose). He's the total opposite, of say, Danny Castellano, and the six-episode arc showcases his range as an actor.
Image: HBO
Michelle Trachtenberg and Bobby Cannavale
Harriet the Spy grew up to be pop star Celeste with Cannavale as her body guard. The two are featured in a four-episode arc that acts to separate couple David Fisher (Michael C. Hall) and Keith (Mathew St. Patrick).
Image: HBO
Jayma Mays
The Glee star once played babysitter Donna, a young woman who takes in a homeless man while babysitting and is obsessed with becoming a participant on Survivor .
Image: HBO
Adam Scott
Ben Wyatt and Dexter Morgan making out. Watch and obsess.
Image: HBO