9 Tips For Organizing Your Bathroom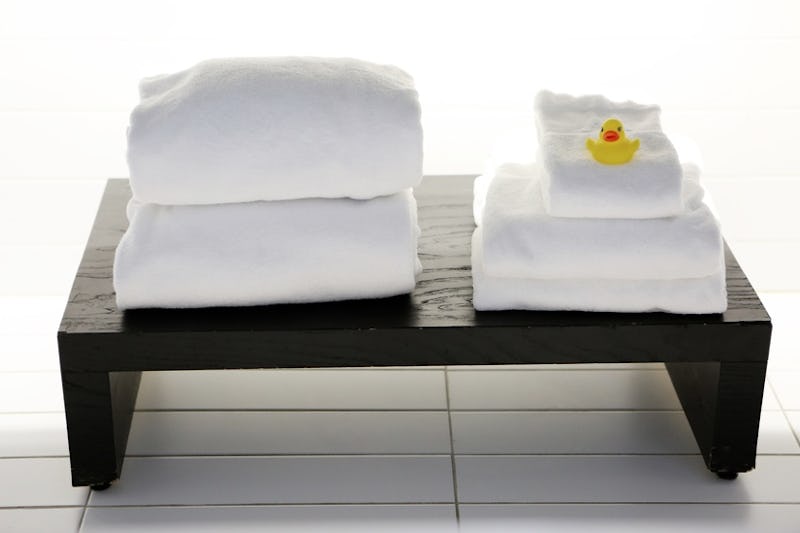 Our bathrooms are one of the most important, if perhaps least talked about, rooms in our homes. It's why a few genius bathroom organization hacks can actually truly revolutionize how we feel about this often underappreciated space and genuinely make our lives more functional. Not to mention, there's nothing quite like walking into a super clean and well organized space to make us feel a little more at peace.
For reference, I once lived in a house with six (yes, six) roommates, not including myself, and we all shared a single bathroom. And while it wasn't always pleasant, it taught me some very valuable lessons about how to organize a space to make it as functional and pleasant as possible.
And even though I now only live with two other girls, our bathroom is about the size of a broom closet, so maximizing space and making sure everything is setup to avoid massive clutter and build up is still very important to the quality of our day-to-day home lives. If we don't have a few basic systems and organizational accessories in place, it's suddenly a lot more frustrating to get ready in the morning, or even enjoy getting ready for a night out. If you're dealing with a small bathroom, or just feel like you need a bathroom organization overhaul, here are nine basic tips that will make a huge difference in your life.
1. Watch For Product Clutter
In a piece on bathroom organization for HGTV.com, lifestyle expert Caren Baginski said to first get rid of all of your product clutter. "Gels, sprays, curlers, combs and hair dryers take up a lot of space in the bathroom. For quick organization, buy a plastic tub for under the sink and load it up with your supplies. As you place them in the tub, evaluate whether you use the product often. If not, donate it to a friend or to charity," Baginski said.
2. Use The Space Above Your Toilet
Home Styles 5760-106 Orleans Over-The-Commode Stand, $162.36, ATGStores.com
Baginski also reminded us not to forget about the vertical space above our toilets when it comes to shelving and storage. "Even in small bathrooms there's space for organization; you just have to know where to look. Over the toilet bath furniture is a great place to put extra toilet paper, toiletries and even towels. If you don't keep the toilet seat down, opt for a unit with cabinets or closed shelving," Baginski said.
3. Keep A Container Handy For Hair Accessories
Straight Sided Glass Jar, $0.75, Uline.com
I recently realized that I tend to take down my hair before getting into the shower and end up throwing hair elastics and clips around the sink, creating unnecessary surface clutter and causing me to constantly misplace them. I cleaned out an old jar of air freshener beads and now keep it as a little storage container on my sink for these little odds and ends, meaning things look way neater and I now always know where to find hair ties.
4. Keep Disposable Products Visible
Glass Canisters (Set of 3), $59.99, CrateandBarrel.com
Sara Kate Gillingham, founder of TheKitchn.com, said she likes to store ingredients like pasta and grains in clear jars in her kitchen so she always knows what she has, and the same logic holds true for your bathroom storage. Keep things like cotton balls and Q-Tips in clear glass or plastic jars so you always know when you need to buy more. Plus, it just looks nice!
5. Make A Sink Skirt
Pattern Sink Skirt, $9.99, Jet.com
This tip from interior designer Marion Parsons is for any of you out there who have a pedestal sink without any built-in storage. Just cut some fabric and velcro to give your sink a "skirt." You can then use the hidden space behind the fabric for additional storage.
6. Vertical Containers For Vertical Accessories
Perch by Urbio Magnetic Wall Container, $7.99, OfficeDepot.com
In a piece on bathroom organization, the Martha Stewart team noted that a lot of bathroom products, like brushes and combs, take up a lot of horizontal space when laid flat, so wall containers that make use of vertical space are a super efficient option.
7. Install Towel Bars
York Over The Door Towel Rack, $29.99, CurtainandBathOutlet.com
Instead of cursing the fact that you never have enough space to hang your towels, just install a few more hanging shelves vertically in a row. Getting all the materials and installing the shelves won't take more than a few hours, and it will be more than worth it in the long run when you don't come home to a pile of towels on the floor. And if installation isn't your thing, invest in an over-the-door rack.
8. Shower Caddy
Interior Design Rapheal Shower Caddy, $22.31, Amazon.com
This is a super simple tip that will seriously revolutionize your shower. Never again will there be a mess of bottles and lotions scattered in different places, and you'll actually be motivated to throw out things you don't use, since they'll be taking up valuable real estate in your caddy.
9. Slide-Out Storage
Silver 2-Drawer Mesh Organizer, $24.99, TheContainerStore.com
I'm personally obsessed with slide-out storage because it is so much easier than rifling in the back of a cabinet on your hands and knees to locate some random item you know is back there. Plus, it will help you keep yourself organized as you'll be able to group different kinds of products together, like hair tools or menstrual pads.
Your bathroom doesn't have to be a disorganized mass of first-aid supplies, toothbrushes, and toilet paper. It can actually be a space that you enjoy decorating — or at the very least, a super functional room that makes your life easier.
Image: Pexels (1); Courtesy Brands