Michelle Obama & Jay Pharoah Rap About Education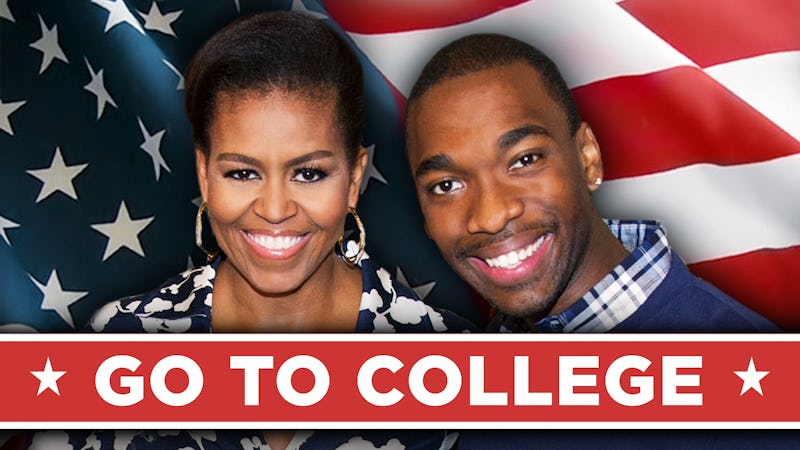 Michelle Obama has proven, yet again, that she's brilliant and funny. But now, thanks to a new video, we also know that she can rap. As part of her Better Make Room initiative, the First Lady teamed up with College Humor and Jay Pharoah from Saturday Night Live, to rap about why kids should go to college. According to the hilarious video, if kids aspire to do anything else except astrology or staring at grass, then they should probably go to college.
Better Make Room, which was launched last month, reaches out to youth directly via new media platforms to help them access and strive for a better life, starting with continued education after high school, according to the initiative's website. "Take the next step: Get a better education, have a better career, imagine a better future and live a better life," the initiative's website says. "You're about to arrive — and the world Better Make Room."
The initiative is a public awareness campaign aimed at youth, and it's also a part of Obama's larger Reach Higher initiative. Reach Higher works with educators, school counselors, government officials, and more to help kids seek a higher education, whether that's by just informing them of college opportunities or helping them understand financial aid, according to the Reach Higher website. But that kind of school-intensive stuff doesn't always empower kids or get through to them, especially when their interactions are increasingly focused on the digital sphere. And Obama, the mother of two teenage girls, obviously knows that.
That's why she teamed up with Pharoah, who plays her husband, President Barack Obama, on SNL, and also joined folk group The Gregory Brothers, who composed the video's music, to create the "Go To College Music Video."
Two actors playing high school students are studying at a table when one of them asks what the other will do after high school. He responds with, "I don't know, just hang out, I guess." But then Pharoah mysteriously appears from under the table with college textbooks and calls on the First Lady to help him explain to them why they should go to college.
With hilarious lyrics, the video makes it clear that college can help you access a career that's much cooler than watching paint dry. As Obama's Reach Higher initiative points out on its website, "In today's economy, a high school diploma just isn't enough," unless you want to study something like astrology.
In a statement, Obama said the video is meant to celebrate and empower students, according to a press release from College Humor:
When I launched my Better Make Room campaign in October, I said that this campaign is about celebrating students the same way we celebrate athletes and celebrities. I want to honor and empower young people who are working hard in school and pursuing their dreams — and I want to do it in a fun and fresh way — and that's why I was so excited to film this "music video" with Jay Pharoah, CollegeHumor, and The Gregory Brothers.
Obama even has her own solo, where she describes growing up in the South Side of Chicago: "We had to do overtime every night to make it tomorrow," Obama raps. But the real, adorable heart of the video comes when Obama says, "Hey, kid listening in Michigan, that could be you!" just after President Obama walks onto a stage.
Yeah, if you want to stare at grass, don't go to college.
But Einstein put in the time.
Sure, the video is pretty cheesy, but the message is beautiful: kids everywhere, no matter their background, can access a better life and higher education with the right tools. The First Lady is beautifully committed to changing education for kids everywhere — she'll even dance for it.