How To Keep Your Nose Warm When Running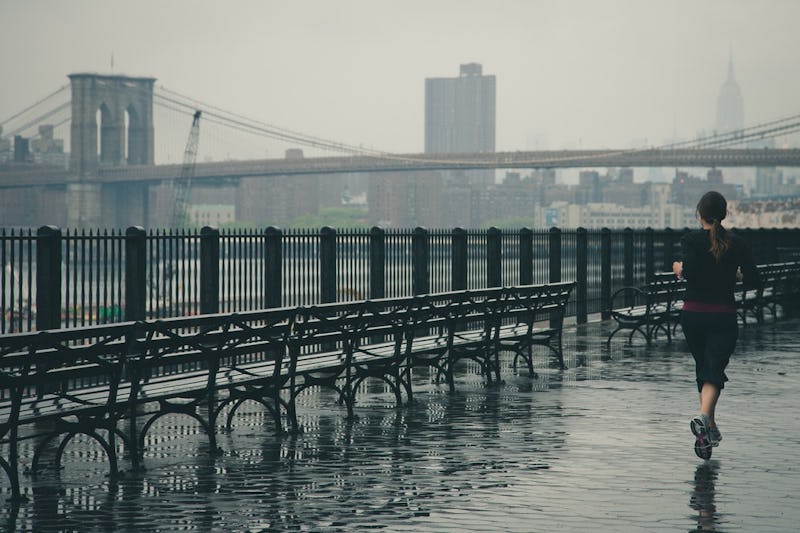 Keeping up a running habit in and of itself is hard, but it's made even trickier by nasty cold weather and icy roads. When temperatures drop down, you'll definitely want to know how to keep your nose warm when running to avoid that miserable chapped feeling! Luckily, it's easier than you think with to a few smart purchases.
I was totally spoiled when I trained for my first half marathon in tropical Tokushima, Japan. It was spring and the sun was out, the monkeys were making noises (I kid you not, my town had straight up wild monkeys everywhere), and the temperature was that perfect balance between warm and breezy.
Fast forward to just under a year later and I found myself in Manhattan trudging through ice to knock out my miles in preparation for another half. In short, it sucked. I didn't realize just how much I'd have to overhaul my running wardrobe to stay warm and had no clue how to stop my nose from getting chapped in the cold.
Fortunately, I'm a little wiser this winter and have since learned exactly what to do to keep my nose warm even if the weather is freezing. Nothing is worse than a painful, runny nose, so make sure you're prepared before you step out the door! Here's what you'll need:
1. Face Mask/Balaclava
Neoprene Fleece Face Mask, $19, Komperdell
You might feel like you look a little silly, but you'll definitely stay warm!
2. Scarf
Polartech Fleece Scarf, $28, WendyEdwardsDesigns
Sometimes, all you need is a light scarf wrapped around a few times to protect your nose and warm your breath.
3. Neck Warmer
MicroFleece Neck Warmer, $11, Amazon
If you think a scarf is going to flop around too much, a neck warmer is another great option that will stay in place better.
4. Vaseline
In extreme cold, coat your nose in vaseline before a run to prevent chapping and create a shield.
5. Nose Warmer
Nose Warmer, $9, MelPDesigns
If you're just going for a short and light jog, an adorable nose warmer is the perfect choice!
6. Steam Facial
Immediately after running, head inside and give your nose a blast of moisture with Audrey Hepburn's steam facial.
Want more beauty tips? Check out the video below, and be sure to subscribe to Bustle's YouTube page for more hacks and tricks!
Images: Francesco Gallarotti/Unsplash; Courtesy of Brands; Author's Own