10 DIY Holiday Projects For Adults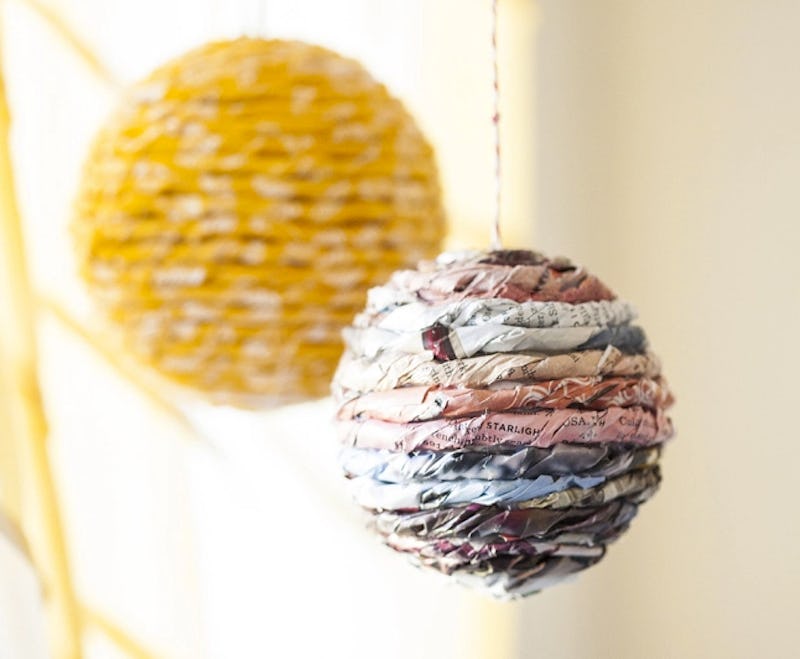 It's that time of year again, and as usual, I've overestimated the amount of holiday decor I think I have stashed away in the closet. It happens every year, and since moving across the country from my family, I've developed a few tricks to decorate on a dime using crafty DIY Christmas decoration ideas from around the web. Even though it may feel like I have a truckload of holiday swag, once I turn on my favorite Ella Fitzgerald Christmas record and open up the crates, I inevitably find nothing but a tangled mess of string lights.
There's a certain magic to creating holiday crafts that harkens back to the delightful December days in grade school when teachers would all but give up on instructions, and organize craft stations where we would make photo ornaments, paper-loop garlands, and plaster handprints carved with the year, all to memorialize our tiny size and early artistic potential. The memories are filled with that holiday magic. When I look for DIY holiday crafts in my adulthood, I'm looking for crafts that require minimal trips to a small number of stores, don't cost an arm and a leg, and are a cut above your average snowmen made out of cotton balls. Here are 10 excellent DIY projects for inspiring the decking of your halls.
1. Simple Wooden Advent Calendar
This advent calendar from The Merrythought is adorable and interactive. I remember when I was little, I looked forward to opening the tiny windows of our advent calendar to see the illustrations inside, but this homemade calendar takes the 25-day countdown to the next level, with activities like building gingerbread houses, making a snowman, and finally, leaving cookies for Santa.
2. Easy Rosemary Holiday Garland
Lifestyle guru Ingrid Nilsen is doing a month-long DIY series for the holidays, and this garland is right on the money. Rosemary grows wild where I live in Los Angeles, so there's always extra around, but if you don't have access to a hearty rosemary bush, the grocery store sprigs will work just fine.
3. Rosemary Christmas Trees
Speaking of rosemary, lots of grocery stores are now selling rosemary bushes shaped like Christmas trees. It's the perfect apartment-sized substitute for the traditional pine or fir tree, and for people who travel for the holidays, it's a great method for not skimping on the festivities, because nothing is more depressing than coming home from a holiday trip to a six-foot-tall brown tree spewing needles all over your floor. The Kitchn has further rap on the subject of rosemary trees.
4. Gingerbread Cookie Tree Ornaments
Gingerbread cookie tree ornaments are awesome — especially if you don't have any dogs. The Kitchn has a recipe for cookies with the perfect crispness for hanging on the tree. Of course, don't forget to poke holes in your cookies before baking them, otherwise you'll have to eat them all first thing.
5. Emoji Ball Ornaments For The Topical Tree
These ornaments are particularly well thought-out for the trendy 2015 tree. If you're feeling like declaring loads of cartoon emotions for the holiday season, this DIY is for you!
6. Popcorn Tree Place Settings
If you're throwing a holiday party, these little trees made from ice cream cones and popcorn are too cute. Riffing on the tradition of popcorn garland on trees, these edible displays are the perfect welcome, as the "glue" is just caramel. Find out how to put these together at Kitchen Confidante.
7. Plywood Christmas Card Display
People apparently still send Christmas cards, which is both amazing to me and incredibly pleasant when you're on the receiving end. Show off the holiday cheer you've received from loved ones with this ridiculously simple plywood display from The Merrythought. It sure beats those weird laminate displays that look like shoe organizers, to say the least.
8. Doily Wreath With Fairy Lights
Ingrid strikes again with this super cute wreath made from paper doilies. It's one part modern craftinista and one part Christmas at Grandma's house, which is really what the holidays are all about.
9. Awesome Eclectic Paper Ball Ornaments
I love these! They're made from styrofoam balls, twisted paper or fabric, and string. These are perfect for the holiday enthusiast who is decorating on a dime. Plus, they look like something that you could find at World Market for $34.99. Head on over to Offbeat & Inspired for the details.
10. Simple Rustic Wreaths
These simple wreaths are made by twisting flexible branches and adorning them with supplementary greenery. I love the simplicity, and how these wreaths really bring the outside in. Check out the how-to over at The Merrythought.
Looking for more holiday cheer? Check out Bustle on YouTube.
Images: Offbeat & Inspired; The Merrythought (3); The Kitchn (2); Kitchen Confidante