Your Definitive Winter Break Packing List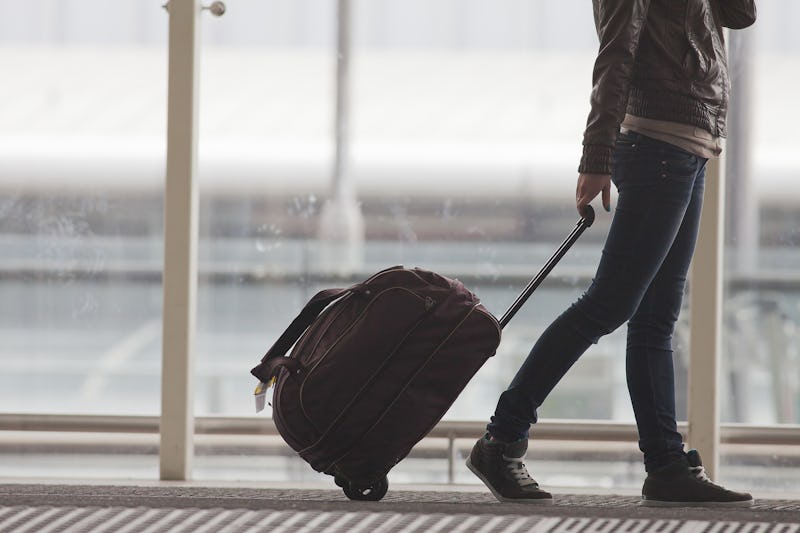 Say it with me now: Hallelujah. Break is almost in session for most college students, and it's about time, right? But between studying for final exams, saying goodbye to your crew, and tying up loose ends, it's hard to think much about what to pack for winter break. But it has to be done, of course, and you already know that it's totally worth it.
Winter break is mercifully long for many schools. I mean, four weeks? Don't mind if I do. But chances are you don't have every day of your sweet relaxation time planned out. How do you pack for things you don't know are happening yet, and keep your suitcase under the airline's weight limit if you're flying? The struggle.
It's important to pack strategically and efficiently when you're putting your bag together. Do you really need six different party dresses when you've only RSVP'd yes to two? Should you bring professional clothes in case of an inpromptu summer internship interview? Think realistically about what you'll be doing over break.
Consider what you've already got in your bedroom closet, too — most likely, you've got a few extras and castoffs that are longing for some love at home. And probably a washer and dryer, too, so laundry's way more accessible than it might be at school.
In addition to including obvious essentials, like your winter coat, pajamas, and undies, here are 10 things to add to your winter break packing list.
A Couple Of Nice Dresses
ASOS Kate Lace Midi Dress, $98.53, asos.com
Unless you already know you have more holiday parties to attend, stick to two fancy or festive dresses — one for New Year's Eve and one for a Christmas event. Chances are, many gatherings will end up being somewhat casual, so you might end up in jeans and a sweater anyway.
One "Going Out" Ensemble
H&M+ Velvet Camisole Top, $24.99, hm.com
If you've got friends you'll be hitting the town with back home, bring a going out ensemble, whether that's another dress or your favorite "going out top" and jeans. Don't overdo it, though — other things in your closet can be repurposed for nights out if you need them. Or, swap with your girls to mix it up for a night.
Bold Jewelry
Nebular Collar, $62, baublebar.com
Trendy statement jewelry is an easy way to dress up your outfit when you have minimal options. Go for gold and gemstones for the holidays, and don't be afraid to layer it on — it's the perfect time of year to bring on the bling and go over the top.
Trendy Black Heeled Booties
Trolley Ankle Bootie, $99.95, nordstrom.com
Another versatile packing must. In addition to your favorite boots you wouldn't even consider leaving behind, black booties are one thing you won't regret including. They're great for dressy outfits, casual clothes, and everything in between.
Cozy Sweaters
Dreamers By Debut Cable Knit Sweater, $46, nordstrom.com
The only thing better than a stylish top during the holidays? A trendy sweater. They're way warmer, and when done right, can look seriously chic. Choose luxe-looking chunky knits and dress them up with jewelry and a bold red lip, or dress them down with leggings that are perfect for lazy days spent lounging.
Two Pairs of Jeans
Flared High Jeans, $39.99, hm.com
Let's be real — how much time are you actually going to spend wearing jeans this winter break? Bring your go-to casual denim plus a dressier pair for cocktail hour and impromptu get-togethers.
All Of The Leggings
Salar Legging, $64.95, fabletics.com
Now that you've answered my question about how often you'll be wearing jeans over break, fill in the gaps with what you'll really be putting on in the morning – leggings, leggings, and more leggings. If there's one thing I've learned after over four years in college, it's not to skimp on the loungewear. It is break, after all, and it's what you'll wear most. Don't forget the leather leggings, too, because fancy stretchy pants are a thing. Thankfully.
Warm Workout Gear
Nike Free Flyknits, $130, nike.com
Whether you've got a New Year's Resolution in place or not, working out over the holidays is a super effective way to release tension from family drama and keep your energy up for all of the seasonal celebrations. Pack some workout gear and cute tennis shoes to give yourself the option when you just need to escape for a while.
A Professional LBD
Women's Plus Size Wrap Dress, $29.99, target.com
You never know — maybe you'll find the motivation over break to apply for a summer internship or get a part-time job. It's a good idea to have one professional option in case you land an interview. An office-friendly LBD, like a wrap dress, is a good option because you can accessorize it for other occasions, too.
Your Favorite College Sweatshirt
Colorado Buffaloes Logo Hoodie, $34.99, shop.cubuffs.com
As refreshing as time with your family can be, it can also make you miss your other home — school. Pack your favorite college sweatshirt for when you're feeling restless or ready to be back at the university you love.
Want more style tips? Check out the video below, and be sure to subscribe to Bustle's YouTube page for more hacks and tricks!
Image: Fotolia, Courtesy of brands