The ONE Women's Health Charity To Donate To Now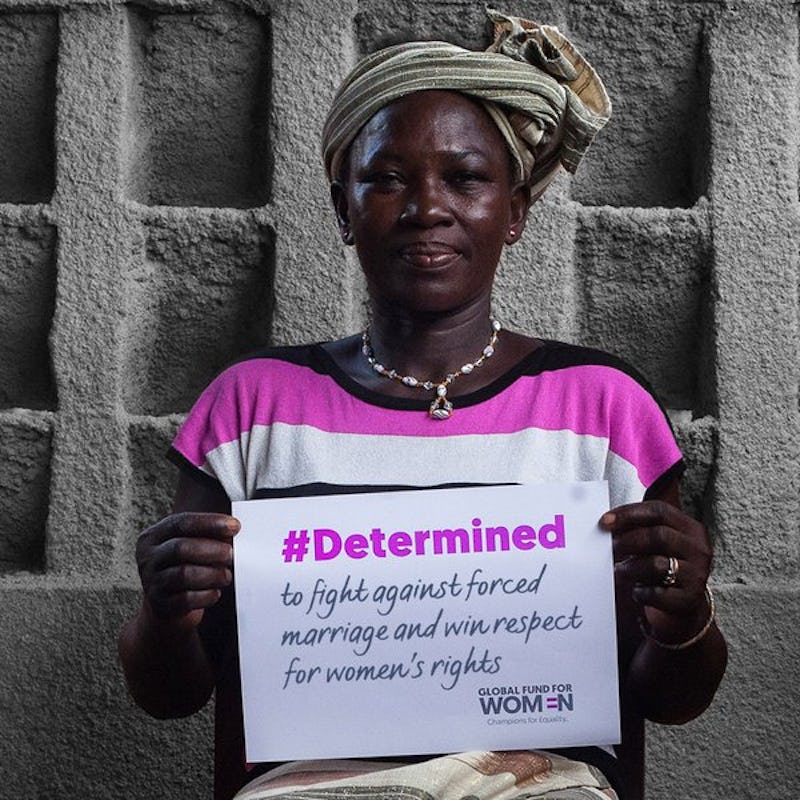 If you're fortunate enough that one of your holiday traditions is donating to charity, but feel overwhelmed by all the many awesome women's health charities you could choose from, then perhaps you should consider supporting the Global Fund for Women. The Global Fund for Women is a nonprofit, women's health charity that focuses on the many health issues that affect women all over the world, and it definitely deserves your support. In fact, if you're only able to donate to one charity this holiday season, it's my opinion that it should probably be the Global Fund for Women.
No matter how many advances we've seen over the last few decades, the bottom line is, women are more likely to be unhealthy than men are. We're more likely to contract HIV, less likely to have proper access to job security and health care, and women experience domestic violence and intimate partner abuse at a much higher rate than men do. Plus, we don't receive nearly as much education on sexual and reproductive health as we should, which affects everything from the spread of STIs to our well-being during pregnancy.
Fighting for gender equality in women's healthcare has countless positive impacts. Not only will it potentially result in a reduced number of cancer cases, but women and girls across the globe will have a better shot at becoming influential leaders and teachers if they are physically well. Families everywhere will become stronger, and the world's economy will flourish. Clearly, we should all be advocating for the advancement of global women's health. Fortunately, the Global Fund for Women can help with that. If you'd like to learn more about why you should donate to the Global Fund for Women, then read on.
What Is The Global Fund For Women?
The Global Fund for Women is an international grant-building institution that supports female-focused nonprofits worldwide. Based in San Francisco, the Global Fund for Women was founded in 1987. Since then, they have categorized their work under three umbrellas of women's health and basic rights: improving sexual and reproductive health, working to end violence against women, and offering economic and political independence.
This quote on their homepage pretty much sums up their service to females everywhere: "Global Fund for Women is a champion for gender equality, standing up for women and girls to be strong, safe, powerful, and heard."
What Kind Of Work Does The Global Fund For Women Do?
The Global Fund for Women raises funding and develops grants for female-run nonprofit organizations that are aligned with their same goals. With access to over 2,000 partners worldwide, the Global Fund for Women gathers money that is then transformed into "core funding" for relevant women's groups; with those resources, the organizations can then implement their work into surrounding communities.
The groups that Global Fund for Women supports provide better access to maternal health care and HIV information, advocate for safe and legal abortions, and demand fair wages and leadership opportunities. This fight is emphasized in marginalized communities, both here in the United States and abroad, where women's health issues are rarely represented.
One of the Global Fund for Women's current campaigns is called "Women and the Refugee Crisis." They're providing services to female refugees in the Middle East by teaming up with, and gathering funding for, the women's groups who are based in the area. These groups are doing everything they can to provide clean water and electricity, as well as reduce sexual violence against women in refugee camps. You can read multiple "Impact Stories" from the female refugees of Syria and Lebanon when you visit the Global Fund for Women's website.
A past campaign that has generated a great deal of positive interest is Mama: Motherhood Around the Globe. Mama is an international, online gallery devoted to showcasing the truth of what it means to be pregnant and a mother in various corners of the world. It sheds light on mothers' human rights and maternal health, compelling people everywhere to realize that the well-being of mothers is too often ignored.
Why Should l Support The Global Fund For Women?
The Global Fund for Women is a broad outreach that helps women from both impoverished and developed nations. Most importantly, it acts on the belief that women's health is an expansive category which should include everything from domestic violence recovery and prevention to reproductive rights. Global Fund for Women values diversity, as you can see in their campaigns, and they focus on the marginalized groups of women who need their help the most. Additionally, Global Fund for Women primarily provides support to groups that are run by women, which is a choice that furthers the economic and political independence of women.
Additionally, as we'll discuss in more detail below, they're financially honest. Because of this winning combination, countless public platforms support the Global Fund for Women's cause. The Cut named it one of the top 100 charities in the world that deserves your donations in 2015; the Huffington Post has also sung its praises, noting that it's an organization that gets a lot done with the budget it has.
How Does The Global Fund For Women Distribute The Donations They Receive?
According to Charity Navigator, Global Fund For Women's Accountability & Transparency score is 97 out of 100, and their Financial score was 83.87. It's reported that 76.9 percent of the funding goes directly to program expenses, such as the Freedom From Violence agenda. Fifteen percent is put towards fundraising, and only 7.7 percent is used for administrative purposes. So there's no question that the majority of their donations are being utilized to better the lives of women and girls everywhere through their specific campaigns and projects.
How Do I Donate To The Global Fund For Women?
Start by visiting their website. You can read about all their campaigns in detail there. You'll also find a page on their site where you can either donate a one-time gift or sign up for monthly donations.
If you would like to donate your time instead of your money, you can join the Vanguard Circle. The Vanguard Circle is a volunteer advisory group of young professionals who raise awareness about the organization's mission. You can also join the Philanthropy Council's monthly meetings by conference call if you want to stay informed about how your donations are being put to use.