6 Books That Will Get You Excited For The New Year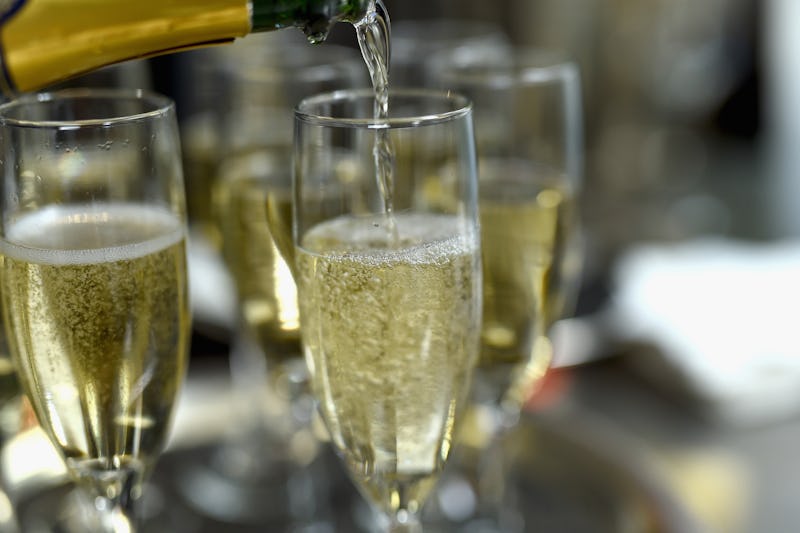 Dave Kotinsky/Getty Images Entertainment/Getty Images
Happy New Year's Eve! 2016 is almost upon us, and it's time to celebrate. Ready your champagne glasses, your noisemakers, your sparkly attire, and, most importantly, your reading list!
Not only is it the perfect excuse to party, but New Year's Eve is a time of both celebration and reflection. From singing of your old friends in "Auld Lang Syne" to counting down to a midnight kiss, New Year's Eve brings with it a mixture of strange and potent emotions. New and old grapple with each other in your psyche. It's a time of self-evaluation, of hope, of change. This holiday is truly about looking inside yourself and determining who you are, who you hope to be, and how to get there. As we all look forward to our future in 2016, there are so many things to get excited about, and so many reasons to celebrate to the fullest.
What better way to make these discoveries and set these goals than through reading? Whether you want fiction that will psyche you up or nonfiction to inspire your brains out, literature is ripe with choices for beginning a new year.
Better than a glass of champagne, these reads will make you bubble with new ideas and new hope for 2016.
1. The Happiness Project by Gretchen Rubin
This is the chronicle of the year that Gretchen Rubin decided to test-drive the wisdom of the ages, scientific research, and lessons from popular culture about how to be happier. She discovers some great insights as to what really works to build a fulfilling life. This book will give you a lot to think about as you fill out those resolutions and meditate on how to have a grand year.
2. The Life-Changing Magic of Tidying Up by Marie Kondō
Another read for your resolutions, this knock-out book will have you itching to declutter your life. A professional Japanese cleaning consultant, Kondō imparts the wisodm of the KonMari Method, which takes "tidying" to a new level and leaves lasting results. Begin the new year with a clean, organized lifestyle, and you'll be off to a great start!
3. Middlemarch by George Eliot
Come on, we all know the best part of New Year's Eve is the party. This classic has one of the most well-known New Year's Eve parties in literature—and it's filled with wonderfully huge helpings of drama. Set in a fictional Midlands town from 1829 onward, Middlemarch follows the intersecting stories of a cast of unforgettable characters as they navigate their way to a meaningful life.
4. White Teeth by Zadie Smith
This phenomenal book begins on New Year's morning, 1975, when Archie Jones is interrupted from a suicide attempt by sheer coincidence and is given another chance at life. The intertwining stories of two North London families — the Joneses and the Iqbals — White Teeth is a story fueled by cultural identity and potent hope. A reminder that you never quite know what's coming your way this year.
5. A Long Way Down by Nick Hornby
From the author of High Fidelity and About a Boy, four strangers all separately decide to commit suicide on New Year's Eve and wind up on the roof of the same building. Balancing comedy with serious situations as only Hornby can, the vibrant characters in this book will lift your spirits with its Breakfast Club-esque flavor.
6. Yes Please by Amy Poehler
This book could be subtitled "You can do it!!!" Who doesn't love Amy Poehler? Her memoir is full of advice, inspiration, and pure positive energy that will get your motor running for all the greatness you're going to achieve in 2016.