I Wore Elementary School Hairstyles For A Week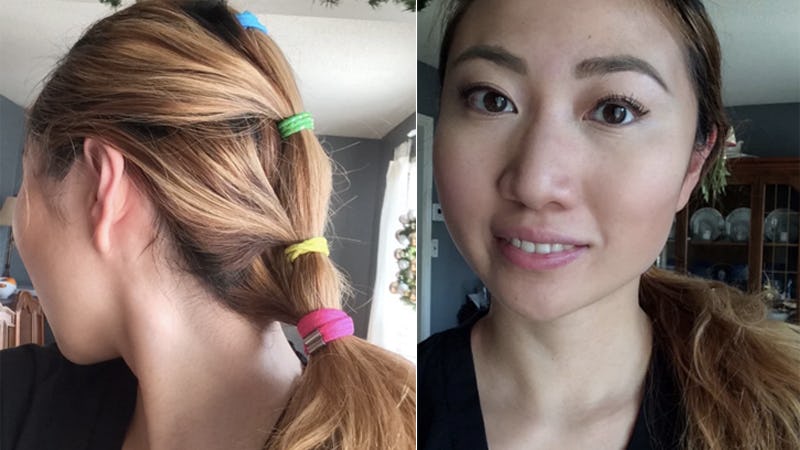 I'm a total '90s kid. So, naturally, I recognize that growing up in the '90s was a wildly fun time. In fact, it was so fun that everyone these days wants the decade to come back, just so they can relive those best moments from childhood. While dabbling back in the styles from the era that brought us grunge and jelly shoes, I couldn't help but ask the question, "Can I wear my hairstyles from elementary school and still be taken seriously as an adult?"
I'd like to think I was a pretty trendy kid back in the day, what with my vast collection of butterfly clips, headbands, and tattoo chokers (some of which I am a little embarrassed to admit I still own today). Hey, beauty and fashion trends are cyclical and ever-changing, so that's my excuse. But with major '90s beauty trends making a comeback (brown lipstick, anyone?), I took it upon myself to don the iconic and groundbreaking 'dos of the decade to see how well I'd fare for five days in late 2015.
Some hair trends like the half-up, half-down look are pretty trendy in the contemporary world, so it wasn't too difficult to parade around while wearing them. However, some looks — like the aforementioned butterfly clips — did garner a few confused gazes. Here's what went down.
1. Butterfly Clips
I chose the look that seemed like the most now-irrelevant one (trend-wise) first. I also wore it on a Sunday, which meant that it would be a day of errands and whatever else was thrown at me. I sectioned my hair into three parts, twisted it, and secured it with butterfly clips (aka the closest thing I could find in my house to them). As I wore the look around the grocery store, I began to feel very self-conscious. I'm not one to rock a hairstyle that completely exposes my forehead without doing something else with my mane to compensate. I did see a few stares come my way, but nothing that screamed "what the hell?"
As I thought my day was coming to a close, I ended up going to the mall with my boyfriend, at which point I said (many times) out loud, "I cannot believe I am going to the mall like this!" Again, I felt very self-conscious and had something of a fear that I would be snickered at by teenagers walking around the stores. But despite the holiday hustle and bustle, no weird looks or glances came my way. Things actually turned out to be just fine. In fact, I found that I received the most obvious reactions from Snapchat! The, "Whoa, your hair!" type of response was prominent, likely because the people on my Snapchat actually know me and feel comfortable messing around.
2. Half-Up, Half-Down Side Ponytail
This was my hairstyle from kindergarten through the second grade. This time, I wore it out to lunch with a friend. I actually got to the restaurant a lot earlier than expected, so I was waiting for my buddy for about 10 minutes, which left me to ponder how this look would fare while sitting alone.
Much to my surprise, I didn't get any weird looks. Honestly, my friend didn't even realize my "outdated" hairstyle until I told her the basis of this experiment. I did, however, see a baby with the same hairstyle as me who actually rocked it better than I ever could. She was the only one who gave me looks, but it may have been because she was trying to figure out who rocked the look better.
3. Half-Up, Half-Down High Pony
This look — recently brought back into the trend space by Ariana Grande — didn't evoke any particular emotion from passerby either. It was pretty plain, and even though I didn't style it by creating a bun, I did try to make the ponytail as high as possible.
I purposely wore it for a big meeting at my PR job, and honestly, I didn't get any major remarks, except for, "Why didn't you put it in a bun?" from a colleague. Considering the '90s throwbacks 2015 brought to us, I guess this look is now considered "normal" and more widely accepted than it might've been in 2009.
4. Sectioned Ponytail
This was one of my favorite hairstyles as a kid. It was fun, easy, and made me feel super trendy. This time around, well, it wasn't as well-received as I had hoped. I intentionally used multi-colored hair ties to really drive the '90s point home. The commute to work was fine — no weird stares (or at least nothing obvious) — but I did get the whole, "Oh, so you're still doing that experiment," comment from people once I reached work. That being said, I felt that this was a really fun look and could be made more modern with darker hair ties and by adding a bit of volume at the top.
5. Butterfly Clip Pigtails
This was a look inspired by my go-to hairstyle from the seventh grade. I like to call it the Mary-Kate And Ashley Olsen Butterfly Clip Pigtails. Personally, wearing butterfly clips again (this time at work) was a little awkward. I felt pretty juvenile, and this look ended up garnering the most reactions from people around me.
Wearing this style at work seemed like a daunting task at first, but by this point in the experiment, I didn't feel super self-conscious. That is, until someone asked why I was wearing my hair with butterfly clips — and why I would wear butterfly clips at all. I carried on, even sporting it when dealing with a customer face-to-face just to see if there would be any reactions. After meeting with a customer, my boss actually said that she had forgot to ask me to take out the clips and wear my hair like I normally do.
Would I Ever Do This Again?
So what exactly did I learn from wearing '90s hairstyles from elementary school in 2015? Basically, that wearing your hair like you did as a child in your mid-20s might make you pretty self-conscious. It will truly challenge you to wear the hairstyle, rather than letting the hairstyle wear you. Ultimately, though? It was one heck of a confidence challenge, and eventually, a confidence booster.
I've often thought that I have a babyface, so going into this, I worried that wearing childish 'dos might give off the impression that I'm not someone to take too seriously. While people didn't exactly say anything along those lines to my face, I did feel a bit of shade when I walked around with the more "dated" looks.
Most of the more obvious reactions ended up coming from those I come into contact with on a nearly daily basis. They were the first people to comment and ask what I was doing. They were also the ones who seemed to giggle most, wondering why I would subject myself to dead trends. But daring to wear my hair like a child of the '90s as a grown-up in 2015 was so worth it. I plowed outside of my comfort zone, and honestly? I felt all the more secure in myself for it.
Images: Francesca Castor