Saint West Got The Most Adorable Baby Gift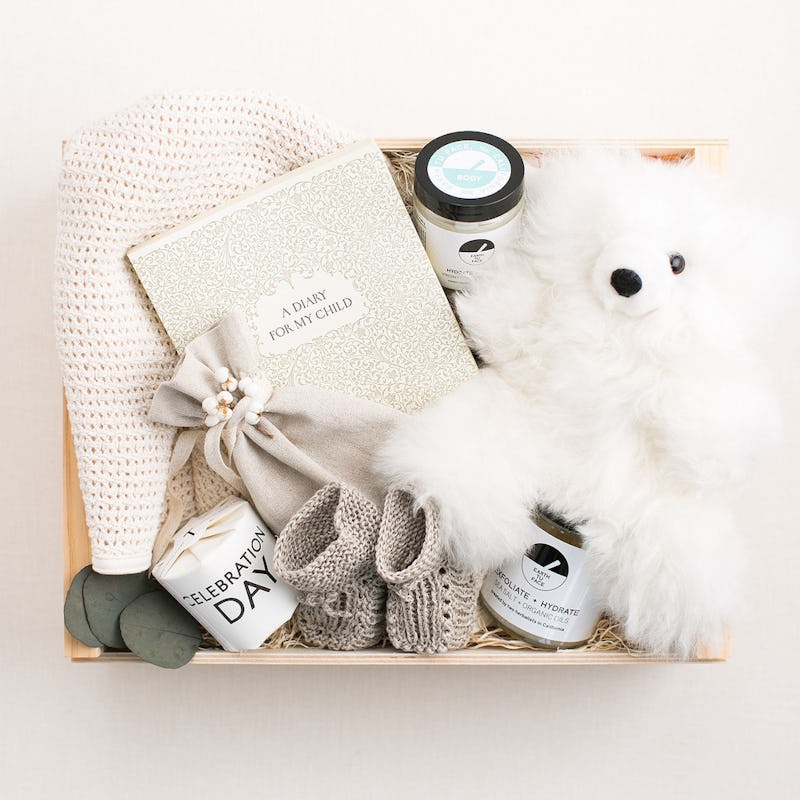 Being that these women are both moms to two children and both had super body positive pregnancies, it makes sense that they'd be able to bond, especially over baby gifts. Jaime King gave Saint West the best baby gift, and Kim Kardashian raved about it on her website. "I had to share it with you guys because I just love it," she wrote. And I'm so happy she decided to tell us about it, because it really is adorable.
The Simone LeBlanc "New Mom & Baby Box" retails for $300 and contains some of the sweetest, most thoughtful gifts for a new mom, dad and baby to share. It has clothing, blankets and a toy bear for Saint West, but it also has gifts that the new parents can use to pamper themselves such as a candle, lotion and salt scrub. Because with a new baby to take care of, I'm sure Kim and Kanye are in need of a good pampering session.
The present really does contain a little something for everyone, which means that King really knows what she's doing when it comes to baby gifts. The West children are sure to have plenty of extravagant trinkets in their life, but let's take a look at just a few they've received already. Because I don't know about you, but I choose to live vicariously through North and Saint.
How adorable is this?
With its neutral color scheme, it seems like just the kind of thing the Wests would approve of for little Saint.
It even comes with a diary to jot down precious thoughts about the new baby. They really thought of everything.
New Mom & Baby Box, $300, Simone LeBlanc
Even the packaging is great.
He's not even a week old and he's already stocking up on great gifts!
1. Flowers For Saint
People decked out Kim K's hospital room with white flowers for the birth of Saint West.
2. Custom Yeezys
North West's no stranger to special gifts, either, though. She's daddy's little girl, after all.
3. Matching Chains
Now Saint can match his dad!
4. Baby Balmain
I'd say custom Balmain jackets is a pretty cool gift. Only the best for Nori, you know?
5. Disneyland
Renting out Disneyland for your second birthday party isn't too shabby of a gift, now is it?
6. The Best Gift Of All
A baby brother is by far the best gift Kim and Kanye could have ever given their daughter.
Congratulations to the happy family, and may you keep enjoying those fabulous presents!
Images: Simone LeBlanc (4)