The One End Of Year Sale You Cannot Miss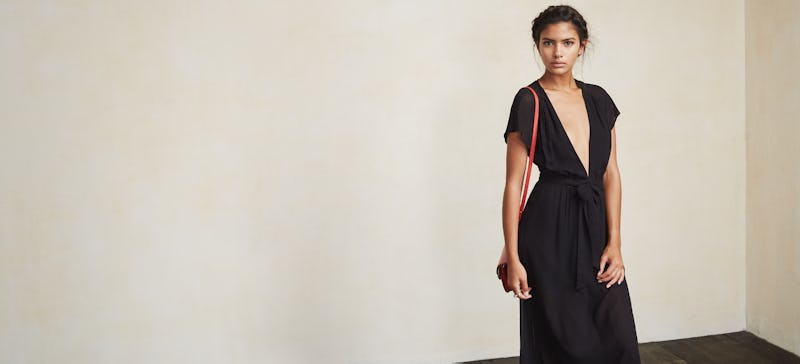 Even though most of our spending tends to be on other people this time of year, there's nothing wrong with treating yourself a little bit, too. Next week is your chance — Reformation's end-of-year sale starts on Monday, and you won't want to miss out on this one. Hey, you've been pretty good this year, right?
In case you're not familiar, now's the time to acquaint yourself with the It girl clothing brand you definitely need in your life (your credit card will get over it.) Trendy staples, elevated basics, and statement pieces to add to your wardrobe await. But you should know, it's a little addictive. Don't say we didn't warn you.
Tons of celebs are in love with Reformation, too. Bella Hadid, Vanessa Hudgens, and Emily Ratajkowski have all been spotted wearing the label, among others. Karlie Kloss wore a dress from the brand on stage with Taylor Swift this summer, and the singer herself is a Reformation fan, too. After all, if it's good enough for T. Swift, it's good enough for us.
Luckily, their annual December markdowns are coming up. Starting on Monday, Dec.14, selected pieces will be 30 to 50 percent off online and in-store. It's not what you spend, it's what you save... right? Plus, their collections are notably eco-friendly, so you don't have to feel that guilty about splurging on yourself.
Here are five things I hope will go on sale on Monday, plus seven things we know will be marked down.
Sonja Dress
Sonja Dress, $218, thereformation.com
Eastern inspiration and holiday velvet meet in a cocktail dress you simply can't go wrong with.
Delia Alpaca Sweater
Delia Alpaca Sweater, $228, thereformation.com
The chicest cable knit sweater you'll ever see, and possibly the softest, too.
Tucson Skirt
Tucson Skirt, $238, thereformation.com
This navy suede skirt is ultra-trendy and versatile. Pair it with black, tan, white, or more blue — there are no rules here.
Dwight Top
Dwight Top, $78, thereformation.com
This lace-up tee is a comfy casual take on stylish lace-up dresses and bodysuits.
Brixton Coat
Brixton Coat, $198, thereformation.com
"Hello from the other siiiiiide..." Channel your inner Adele in a faux fur teddy coat.
Naveen Dress
Naveen Dress, $258, thereformation.com
This is one that'll definitely be on sale, so you can already begin thinking about how you'll style this effortless button-up maxi.
Thalia Dress
Thalia Dress, $109, thereformation.com
Score: This dress is already 50 percent off online. Get it while it's hot, people.
Charlene Dress
Charlene Dress, $230, thereformation.com
This gorgeous green hue is perfect for any holiday party (and it's already marked down, too.)
Antonia Dress
Antonia Dress, $153, thereformation.com
Already reduced from $218, this Bardot neckline LBD is anything but ordinary.
Citrine Dress
Citrine Dress, $181, thereformation.com
It's not too early to start planning your spring wardrobe. Snag this floaty maxi while it's on sale (aka, now.)
Avery Dress
Avery Dress, $230, thereformation.com
Got a black tie winter wedding coming up? This lovely (and on sale) champagne dress will stun your fellow attendees.
Edison Dress
Edison Dress, $59, thereformation.com
This sultry lace-up bodycon dress is perfect for a night on the town (or even New Year's Eve.)
Images: Courtesy of brands