'Brooklyn Nine-Nine' Is Coming Home Soon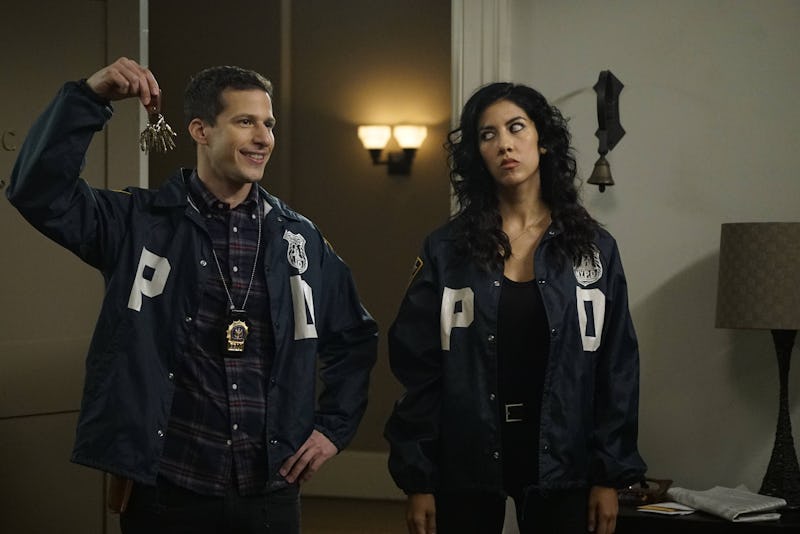 Captain Holt may finally be back in the building after his stint with PR, and those Swedes are gone, but Brooklyn Nine-Nine is going on a short break. This Sunday's episode is the midseason finale — though I wouldn't be too worried about shocking cliffhangers. When will Brooklyn Nine-Nine return from winter break?
The series will return to FOX on Jan 5. at 9:30 p.m. That's not too bad. We don't have to wait very long at all! You'll probably still have some holiday leftovers sitting around or, if you're like me, other shows to catch up on while everyone's on break. Still, Brooklyn Nine-Nine is one of the first shows returning to FOX's schedule in 2016, and the good news doesn't end there.
Not only will Jake and the gang be back in a mere three weeks, but the show is going back to Tuesday nights instead of Sunday. Hooray! This means that exciting upcoming television events like Grease Live and the X-Files revival won't interfere with the comedy block. The show will join the Season 5 premiere of New Girl, and the continuing premiere seasons of The Grinder and Grandfathered. I'm glad that the Nine-Nine is going home to Tuesday nights, and it has some killer new neighbors. On Sundays now, FOX will be premiering two new comedies — an animated comedy called Bordertown and the sitcom Cooper Barrett's Guide To Surviving Life.
When Brooklyn Nine-Nine returns in early 2016 for more Season 3, one of the coolest things we have to look forward to is the introduction of Jake's mom, who raised him as a single parent. It's always fun to get into the inner lives of sitcom characters, and a show like this has the comedy connections and critical acclaim to knock guest stars out of the park every week. This addition is no exception. As announced by TVLine, Brooklyn Nine-Nine has cast Katey Sagal to play Mrs. Peralta. TVLine additionally reported that Bradley Whitford will also reprise his role as Captain Roger Peralta, Jake's formerly estranged father, in that episode. You, of course, may recognize Sagal from Married With Children, Sons of Anarchy, and 8 Simple Rules. She's a veteran comedic actress, so this should be good. What's her relationship to Jake, and Gina (who grew up with him)? I can't wait to find out.
In the meantime, Sunday's holiday-themed episode "Yippee Kayak" should send us off in style. This break is so short, you'll barely notice that Brooklyn Nine-Nine was on hiatus in the first place!
Images: John P. Fleenor/FOX; Giphy