8 Books To Hack Your New Year's Eve Party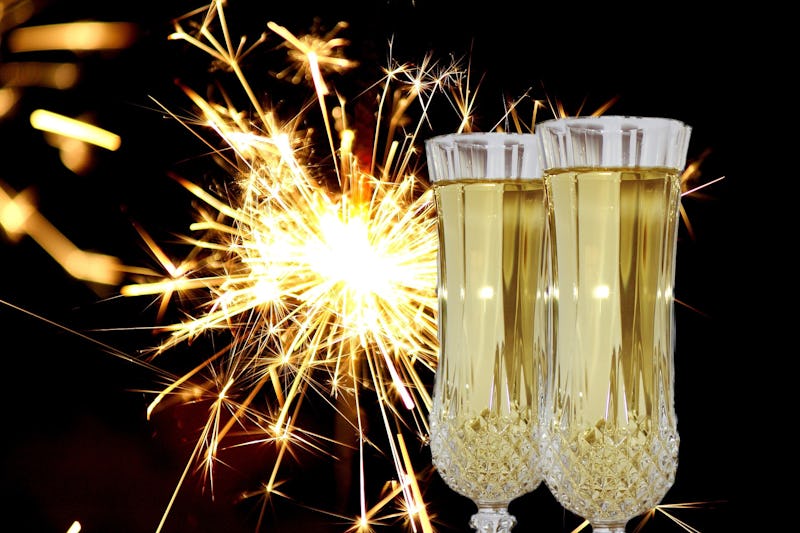 While holidays like Christmas, Hanukkah, and Kwanzaa are associated with family celebrations, New Year's Eve is the day when it's acceptable to celebrate with friends instead of waiting to watch the ball drop at home.
While you could trek into New York City and brave the crowds (and test your bladder) to watch the ball drop in person or fork over some hard-earned money for a ticket to a roof top bash and ring in the new year with strangers, I'd rather spend the last minutes of 2015 raising a glass (or many glasses) with friends.
But if you're the lucky friend who is hosting, it may feel like the pressure is on. How do you plan out the food or the decorations? Looking to classic literary favorites like The Great Gatsby or Pride and Prejudice can only get you so far with theme; they won't help you figure out which wine is really best for pairing with mini hot dogs.
We've rounded up a collection of books to get your best chef or craft on for New Year's Eve. Happy party planning!
1. The Life-Changing Magic of Tidying Up: The Japanese Art of Decluttering and Organizing by Marie Kondo
The wildly popular KonMari Method of cleaning may be too exhaustive to complete in its entirety before your party, but Marie Kondo's book has plenty of tips for cleaning and organizing your space efficiently. Her idea behind sorting through your belongs, especially your clothes, by asking, "Does this bring me joy?" could be most helpful with deciding what to wear for your bash.
2. Oh Joy! 60 Ways to Create & Give Joy by Joy Cho
Inspired by Joy Cho's popular Oh Joy! blog, this book gathers all her best tips for adding a bit of DIY flair to your home. While her ideas are applicable for all year round, her ideas for temporary wall art, a magic fortune jar, and instructions on how to make an ombre cake are perfect for a party.
3. Materially Crafted: A DIY Primer for the Design-Obsessed by Victoria Hudgins
If you're like me, you may appreciate the designs of others, but be at a loss to begin anything on your own, especially if you want to make unique decorations and not just dash to the local party store. Victoria Hudgins explains it all in her guide to DIY projects, providing an outline of where to begin and giving you the permission to dream and experiment.
4. Audrey at Home: Memories of My Mother's Kitchen by Luca Dotti
Who doesn't want to be like Audrey? Complied by her son, this book includes 50 of her favorite recipes — including ones for chocolate cake and mousse — alongside memories and copies handwritten notes. Just try not to get too sidetracked reading the side notes about Hepburn herself!
5. Wine Folly: The Essential Guide to Wine by Madeline Puckette and Justin Hammack
While I love a good glass of wine, I don't know much about pairing other than red going with beef, and white going with chicken. Wine Folly can help you not only with picking the right pairing, but it's the kind of book that will help you find a wine to impress your friends.
6. Better on Toast: Happiness on a Slice of Bread - 70 Irresistible Recipes by Jill Donenfield
Toast isn't just for breakfast. With Jill Donenfield's help, toast can be an appetizer or the main course. Making avocado toast will be easier (and more popular) than spending all day in the kitchen.
7. The Laws of Cooking: And How to Break Them by Justin Warner
Justin Warner is known for his inventive recipes from his winning season of The Next Food Network Star, and his first cook book is no exception. Entire serving menus are explained by particular laws, such as the Law of Peanut and Jelly or the Law of Gin and Tonic. Warner even includes a whole section on party-planning.
8. Rising to the Occasion: The Best Toasts for Any Celebration by Paul Dickson
Before the clock strikes midnight, why not celebrate the past year and all your friends with a toast? Keep Paul Dickson's book on hand for the moment, or really impress your friends with an "off the cuff" toast. Cheers!
Image: Counselling/Pixabay