17 Sequin Must-Haves For Plus Size Women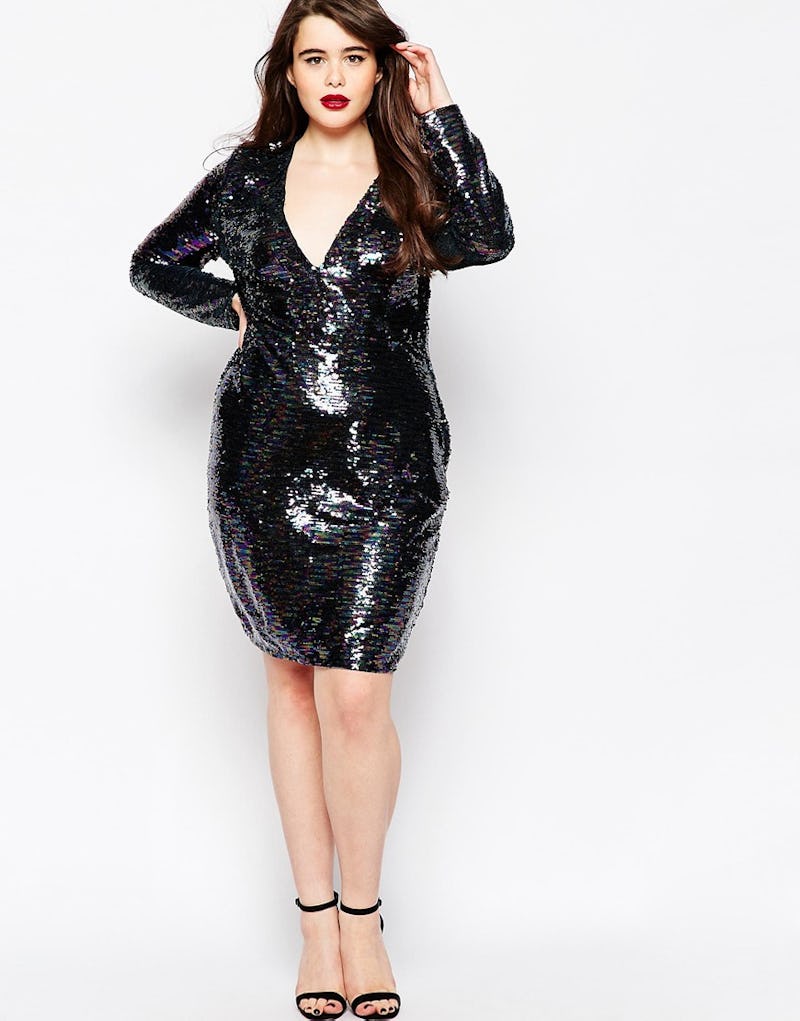 The holiday season is my favorite in terms of buying clothes, because almost everything in stores is either glittery or velvet, aka the main materials that make up my fabulously tacky wardrobe. Finding the perfect plus size sequin fashion never takes me long, purely because there's so much choice. Although you should probably be purchasing presents for all of your friends and family, this is also the perfect chance to stock up on all your glitzy and glamorous items for any parties in the upcoming year.
What many people don't realize about sequins is just how versatile they can be. Just because something is sequined doesn't mean it has to be over the top, nor does it mean that it's necessarily tacky. In fact, a subtle sequin can make you feel as glamorous as a movie star. Not that I'm berating OTT sequins, because they're my favorite. But I do believe we should remove the sequin's stigma as being "not tasteful."
If you're a sequin doubter, hopefully some of these gorgeous plus size items will change your mind. And if you're a sequin lover like myself? Be prepared to get excited and max out your credit card on these amazing pieces.
Striped Sequin Bodycon Dress, $20, Charlotte Russe
This stripy number utilizes two types of sequins, making is an instant winner in my book.
Pink Faux Fur Sequin Biker, $340, Isolated Heroes
Isolated Heroes is the ultimate for all your sequin needs. The independent Scottish label handmakes all its orders up to a size 20.
Sequin Wrap Front Playsuit, $28, Boohoo
Pale pink sequins are my all-time favorite. They just add a little bit of sparkle to an already princess-y color.
Sequin Plunge Mini Dress, $82, Asos
Too many plus sizers shy away from a mini skirt. Personally, I think you should pair one with this plunging neckline and heavy sequins to bare as much of your beautiful body as possible.
Sequin Wrap Dress, $29, City Chic
For those not totally into all-over sequins, the ones here only feature on the waist and shoulders of this perfect party dress.
Velvet Tonal Sequin Dress, $38, Forever 21
This gorgeous piece combines my two favorite things — velvet and sequins — to give you major mermaid vibes.
Open Front Maxi Dress, $222, Isolated Heroes
This summery number is the perfect thing in which to indulge in your parents' heating in. This particular piece has also been spotted on plus size stars Gabi Gregg and Tess Holliday.
8. Dazzle Sequin Shorts
Sequin Shorts, $38, Asos
Always a firm favorite of mine, shorts make the perfect base for all these gorgeous sequins. I especially love the stripes.
Pretty In Pink Dress, $115, Zelie For She
I love almost everything this LA-based brand does, and this pink dress is the best example as to why.
Sequin And Lace Bustier, $45, Torrid
This bustier comes with boning and padded cups, so you don't have to worry about a bra. Again, it's a less intense sequin look for the skeptics among us.
Nude Sequin Midi Dress, $28, Boohoo
The pattern of the sequins on this dress gives me total Great Gatsby vibes, perfect if you have to attend a '20s theme event but don't want to go full flapper.
Sequin Racer Front Bodycon Dress, $20, Charlotte Russe
I love the racer front of this dress, which is adding an extra something to an already glamorous party piece.
Black Chiffon Dress With Shoulder Detail, $158, Yours Clothing
As if chiffon wasn't enough, these sequins almost give a night sky feel to an already beautiful dress.
Sequin Elsa Dress, $72, City Chic
There's a reason this dress is called the "Elsa Dress," and it's because you can totally imagine grown-up Elsa wearing this to a frozen prom. It's the perfect color for winter.
Sequined Mini Skirt, $28, Forever 21
I love the way that Forever21 has styled this sequin skirt, and I'm so badly tempted to buy the entire outfit.
Sequin Print Co-Ord, $22, Boohoo
Who doesn't love a co-ord, right? The flares in this pair make for a classier look than the usual skater skirt and crop top combo.
Sequin And Tassel Dress, $55, Simply Be
Tassels and sequins mean this dress will look absolutely gorgeous as you dance, with sequins catching the light and tassels moving everywhere. Who could resist it?
Hopefully this colorful list will lead to at least one holiday purchase for yourself. After all, we all deserve something sparkly after a crazy 2015.
Images: Courtesy Brands