What You Didn't See During Adele's Concert Special
Adele already rules the music charts, but, with the airing of Adele's NBC Live In New York City concert special on Monday night, she proved she rules the Nielsen ratings, too. Her special, which was filmed during a one-off stop at Radio City Music Hall on November 17 — a show I was lucky enough to see — broke the record for most-watched concert special with 11.2 million viewers. The record viewership is no surprise really, being that the majority of her fans have never gotten the chance to actually see her live. But, the truth is, the special could have been a lot better — specifically, when it came to showing off Adele's wit.
The excitement to hear her play old classics from her album 21 ("Rolling In The Deep," "Someone Like You") and new favorites off her latest record-breaking album, 25 ("Hello," "When We Were Young") helped her top the previous most-watched special, CBS's Beatles Grammy Salute, which aired in 2014. Thanks to its strong showing among adults 18 to 49, it also earned itself the largest adult audience for any broadcast network concert special since 2005 when NBC aired the Eagles Farewell Tour. Overall, it was the most-watched concert special on NBC, beating the 2003's Cher: Farewell Tour aired in 2003. However, there were some off-the-cuff moments that you could see on the TV special that make it really help you feel like you're experiencing the live show.
Sure, she dropped a few F-bombs and addressed the audience, but she still seemed a bit reined in. As The New York Post said in their review of the show, her a lot of her numerous moments didn't survive editing for the broadcast: "So much is made of her tear-jerking songs, but the Londoner is just as likely to make you cry with laughter." We got to see her sweet tribute to her boyfriend Simon Konecki before "Someone Like You," but some of what I thought were her best moments, the ones that showed her as just a 27-year-old standing in front of a crowd asking us to love her, were left out. This was most likely for time, but also because this was sold as a concert special, meaning the music was the main draw. No one can blame them for wanting to keep that promise, but next time around, I'd love to see more moments of Adele bring Adele.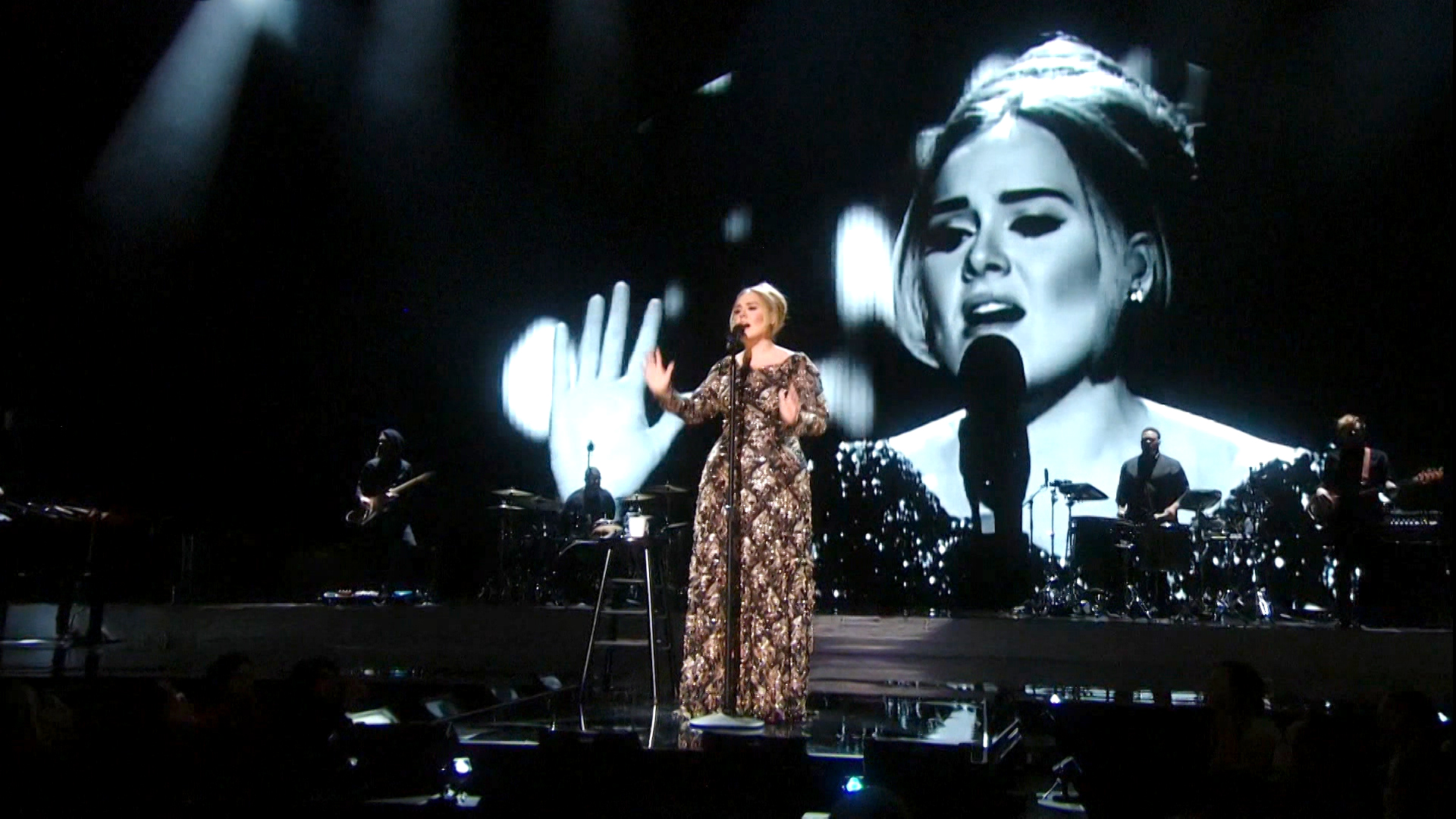 During this show, Adele told jokes that resulted in that brilliant cackle of hers and she spoke directly to the audience, specifically singing "Happy Birthday" to an audience member who she met at a listening session and still knew by name. She also played acoustic guitar on the 19 track "Daydreamer," something she doesn't do often, as she told the crowd, because she loves her long nails too much. While trying to get her guitar on without messing up her hair, she joked that her hairstylist would be mad if even one strand was out of place. This was all while a man tried to maneuver the guitar over her beehive. These are the little things I think fans would want to see.
No matter how well she sings "Skyfall" — a song she performed only for the second time live this night — it's her personality that people want more of, especially those who won't be able to get themselves a ticket to her upcoming tour. Next time around, and I imagine there will be a next time, seeing as this performed so well, the next concert special should expand to feature more of Adele's amazing personality as well as her talented singing.
Image: Virginia Sherwood/NBC