The 'Hateful Eight' Soundtrack Is One Of The Best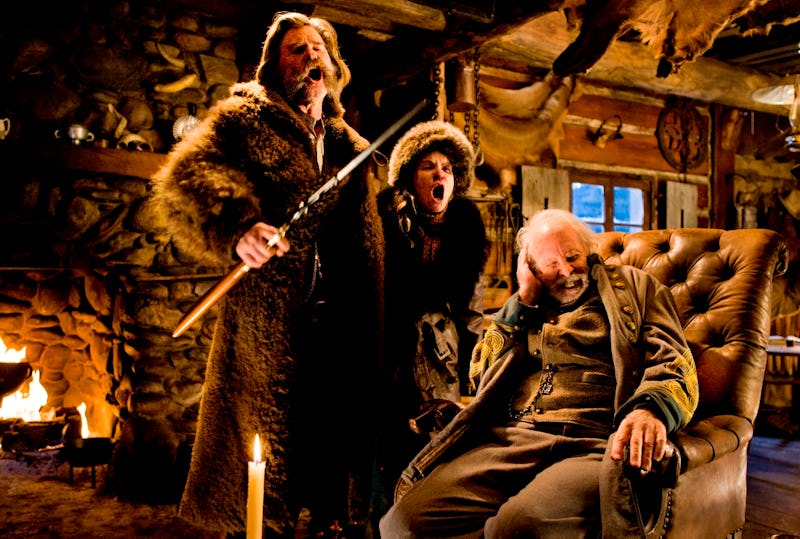 The music that Quentin Tarantino chooses to use for his films is usually as good as the movies themselves. In addition to sprawling dialogue, inspired costuming, and an unparalleled ability of artistic direction, Tarantino definitely has a knack for creating a cinematic world of hyper-reality by choosing the perfect musical soundtrack. His latest film, The Hateful Eight, is no exception, containing some of the best music from his work to date. In fact, the music is so good that it received a Golden Globe nomination for Best Original Score. With all this talk about how great the music is, people will be dying to get their hands on it — but where can you get The Hateful Eight soundtrack? Well, you can buy it anywhere come Dec. 18, when it is released for digital download and CD (for those of you who still enjoy tangible forms of media).
From the soulful jams of Jackie Brown to the sweeping epic sounds of Inglorious Basterds to the iconic tunes that molded Pulp Fiction into a cult classic, Tarantino's ability to curate music for a soundtrack is pretty much flawless. He mixes existing music with an original score that adds deeper layers of storytelling to his genre-driven films. In the case of The Hateful Eight, he got some help from legendary composer Ennio Morricone to create a one-of-a-kind cinematic soundscape — which includes the stunning introductory overture, "L'Ultima Diligenza di Red Rock."
Considering The Hateful Eight leans towards the Western genre, Tarantino was wise to collaborate with Morricone for the score. The composer is a five-time Oscar nominee that has orchestrated and composed music for some of the most iconic Westerns ever, including Once Upon a Time in the West and 1900. But his most famous work was when he collaborated with the Spaghetti Western maestro in the '60s, Sergio Leone, on Fistful of Dollars, For a Few Dollars More and The Good, the Bad and the Ugly. Morricone's musical versatility also led him to compose music for comedies like La Cage aux Folles, horrors like The Exorcist II, and crime films such as Once Upon a Time in America and The Untouchables.
The Hateful Eight wasn't the first time Tarantino has utilized Morricone's music. He repurposed some of his previous music for Kill Bill, Inglorious Basterds, and Django Unchained. This is the first time he has worked with the composer for an original score, however. In fact, Tarantino's film marks Morricone's only second entirely original score for a Western film ever, coming after Buddy Goes West in 1981.
It's not only Morricone that makes the soundtrack so great, though. The track listing is quite extensive — 28 tunes, to be exact. Peppered alongside Morricone's fine composition are songs from artists that are fitting to The Hateful Eight world, including music from The White Stripes and Roy Orbison. Tarantino also includes snippets of dialogue from the movie to add some context to the music. Needless to say, this soundtrack is a big deal, not to mention truly great to hear.
Image: Andrew Cooper, SMPSP/The Weinstein Company