8 Books To Read If You Like 'Divergent'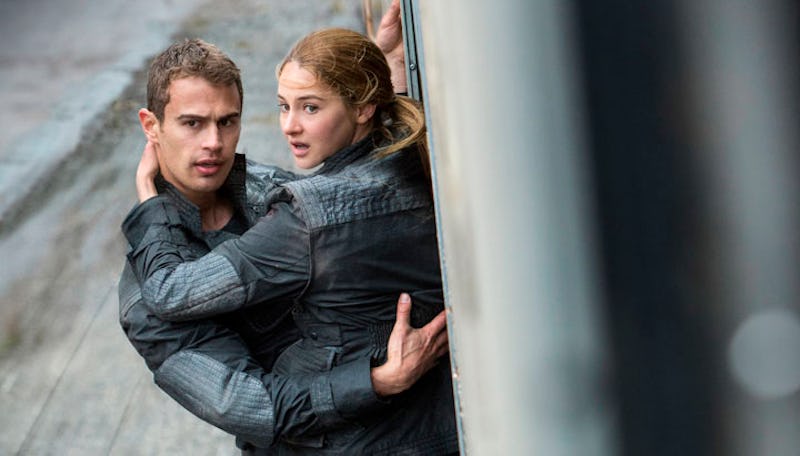 One of the best and worst moments for a reader is finishing a book series, especially when it's as epic as the Divergent series and the droves of fans it pulled into its obsession. When it's over, you just wish you could read it for the first time again… and again. Since you can't do that, you just end up forcing the books on all of your friends and even minor acquaintances (you know, like that random guy you met for five seconds in line for the train). Then you have to move on to books to read if you like Divergent , so you still feel like there's a piece of your fandom alive in your reading.
This moving on, of course, is to help you when you get to the point when you've reread the series so many times you start forgetting that you live in the actual world and start accosting strangers that you suspect are spying for the Erudite. It's safe to say it's time to branch out to other books that can feed your Divergent obsession. Of course, nothing will ever totally replace the Divergent series for you, but there are a lot of incredible authors out there writing science fiction and dystopian literature with incredible heroines that might win you over as much as Tris Prior did, with world-building that'll have you lost in a whole new world, or with adventurous plot lines that'll draw you in and have you on the edge of your seat. These eight books are a great place to start.
If it's the rebellion aspect of Divergent that drew you in, then the An Ember in the Ashes is just the book for you. Laia, a slave spying for the rebellion in order to save her brother, and Elias, a reluctant soldier forced to enforce the tyranny of the Empire, join forces to fight back against the oppressive Marital Empire. Tahir doesn't shy away from the brutality inflicted by the Empire, but Laia and Elias' developing relationship is a beautiful contrast in this brutal world. Tris and Four who?
In a world where the Earth is a constantly hostile force, those with the magical abilities to harness the Earth's power are seen as a dangerous threat to humanity. These orogenes are quarantined under the oppressive control of the Fulcrum, where their power is controlled by a brutal regimine of intimidation and even controlled breeding. Orogenes who don't join the Fulcrum are forced into hiding or else are killed. The books follows the stories of three orogene women coping with their abilities and a world that fears them. But things are about to change… The best part about The Fifth Season is that it's only the first book of the series. Because, believe me, you'll be eager for more.
One of the great parts about Divergent is how Tris Prior's vulnerability comes through as well as her strength. Lauren Olamina, the remarkable heroine of The Parable of the Sower, is the very picture of strength — tall, physically strong, and a natural leader in the brutal dystopian world she must navigate — but she's also, quite literally, very sensitive and sympathetic. Suffering from a rare disease that causes her to literally feel the physical pain of others, Olamina struggles and fights and hyper-empathizes her way through a violent world, determined to save herself and create a better future.
After an illness devastates the nation, some people are left with scars that are so much more, scars that endow them with incredible abilities. Seeing them as a threat, the Inquisition Axis hunts them. Adelina Amouteru is one of these scarred survivors, Teren Santoro is a leader of the Inquisition, and Enzo Valenciano is a member of a group trying to save people like Adelina. When these three clash and come together, they have to grapple with a lot more than the budding war between them. Lu gives good world-building in this powerful novel, and the characters are incredible and complicated. Get ready to add another series to your fangirl fever.
5. Legend by Marie Lu
Oh, hey, look at that Marie Lu again! What can I say? Lu is great. In a world ravaged by war and plague, and sharply divided by class, a girl from the ruling class and boy from the slums make some waves. Again, Lu with the world-building! She does an incredible job creating a dystopian United States in fascinating detail. If you're still dreaming of the Divergent universe, Lu's Legend series just might be the book that steals your attention.
OK, so it's got angels… I know, that doesn't seem much in the same vein as Divergent, but Angelfall's angels are warrior angels who've declared war on humans, and Penryn is a young woman who is suddenly thrown into the middle of this war when some of these warriors kidnap her kid sister. Like Tris, Penryn is no soldier, her involvement in the war is personal and as things get more complicated (like enlisting the help of a wounded angel warrior Raffe and running into the anarchic human resistance), she never loses that personal connection that keeps her human.
Aria is kicked out of the comforts of the domed, protected city she grew up in, spending most of her time in virtual reality. But now, out in the much more brutal real world outside, she's meets Perry, whose whole life has been spent on the outside, struggling to survive on a daily basis. Exiled sheltered girl searching for her mother meets survivor boy fighting to stay alive… Let the adventures begin.
The ruined urban atmosphere of Divergent is just as dynamic a part of the story as its plot lines and moral questions. Throw in a lot more magic and Max Gladstone's Three Parts Dead captures a similarly intricate interweaving of place, plot, and questions of power and justice. Three Parts Dead is probably the book on this list that is least similar to Divergent as far as plot goes, and it's not YA. But Gladstone creates this incredibly dynamic metropolis where science and magic and philosophy combine beautifully and are guided by a remarkable female lead in the strong-willed badass Tara. So, maybe you want to branch out a little further and discover a totally different world. Three Parts Dead offers up brain candy and crafted world you can fall in love with as hard as you did for the world of Divergent.
Image: Lionsgate