9 Books To Read If You Like 'Outlander'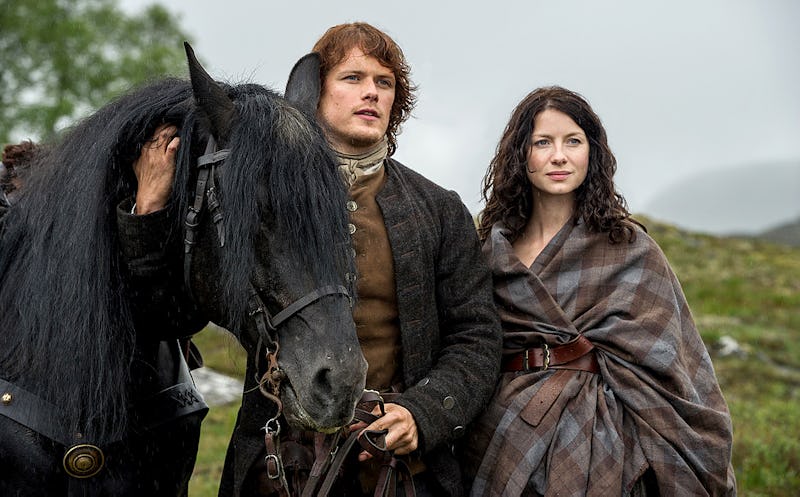 Diana Gabaldon's Outlander has managed to capture the hearts and minds of romantics and history nerds alike — which of course means the romantic history nerds are just completely head over heels with the series. Happily for all the Outlander fans, there are at least eight books in the original series, several spin-offs, a TV show adaptation, a graphic novel, and, apparently, there was even almost an Outlander musical. So, you know, most of you should be all set to get your dose of Outlander in some form or another for quite awhile.
But, let's be real, if you've been struck with the Outlander fever, or you just can't wait for season two of the TV show, then you've probably consumed every possible Outlander-related anything. You can't be blamed, it's a seriously addictive series. But now that you've consumed everything Outlander, you're probably itching for another way to inundate your nerdy self in history and passionate romance and maybe even a little time-travel.
Well, never fear, there are plenty of romantically inclined history nerd authors who've got just the thing for you. Whether it's the history, the passion, or the time-travel that's got you dying for more, there's a book for you. To start here are nine books to read if you like Outlander .
1. Indigo by Beverly Jenkins
Hester is an escaped slave, and she now works the Underground Railroad in Michigan helping other slaves escape. She treats and hides an injured, free black man named Galen, aka Black Daniel, one of the most famous conductors helping slaves escape to the North. Galen falls for her immediately, but they both have bigger problems: traitors to the Underground Railroad and slave catchers out for blood. Jenkins is a pro at the passionate love story, and the adventures of two courageous heroes leading their people to freedom will have you hooked.
2. Kindred by Octavia Butler
If the time-travel aspect of Outlander is what drew you in, then Kindred is right up your alley. Dana Franklin is sent back and forth in time from her comfy life as a writer in 1970s California to the plantation where her own ancestors worked as slaves in the 1800s. She forms an uneasy friendship with the slave owner's son, but with no control over her own time-travel, she must endure the brutalities of living as a slave. It's a fascinating look at the legacy of American slavery.
Steamy passion? Check. Time travel? Check. A nice nerdy focus on history? Check. Yep, the All Souls Trilogy has every element you loved about Outlander, plus magic, witches, and vampires! You can't go wrong.
Set against the backdrop of the Mexican Revolution, Like Water For Chocolate tells the story of a young woman so passionate that her emotions are absorbed into the food she cooks and affects those who eat it. Her own family and life devastated by the violence of the war, Tita finds a passionate love in Pedro, but as a youngest daughter who is treated much like a slave by her tyrannical mother, Tita is forbidden from marrying. Passion, loss, and war make for one helluva a recipe in this historical novel.
Land of Love and Drowning follows three generations of a Caribbean family through their love affairs, tragedies, and triumphs as they navigate the tidal waves of history from colonialism in their native Virgin Islands to World War II to the Civil Rights movement.
You totally love Outlander because you're just a big ol' history nerd. In that case, nerd it up with Madeleine Miller's incredible reimagining of Homer's The Iliad focusing on the doomed love between Patroclus and Achilles.
Set in Russia during WWII, young Tatiana falls for the same soldier that her older sister Dasha has fallen for, and the dashing Alexander is falling for Tatiana, too. Torn between her hopes for her sister's happiness and the growing attraction between her and Alexander, Tatiana is embroiled in passion as the war rages on around her. Throw in another handsome Russian soldier who's also got the hots for Tatiana and you've got all the jealousy, angst, and passion you could want.
Seriously, it's like Outlander but with pirates!
The passionate, forbidden love between Alma Belasco and her family's gardener Ichimei Fukuda endures through the trials of World War II as Ichimei is sent to an internment camp after the Pearl Harbor bombing. Through the decades their love endures even as it must remain hidden. It's a a beautiful story of enduring love even in history's most turbulent times.
Image: Sony Pictures Television