11 Stylishly Warm Hats For The Holiday Season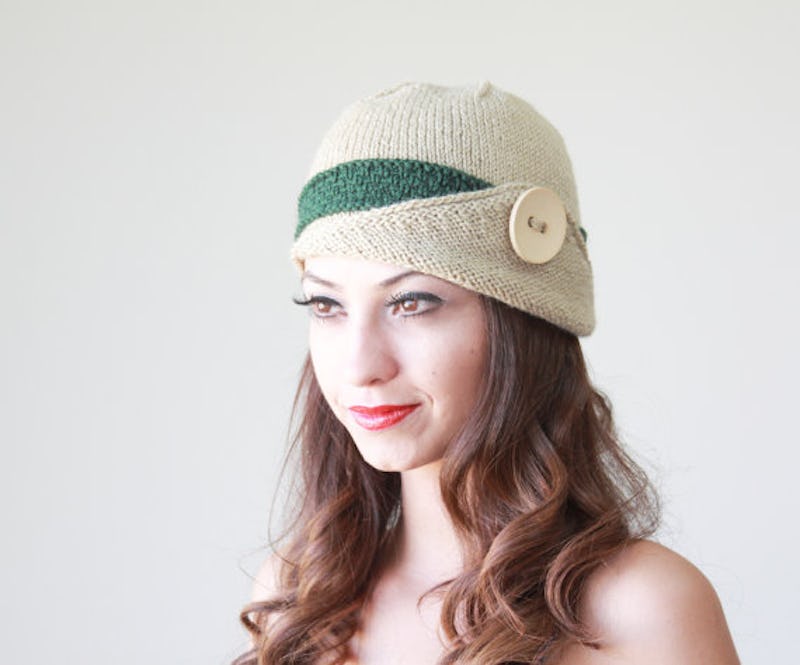 Depending on where you're spending your holidays, a little warmth can go a long way toward making your season bright. Having stylish holiday hats to help you fight off the winter winds means more quality time outdoors with your family, friends, and maybe even Frosty The Snowman. (He is a pretty chill guy, after all.) Not only does a good hat keep you toasty in blustery weather, but it also adds character and a personal twist to even the most drab of outerwear. (And let's face it, some winter coats really could stand a bit of sprucing up.) But even if your outerwear is as cheerful as the season, adding the perfect hat can make for a lovely final touch.
Of course, when it comes to warmth, it's tough to beat the sweet style of a beanie. But finding the right beanie with a little bit of holiday flair takes finesse. It takes a balance of classic colors with intriguing design and a bit of playful detail. Yep, it takes versatility for a hat to transform from street chic to an outdoor adventure worthy top-off to your favorite holiday ensemble.
Wherever you're headed this holiday season, keep your outerwear game strong with these stylish winter hats, perfect for a very merry ensemble.
1. Fluff Ball On Fleek
Missguided Pom Pom Beanie Hat, $17, asos.com
A black beanie can go nearly anywhere with you. Add to that the playful twist of a fluffed out pom pom and you have magic in the making. This seasonally-appropriate beanie is perfect for any outdoor gathering or snowy soiree.
2. Country Chic
Womens Winter Beanie, $24.90, etsy.com
For a little touch of history, this throwback beanie is reminiscent of a cute cloche hat. Channel your inner flapper, and add a charming twist to your outdoor-wear with this darling hat.
3. Holidays With An Edge
Skull Front Beanie, $22.50, torrid.com
Even during the holidays, some of us are less about sugar and more about spice. This charcoal, skull, and pyramid-encrusted cap is a bit edgy, but would look great in contrast with your holiday formal-wear. Or even with your holiday casual wear/grunge wear. Some holidays are just a little more rock 'n roll than others.
4. Beanie With A Bow
Where There's a Chill Hat in Grey, $13.99, modcloth.com
Very versatile, this soft gray beanie with a bow-like knot is a step up from the traditional knotted headband. While providing extra warmth, it still manages to look delicate and would be lovely paired with a pea coat for a snowy sleigh ride.
5. Sweet And Soft
Chairlift of the Board Hat, $14.99, modcloth.com
Doesn't this hat just make you want to put on your ice skates and hit the nearest outdoor rink? Imagine the lights; imagine the snowflakes. Imagine the hot chocolate afterwards as you enjoy the sights of the season.
6. Sweet And Snow Ready
Fair Isle Beanie with Pom Pom, $32.49, etsy.com
This hat looks so classic that it warms my heart. It makes me want to curl up after a snowball fight, or go stargazing on a chilly night.
7. Simply Evergreen
Beignet or Nay Hat in Turquoise, $9.99, modcloth.com
Bright and cheery, this hat is playful and just might add some mischief to your life. Are you the honorary starter of all snowball fights? Clearly, this is the seasonal beanie for you.
8. Berry Beautiful
Hand Knit Beanie in Burgundy, $30.25, etsy.com
There's something very whimsical about this hand-knit, burgundy beanie. You can almost hear it whisper, "Do you want to build a snowman?" Except it's more like the snowman from the beautiful classic, The Snowman.
9. Traditional Red
Slouchy Knit Beanie, $35, etsy.com
Want something stunning for your ensemble this holiday season? Consider the simple beauty of this crimson cap. A bit slouchy, but still elegant, it will highlight the color in your cheeks and stand out stunningly in the snow.
10. Holiday Hunter Green Beanie
Chunky Slouchy Beanie, $35, etsy.com
For a more subdued holiday hat with great texture and charming color, check out this hunter green beanie. It's regal yet humble, versatile, and verdant. It's a perfectly subtle pop of color against the white or gray winter landscape (which, let's be honest, could always use more color).
11. For The Non-Hat Folks
Bead Applique Sweater Headwrap, $18.50, torrid.com
Sometimes you need the warmth of a hat without entirely messing up your locks. Enter the headwrap. This embellished black sweater head wrap is a lovely way to add a little extra polish to your holiday outerwear.
Whether your celebrations take you on outdoor excursions, or you simply need to stay warm while running from one holiday party to another, these hats will keep you in a merry mood. Here's wishing you a totally toasty holiday season, filled with joyful experiences and topped off with tons of style.
Want more winter styling tips? Check out the video below, and be sure to subscribe to Bustle's YouTube page for more hacks and tricks!
Images: Courtesy Brands