17 Best Books Of January 2016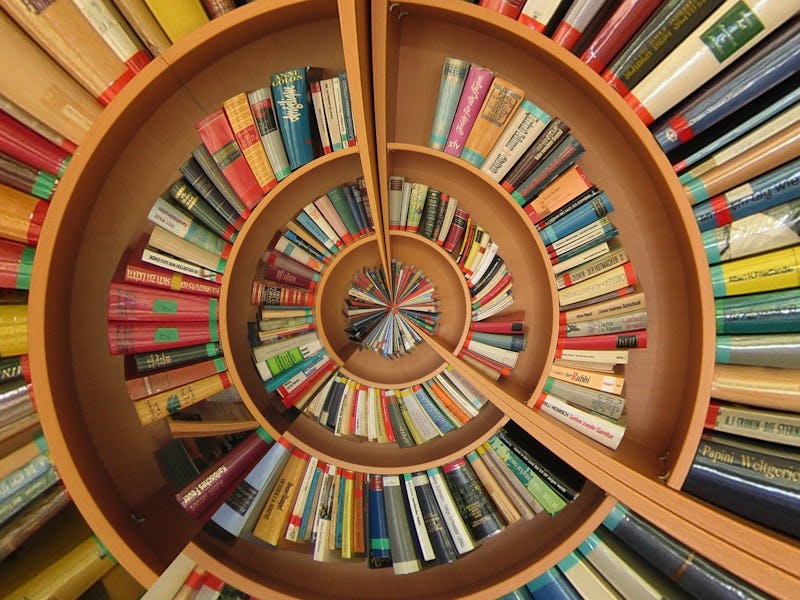 Once upon a time. Call me Ishmael. It was the best of times, it was the worst of times. A good year, like a good story, deserves a fabulous beginning. And this January 2016, new books make up a veritable plethora of fantastic reads to start your year off right.
Above all, this month's literary docket is packed full of journeys, from dark quests to bumbling romps. And all this adventuring doesn't stop at the mortal realm. With ghost stories and the supernatural in high supply, our characters weave in and out of our living world, each step becoming more intensely, delightfully bizarre.
Hand-in-hand with these travels, this January is full of immigrant stories, and each of them is as uniquely heart-clenching as the next. Thrown into unfamiliar territory, separated (and even pitted against) their families, and forced to confront their place in the world, our characters must ask all the hardest, all the most important questions. And some of them even find answers.
Indeed, the world will come alive around you this month. History, war, politics, activism. You'll dive into secret underworlds, and you'll raise your voice in loud protest. You'll peel back the curtain of time and get a good, hard look at the events and the narratives that formed today's world. And along with all that, you'll take a deep hard look at yourself and what it really means to be you.
It's January, it's 2016, it's time to make things happen. Each of these reads will give you the perfect literary spark.
1. Mr. Splitfoot by Samantha Hunt (Jan 5; HMH)
This book will undoubtedly wrap you up and will probably take a few bites out of you. A surreal ghost story packed full of the uniquely bizarre, Mr. Splitfoot is a dual narrative in which both timelines veer toward each other. It begins with orphans Ruth and Nat, who live in the strangely antiquated Love of Christ! Foster Home, Farm, and Mission and have a habit of channelling the dead. Decades later, when Ruth's niece, Cora, finds herself accidentally pregnant, her Aunt Ruth mysteriously returns from a long absence, mute and determined to lead Cora on an on-foot odyssey across New York state. Mysterious and carefully crafted, this book is made for anyone with a curious spirit.
2. The Core of the Sun by Johanna Sinisalo, Translated by Lola Rogers (Jan 5; Grove Press, Black Cat)
Hailed for being "Finnish weird," this read from Finnish speculative fiction superstar Johanna Sinisalo will especially delight fans of Margaret Atwood's The Handmaid's Tale. The Core of the Sun is set in The Eusistocratic Republic of Finland, where the government has bred a new human sub-species of receptive, submissive women, called eloi, for sex and procreation, while independent women are considered "defective." We follow Vanna, a woman who has been raised eloi but is secretly intelligent, as she embarks on a mission to find her sister. Vanna ends up becoming wrapped up in the secret, illegal chili pepper market and a religious cult obsessed with a chili so hot it's known as The Core of the Sun.
3. The Kindness of Enemies by Leila Aboulela (Jan 5; Grove Press)
Timely, vastly important, and brilliantly engaging, The Kindness of Enemies interweaves history with a modern-day narrative to explore being Muslim in a post-9/11 world. Natasha, a half Russian, half Sudanese professor of history, is researching the life of Imam Shamil, the 19th century Muslim leader who led the anti-Russian resistance in the Caucasian War. When she discovers that one of her students, Oz, is a descendant of Shamil and possesses the warrior's famous sword, Natasha is drawn into both the historical story and the lives of Oz and his mother. As she goes deeper in, illuminating ties between past and present, Natasha must confront her own Muslim heritage and what her identity means, both to herself and to the world around her.
4. The Children's Home by Charles Lambert (Jan 5; Scribner)
An "inverse fairytale," this is the eerie story of a disfigured recluse, Morgan Fletcher, who begins to take in mysteriously arriving children. But the children are strange: they have a prescient knowledge of Morgan's past, they age in odd ways, and they begin to disappear. Morgan goes on a search for the truth about them, descending into a maze of dark revelations. This genre-bending horror story is sure to haunt you in all the best ways.
5. The Past by Tessa Hadley (Jan 5; Harper)
After making a huge splash in the United Kingdom, The Past is coming stateside to dazzle American readers. A family drama set apart by Hadley's exquisite writing and mastery of character. Four adult siblings meet up for their annual reunion at their grandparents' country home, which they now may have to sell. High tensions, tangled passions, and childhood memories are all key ingredients to this engrossing work.
6. Midnight in Broad Daylight: A Japanese American Family Caught Between Two Worlds by Pamela Rotner Sakamoto (Jan 5; Harper)
This is the fascinating and true story of a Japanese American family who found themselves on opposite sides of World War II. The Fukuhara children were raised in the United States and moved to Japan after their father's death. Then, siblings Harry and Mary return to America, while their brothers Frank and Pierce remain in Japan. When the attack on Pearl Harbor hits, Harry and Mary are sent to an internment camp and go on to become translators, while Frank and Pierce join the Japanese Imperial Army. As the war progresses, the paths of the two sets of siblings continually veer dangerously close to each other. Certainly a must for history buffs, the Fukuharas' story will hit you in the gut again and again.
7. The Expatriates by Janice Y.K. Lee (January 12th; Viking)
Everyone's buzzing about The Expatriates. From the author of the beloved novel The Piano Teacher, this book follows the lives of three American women living in the same expat community in Hong Kong — an adrift recent Columbia graduate, a lonely housewife struggling to have a child, and a once-happily-married mother of three who has suffered a terrible loss. Living as both insiders and outsiders, struggling to connect with the world around them, and trying to forge their own identities, these women and their stories will pull at every string in your heart.
8. Your Heart Is a Muscle the Size of a Fist by Sunil Yapa (Jan 12; Little, Brown and Company)
Set amid the 1999 World Trade Organization protest in Seattle, this debut novel is charged with an energy all its own. Following seven characters — ranging from pot-dealing Victor to the Sri Lankan prime minister — as what began as a peaceful protest threatens to turn violent. Your Heart is a Muscle the Size of a Fist packs a punch that you won't want to miss.
9. My Name is Lucy Barton by Elizabeth Strout
From the Pulitzer Prize-winning author of Olive Kitteridge and The Burgess Boys, this book would make a great selection for your book club, as it's filled with remarkable characters, deep connections, and great storytelling. When Lucy is hospitalized for nine weeks, she is visited by her estranged mother, and the two reunite through stories about Lucy's strange, poverty-ridden childhood in rural Illinois. As Lucy and her mother try to reconnect, you'll be given a lot of deep insights to contemplate.
10. The Lightkeepers by Abby Geni (Jan 12; Counterpoint)
This remarkable debut novel is the story of Miranda, a nature photographer who travels to the Farallon Islands for a one-year residency, accompanied only by the strange scientists who study the fish and bird life there. Shortly after her arrival, Miranda is assaulted, and a few days later her assailant is found dead. While incidents continue and dark suspicion falls upon the limited inhabitants of the isolated island, Miranda must confront her own feelings about what happened as she is drawn into the natural wonders of the island itself.
11. American Housewife by Helen Ellis (Jan 12; Doubleday)
A collection of stories focusing on a variety of catty, bizarre, and unforgettable women. A book club with a unique initiation ritual. The best bra-fitter south of the Mason Dixon line, A reality TV-show called Dumpster Diving with the Stars. A struggling author held hostage by Tampax. The world of American Housewife is stuffed with humor at every turn. Trust me, you need this book in your life.
12. When Breath Becomes Air by Paul Kalanithi (Jan 12; Random House)
Atul Gawande meets Anne Lamott in this poignant reflection on the meaning of life and death. At age 36, on the verge of completing more than a decade of training as a neurosurgeon, Kalnithi was diagnosed with Stage IV lung cancer. (He passed away in March 2015.) With his role reversed, facing death head-on, Kalinithi draws on both his medical experience and his literary background to reflect on the meaning of mortality. Beautiful, breathtaking, and rich with insight, this book has a lot to teach any reader.
13. Queen of Spies: Daphne Park, Britain's Cold War Spy Master by Paddy Hayes (Jan 19; The Overlook Press)
A completely true story about a badass lady spy? Yes please! In this work of nonfiction that reads like a thriller, Paddy Hayes takes you into the world of the British Secret Intelligence Service (SIS), and its transformation from World War II through the Cold War. At the helm of Hayes' book is Daphne Park, one of its most outstanding and unusual operatives. A woman in the male-dominated realm of secret intelligence during a time of dark paranoia, Park busted her way through the ranks, eventually becoming one of the SIS's seven Area Controllers, the most senior operational rank. Move over, James Bond. Daphne Park is here, and she's shaking up more than just martinis.
14. The Road to Little Dribbling by Bill Bryson (January 19th; Doubleday)
When I heard there was a new Bill Bryson book coming out, I started dancing — and even better, Bryson's headed back to his beloved Great Britain, 20 years after his first U.K. journey in the classic Notes from a Small Island. Charming, personable, and witty beyond end, Bryson takes you right along as he dives into his adopted country, exploring everything from the historical to the strange. For all you travel bugs out there, this read will set your year off with a delightful, unmissable journey.
15. The Blue Line by Ingrid Betancourt (Jan 26; Penguin Press)
From Columbian French political activist and politician Ingrid Betancourt, this book melds personal experience and history with magical realism to create a stunning read. Set in Buenos Aires in the 1970s, during Argentina's Dirty War, The Blue Line follows Julia, a young woman who has inherited the gift of visions. As her country falls deeper into chaos, Julia must use her visions to attempt to prevent horrific events, even as her own political beliefs place her in certain danger.
16. Good on Paper by Rachel Cantor (Jan 26; Melville House)
Good on Paper is a dazzling book that's as much about translation and language as it is family and identity. Shira Greene is a struggling temp in New York, co-raising her daughter with her gay best friend, Ahmad. She gets a call from a Nobel prize-winning Italian poet, asking her to translate his next work, a postmodern version of Dante's Vita Nuova — her actual dream job. As she digs in, the project threatens to be impossible, and her life becomes increasingly tangled. With one-of-a-kind characters and brilliant insights on translation, this book will hit you in all your literary sweet spots.
17. The Sleep Garden by Jim Krusoe (Jan 27; Tin House Books)
The living world collides with the not-so-living in this dream of a novel. Set in an underground apartment building called The Burrow in which five "twilight souls" reside, a place where there are mirrors instead of windows and the residents' lives are cosmically entangled. Unsettling, disorienting, and darkly absurd, The Sleep Garden will have you questioning at what point life begins and ends.
Images: geralt/Pixabay