How To DIY A Lotion That Smells Like Christmas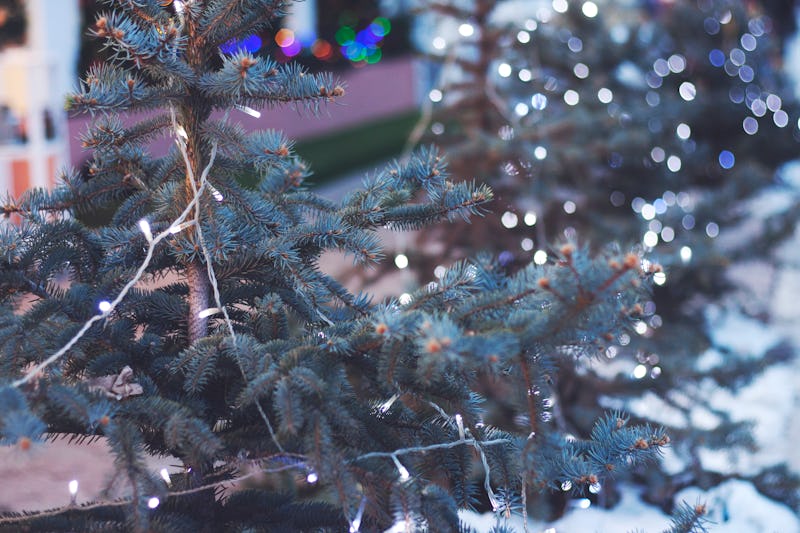 Of all the seasons, I'd argue winter claims the most nostalgic scents. Whether it's boughs of holly or chestnuts roasting, you can be sure that most of those natural flavors of the holidays can be used in a natural skincare treatment. One of my favorites is Christmas trees, so luckily fir essential oil also has soothing properties that your skin can drink up throughout the year.
To be fair, my weakness for the smell of fir is likely because I grew up on a street that was literally called Fir Lane, surrounded by balsam fir trees. Childhood memories aren't the only reason I would lather up in the woodsy scent of fir: According to sources at Organic Facts, fir needle is incredibly antiseptic and has been used to prevent infections and has both stimulating and soothing properties that speed up healing. The oil contains antioxidants and anti-inflammatory properties that are a perfect addition to your fave homemade body butter or lotion.
Once you've got your lotion game strong with the perfect amount of butter, oil, and water combo for your skin type, try adding fir needle essential oil to get that beautiful winter scent in an extremely effective winter body moisturizer. Here's how I made my own Fir Lane lotion!
1. Start With Your Butter Of Choice
I started with equal parts cocoa and shea butter. Since cocoa butter typically comes hard as rocks, I melted mine down before adding it to a mixing bowl with my shea butter. I'm using heavy butters for winter because my skin definitely needs the extra TLC that cocoa and shea brings together.
2. Add Your Oils
My first oil of choice is pretty much always going to be coconut oil. It blends great with my butters, and has hydrating qualities that my skin is in love with. You can stop at one oil or blend a couple of oils that are hearty and nutritious. I added sunflower seed oil, another great body oil that's lighter in consistency and fragrance.
3. Create Your Perfect Consistency
Depending on if you're looking to make a whipped body butter or something with runnier feel, add as much water as you need to get your prefered consistency. Then, pour in a bit of vegetable glycerin to seal all your ingredients together.
4. Blend
The best way to make sure your ingredients are blended thoroughly is to use a sturdy blender or food processor. This will also give your oils and butters the chance to have a slightly whipped effect similar to what you would purchase in stores. Put your new lotion in a dark, resealable jar to keep it fresh for longer.
5. Add Fir Essential Oil
Now that you've got an ideal consistency to spread all over your body post-shower, you can add your fir essential oil. IMO, this is the best way to reap the benefits of fir needle: Since it's so incredibly antiseptic and antibacterial, it can be pretty irritating to just apply directly on your face or in an undiluted mask. A little bit of fir goes a long way so start with about 5-6 drops, before adding more. Then hit the streets smelling like a damn Christmas tree.
Image: Kate Zaidova/Unsplash; Kristin Collins Jackson (5)