The One Men's Beauty Product You Need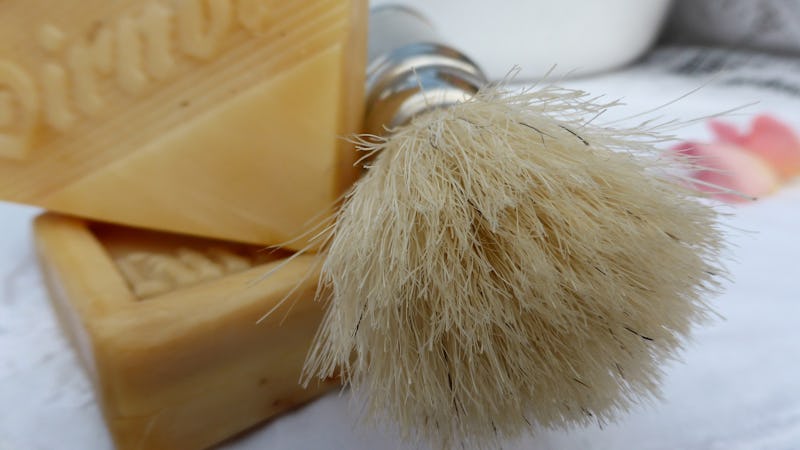 Boyfriend jeans and super structured blazers are fun and all, but fashion isn't the only place where it pays off to shop in the men's section. One of the hottest items right now is an affordable, accessible male beauty product and it will rock your makeup. Here's the one men's beauty product you need and how to use it.
One strange and happy mistake led to a groundbreaking beauty discovery that has literally everyone running to the guy's aisle at the drugstore. YouTube beauty vlogger and makeup artist Nikkie Tutorials was without moisturizer and primer, and on a whim decided to steal her man's Nivea Men Post Shave Balm. Turns out, this product is a powerhouse for sensitive skin, leaving your face dewy and your foundation on for hours and hours. That's because the balm's second most-used main ingredient is glycerin, a skin-repairing ingredient that becomes tacky when applied, making it the perfect primer.
Glycerin, also called glycerol, is present in all natural fats, both animal and vegetable. Research shows that combining glycerin with other ingredients, like the ones found in Nivea Aftershave Balm, can help restore and heal your skin. Plus, the formulation gives a little bit of a glow while still controlling oil and minimizing pores.
"It smells like guys, and is very liquid-y and cooling," Nikkie said in a video. "I did my makeup and went throughout the day, and noticed how my makeup looked flawless all day long. Glycerin makes whatever you put onto stick to it, so you're foundation is going to cling onto it and stay on all day. My makeup has never stayed on so beautiful for so long."
Now other top makeup artists and beauty vloggers like Manny Mua and KathleenLights are using and loving Nivea Aftershave as a primer for their makeup. For only a few dollars, this is a great price for a ton of product. Personally, I'm sold and can't wait to incorporate a great, affordable product in my routine. You should be, too!
Nivea Men Post Shave Balm, $16, Amazon
Want more beauty tips? Check out the video below, and be sure to subscribe to Bustle's YouTube page for more hacks and tricks!
Image: EME/Pixabay