9 Coffee Cocktails To Get You Through The Holidays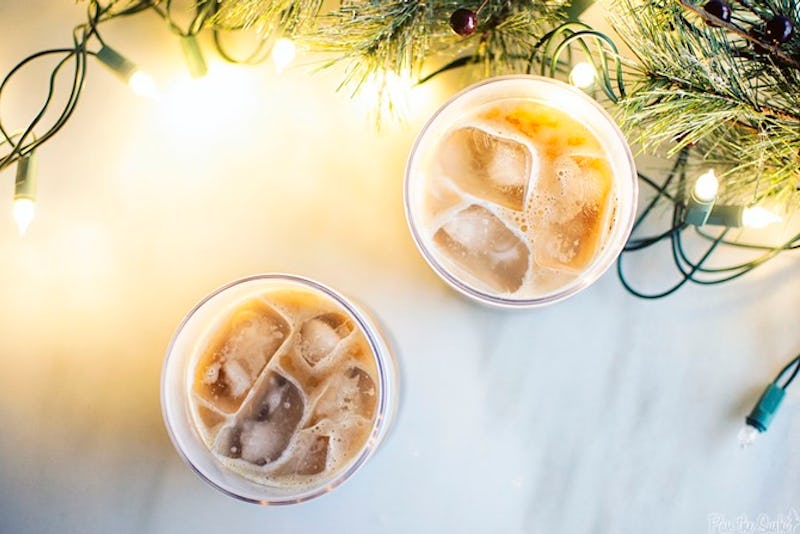 The holiday season can be totally exhausting. Between the houseguests, parties, an excess of family time, and general merriment overload, it's easy to get overwhelmed. But breathing techniques are only going to take you so far when it comes to surviving the madness. Luckily, these coffee cocktail recipes are here for you. With a little caffeine to perk you up, and a little bit of booze to calm you down, these are the perfect choice to help you get through the holidays.
Coffee and liquor have always gone together like the adult version of peanut butter and jelly. There is even evidence that people were drinking wine made from fermented coffee berries as far back as 800 AD, before anyone ever had to deal with FaceTiming with every single relative that can't be at the family party. But even if your own personal history includes a bad experience with a coffee liqueur, these drinks will help to erase that memory from your mind.
Whether you need to make something to enjoy on your own, or you are preparing something to share, I've got nine boozy coffee cocktails that will get your day (or night) started off right. Find one you like, and enjoy!
1. Cold Brew Bourbon Cocktail
If you live someplace where the holiday season doesn't necessarily mean freezing temperatures, then this refreshing bourbon cocktail from A Better, Happier St. Sebastian is for you.
2. Dark Moon Cocktail
This drink, featuring rum, vanilla, coffee, and cola, is basically the cocktail version of a float. In other words, Pass The Sushi knows exactly what they're doing.
3. Coconut Coffee Cocktail
Coconut and coffee? Rum? Yes, please. Head over to The Little Epicurean to learn how to make this delicious combination.
4. Ruby Cafe
This one doesn't even look like a cocktail, so if you're trying to drink your bourbon on the sly, Revae Schneider at The Daily Meal has just the thing.
5. Double Shot Martini
Move beyond a basic espresso martini by adding in a bit of tequila. So much more interesting, right? Get the recipe here.
6. Cardamom + Vanilla Coffee Cocktail
The combination of cardamom, vanilla, and coffee is too good to not include. Check it out at Offbeat And Inspired.
7. Brilliante Cocktail
Fennel accented coffee? Um, yes. Add some gin and bitters, and this recipe will take care of all your winter woes.
8. Bourbon Butterscotch Latte
Bourbon and butterscotch are made to be together, and when you add coffee into the mix, things only get better. Find out how to put it all together here at Endless Simmer.
9. Mudslide Affogato
If you need something sweet to round out your meal, Savory Sweet Life has the solution: booze, coffee, and ice cream. Trust me, you need this.
Looking for more holiday cheer? Check out Bustle on YouTube.
Images: A Better, Happier St. Sebastian (2); Pass The Sushi ; The Little Epicurean ; The Daily Meal ; Tequila Avion ; Offbeat and Inspired ; Francesco Sapienza ; Endless Simmer ; Savory Sweet Life