What We Learned From The 'Fuller House" Trailer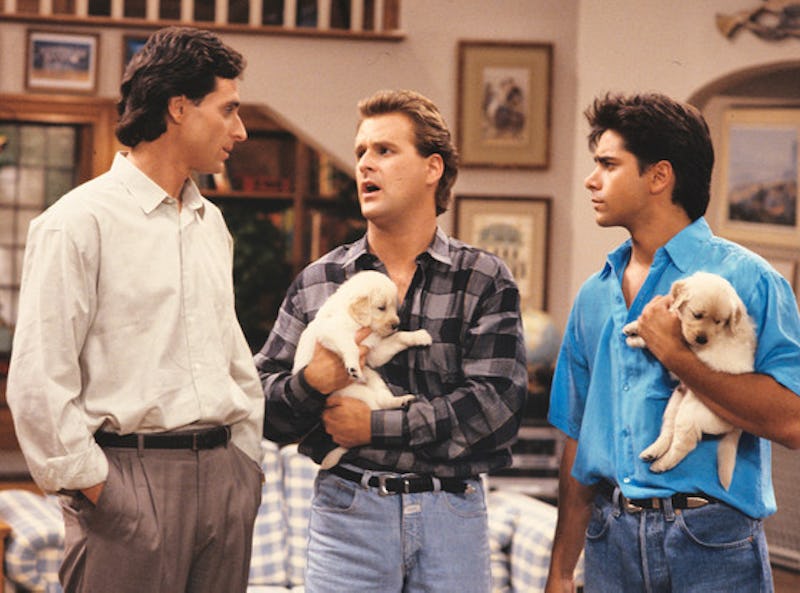 It's the moment we've all been waiting for. After announcing that there will be a spin-off of Full House called Fuller House earlier this year, on December 17 Netflix — the show's brand-new platform — has finally released the Fuller House trailer including the one television family we all love and miss. While the trailer doesn't necessarily show us much, as it consists mainly of shots of the San Francisco house we remember and voiceovers of the characters outside — it does still bring on some serious nostalgia. However, while this sneak peak fails to show us all of our favorite characters all grown-up, it does still pack on the information and the insane amounts of speculation when it comes to what we can expect from the new series.
In accordance with the already released synopsis of the spin-off, what we know so far is the following: "In Fuller House, the adventures that began in 1987 on Full House continue, with veterinarian D.J. Tanner-Fuller (Cameron-Bure) pregnant and recently widowed, living in San Francisco. D.J.'s younger sister/aspiring musician Stephanie Tanner (Sweetin) and D.J.'s lifelong best friend/fellow single mother Kimmy Gibbler (Barber), along with Kimmy's feisty teenage daughter Ramona, all move in to help take care of D.J.'s two boys — the rebellious 12-year-old J.D. and neurotic 7-year-old Max — and her soon-to-arrive baby."
But, now, with this newly release trailer, here are all the things we learned and all of the things definitely on my mind.
1. They Have A New Family Dog
The first new character we've been introduced to so far includes the adorable four-legged golden retriever puppy that enters the family's living room. Considering that they had a family dog in the original series, it makes sense, but it also makes us a little sad. Now I just want to know what this dog's name is.
2. D.J. Moves Back Into The Family Home
D.J. needs help moving boxes as they approach the house. And, considering the already announced fact that she's raising her kids in San Francisco, it seems like being the head of the famous household is now where she stands. I wonder how that Danny and D.J. cleaning dynamic is going to play out?
3. There's A Boy Named "Little Tommy"
OK, so it's already been said that D.J.'s two boys go by the names of J.D. and Max... So, who's "Little Tommy?" From what it sounds like, Little Tommy is someone who is young enough that they can't walk, and that Stephanie seems to take off the hands of Uncle Jesse. Could Uncle Jesse possibly have yet another kid? Or is it a grandkid? Who's kid is this?
4. There May Be A Mini Joey
After Joey is heard saying his infamous "Cut-It-Out" line, we happen to hear a little voice repeat after him in the background. Is that "Little Tommy?" Whose kid seems to have taken a liking to Joey? Or is it Joey's kid? I really hope the latter. Because that would be adorable.
5. Max Is The Best Character
As Uncle Jessie complains of someone named Max touching his hair (which is obviously still amazing), Joey seems to yell at him. Could Max be the troublemaker of the family?
6. Jackson Needs To Watch His Brother
After yelling at Max, Joey then proceeds to tell Jackson to watch his brother. Jackson is most likely D.J.'s son J.D., but Joey does sound awfully fatherly while trying to control the kids. That makes me even more hopeful that either he — or another unsuspecting family member — now has kids.
7. Michelle Is Definitely Missing
But let's take a trip back to memory lane for a second. Remember when Michelle was the little kid in the family? Now there's a whole new generation of kids that seems to be mostly boys. And an older Michelle is not heard. Yes, we knew that Mary-Kate and Ashley Olsen opted-out from the show, but here was always a bit of hope left over. All I can say now is that these girls really need to make a guest appearance. Please?
It looks like we're just going to have to wait until the February 26th premiere date to find out.
Images: Warner Bros. Television; Netflix US & Canada/YouTube; Giphy (6)