6 Ways To Guarantee You Get A Bonus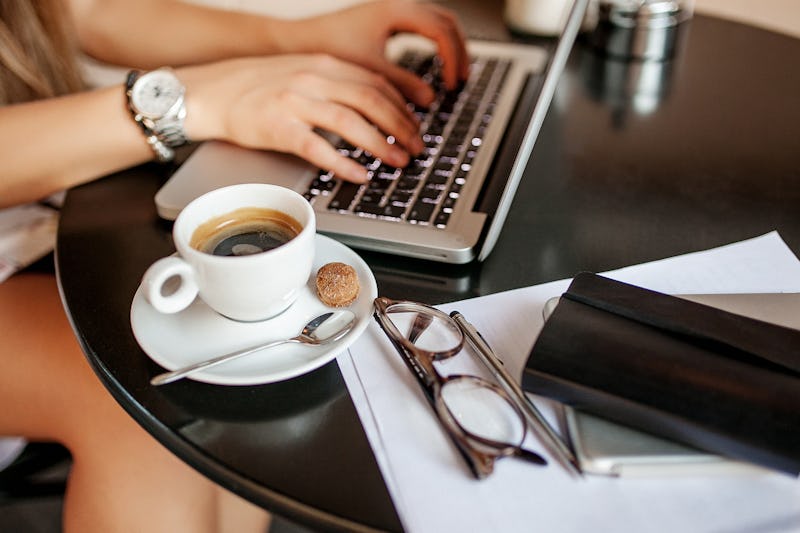 It's that time of year again, and for once we aren't talking about the holidays. No, I'm talking about how to get a year-end bonus. In the business world, we are approaching the end of the fiscal year, which means depending on where you work, it's possible you have a nice end of the year cash present coming your way. According to a new survey from Accounting Principals, a healthy amount of people should expect a nice bonus this year. It found that 67 percent of hiring managers reported their company plans to give monetary holiday bonuses this year — with an average of $858 per employee. "Most companies are willing to reward their hardworking staff during the holidays as a way to thank them for their efforts throughout the year. Prove that you are a valuable employee that deserves a little extra recognition!" Kim Gottschalk, Senior Regional Vice President at Accounting Principals, told Bustle.
So how do you make sure you are on the receiving end of one of these bonuses? Well the good news is that the survey also found that 81 percent of hiring managers feel there are things employees at their company can do to increase their likelihood of getting a holiday bonus this year. Bustle talked with Gottschalk as well as Priya Malani, an entrepreneur and partner at Stash Wealth, about their best tips for making sure you start 2016 off with plenty of cash.
1. Know What You Need To Do
Just as you would if you were asking for a raise, Malani says it's good to do your research. Know the criteria required for your bonus. Does it depend on your numbers, or your team's numbers? Do you have a way to measure progress towards your goals? It's your responsibility to know the competitive range for bonuses for your position within your industry — so do the research, or ask around. Be clear with your boss about your expectations and then, when the time is right, ask your boss if the company is looking to be on track for bonus season. This should give you an idea if you will be on the higher or lower end of the range you have in mind, so you can plan accordingly.
2. Show Off Your Accomplishments
Gottschalk says the end of the year is a great time for an informal review. Ask your boss for a meeting to discuss your work and areas for improvement for 2016. This is the perfect time to highlight your accomplishments and how you've been an asset to the company. It's a good idea to have a few talking points prepared before you sit down with your boss. Make a list of your accomplishments, and be as detailed as possible. You'll want to articulate how you personally impacted the business, whether that be through introducing a new client, helping a coworker deliver a presentation, or mastering a difficult skill.
Malani agrees. She stressed that just getting in front of your boss — and even your boss' boss — at some point each quarter (and more frequently in Q4) can be a huge help. This doesn't always have to be a formally scheduled meeting — just an opportune moment when you cross paths will do. The first thing on your agenda in that moment should be communicating the quantitative and qualitative value you've added to a specific project, and how that impacted the company's bottom line.
3. Take On Extra Work
The holidays can actually be a great time to show your boss that you are game for anything. Gottschalk says the end of the year is a great time to volunteer to take on more responsibilities, as most people have checked-out at this point. It is the perfect opportunity for you to go above and beyond, and stand out from your coworkers who are only thinking about their gift lists, or finding the perfect ugly Christmas sweater. Your manager will certainly appreciate your dedication, and see you as a key team player.
4. Ask Directly
This is a ballsy one, but it can work. According to Accounting Principals' survey, 13 percent of hiring managers noted that asking your supervisor directly can increase the likelihood of getting a holiday bonus. Gottschalk says don't be afraid to have that conversation with your supervisor and advocate for yourself, but be sure to come prepared with proof-points to highlight why you deserve a bonus.
5. Party? Yes Party!
If it hasn't already happened, go to your holiday party if your schedule allows. Gottschalk says it's important to attend and be present at your company's events to show that you embrace the company culture. A lot of planning goes into those events to make it fun for everyone, and you don't want to miss out on the opportunity to network and interact with your colleagues outside of the office. Great employees are more than just successful professionals; they also value getting to know their coworkers on a personal level.
6. Prepare For Next Year
Malani says if you don't get a bonus or aren't satisfied with the one you got, then find out what you could have done to get a better bonus. Write up a "plan of attack," and present it to your boss to explain how you will meet and exceed next year's targets, and get confirmation that, baring any unforeseen issues, this will guarantee an acceptable bonus. Come prepared with a folder containing all the all-star work you've generated for the business. Highlight the times where you went above and beyond, and exceeded your goals. People who receive bonuses do more than the work laid out for them. A bonus is never guaranteed. If you do not get it this year, start working differently and make it your mission to receive one next year.
Images: Fotolia; Giphy