7 Cheap Valentine's Day Date Ideas, Because It's Not About the Money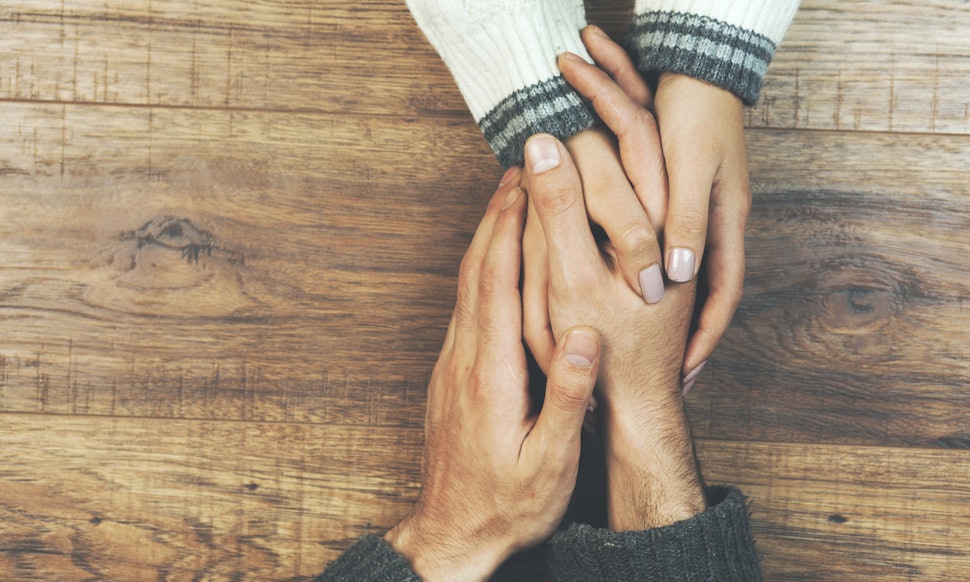 My boyfriend and I have a lot of things that are great, including but not limited to conversations, mutual friends, shared interests, sex, routines, fun together, and abs (OK, just him). But money? Well, we could stand to rob a bank or two. Sadly, that's really more of an anniversary activity than a Valentine's outing, so we've had to brainstorm some other ideas for the 14th. Click through for seven Valentine's dates we and you can actually afford —really!
Image: Fotolia
Get your culture on
My boyfriend and I were supposed to go to a museum this weekend, again. We never do, which is so dumb — there are so many free museums around us, and ALL galleries are free, unless we were to buy a painting. Valentine's weekend, we WILL pack a flask of cheap wine and sticky buns from my neighborhood bakery and head to the Met, where we will unconvincingly feign artistic savvy. I suggest you join us. Also, if you'd rather not imbibe and nosh furtively like a culture-loving raccoon, Google around for a nearby gallery opening, where you can probably sip prossecco and eat canapes that weren't even smushed by your house keys.
Image: Alan Light/Flickr
Order sodas at a despicably fancy bar
You might not be able to swing the boozy artisanal cocktail date of your dreams, but you can still grab a drink at that luxe rooftop bar with the tight-ish door and deluge of models or whatever. (This also applies for a nice, not scene-y bar, I suppose.) Dress nicely, get there early to beat the line, saddle up to the bar, and totally cheat the system by ordering two Sprites — extra maraschino cherries, please.
Stay in and cook a wallet-friendly recipes
You will probably enjoy cooking with your S.O., if you're not dating a total control freak who was once SO incapable of understanding that béchamel sauce takes longer than three seconds to thicken that he proceeded to hover over me, making critical remarks and idiotic suggestions like, "YOU SHOULD PROBABLY ADD A LOT MORE FLOUR" until it, you know, thickened. Maybe try something spicy, like a Pad Thai or another one of these simple recipes. Almost anything home-cooked is bound to cost less than a dinner out.
Image: Fotolia
Play SUPER SEXY site-specific dare-or-dare
OK, this sounds stupid, but it won't feel stupid when you're curled up in the backseat of your two-door sedan, receiving in-cuh-redible oral while it's just a tad too light outside to entirely guarantee discretion. You want this, yes? Make it happen by writing sexy-sexy or silly-sexy dares on slips of paper; stick them in a hat or whatever. Then, write down locations — keep it vaguely legal, people — in and around your home, please! I will not take the hit if you get caught banging in a Starbucks bathroom. Anyway, stick those slips in another hat/whatever. Alternate picking from both to commence excellent, goofy, mid-level risky sexcapades.
Image: Fotolia
Don your black-tie best... and head to Wendy's
Or your fast-food restaurant of choice. (We're not getting paid to plug Wendy's or anything— this reporter just happens to really like spicy chicken sandwiches.) No, really, I think this could cute and goofy and fun if you play it right. Dress fancy, drive over, order a few things tapas-style or three-course-meal style ("For starters, we will share the apple pecan chicken salad"), spike your Cokes with rum, and tuck in. This will SO make the cut in the inevitable made-for-TV movie about your life!!
Check out a local concert
Floor seats at a Beyoncé concert might be a little aspirational right now, but live, local music on the cheap? That you can do. Check around for nearby bars with V-weekend concerts in the $5 to $10 cover fee range. (Jazz clubs are always sultry!) Bonus: you'll both be down with SUPER-loud sex after, as your ears will still be ringing.
Hit up the five-star restaurant of your dreams — for dessert
I guess this is sort of the food riff on sodas at a bar, but it deserves its own slide, because food! If each of you have $10 to spend, this is a great way to get out of the house and into the five-star restaurant of your culinary dreams. And being broke is a perfect excuse to split a lava cake — if you're willing to share.