'The Force Awakens' Is An Unsurprising Success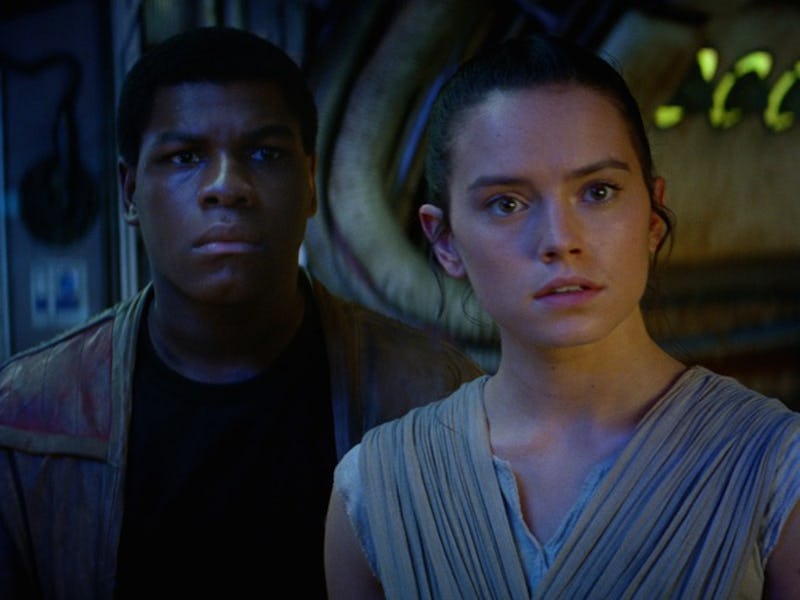 When it comes to movies, there is perhaps no franchise more legendary than Star Wars. The George Lucas space adventure has been an international phenomenon for nearly four decades, and with the release of the latest installment, Star Wars: The Force Awakens , the frenzy has reached fever pitch, with audiences around the world flocking to theaters in droves to check out what all the fuss is about. In fact, Force Awakens has broken opening weekend box office records already, bringing in more than $250 million in ticket sales in the U.S. alone — the highest sales ever recorded. So what's so special about Episode VII? The answer is simple: literally everyone wants to see it, whether or not they considered themselves Star Wars fans before now or not.
According to Deadline, opening day ticket sales topped $125 million, bringing the weekend ticket sales total somewhere between $251 million and $255 million. That figure was calculated from midnight ticket sales on both the east and west coasts, and given that Force Awakens is showing on 4,134 screens nationwide, that final tally could be even higher. It's a monumental achievement, but hardly a surprising one. After all, the release of the new Star Wars has been perhaps the most anticipated release of the entire year, and now that it's finally here, ticket sales are showing just how popular the franchise has continued to be among fans of all ages.
Admittedly, I've never been much of a Star Wars fan, which I always felt was a bit odd given that I'm a big sci-fi fan. I've watched and loved the likes of Star Trek, Doctor Who, The X-Files... you get the picture. But for some reason, Star Wars was never something I connected with before now. However, Force Awakens marks a new era in the franchise, and will likely welcome legions of new fans of all ages — perhaps myself included (I'm booked in to see it in D-Box next week).
Early reviews suggest that Episode VII has, for the most part, stayed on formula with past installments, which will please old school fans. However, by ushering in a new generation of characters, played by young up-and-comers John Boyega and Daisy Ridley, it offers an opportunity for younger viewers to connect with roles they can relate to and see themselves in while still getting the feel for the beloved originals, which is a wise choice on the filmmakers' parts.
One thing's for sure: Star Wars: The Force Awakens is the franchise's most successful film, and perhaps for good reason. I'll have to let you know when I see it!
Images: Lucasfilm/Disney