And You Thought the Cronut Was Good...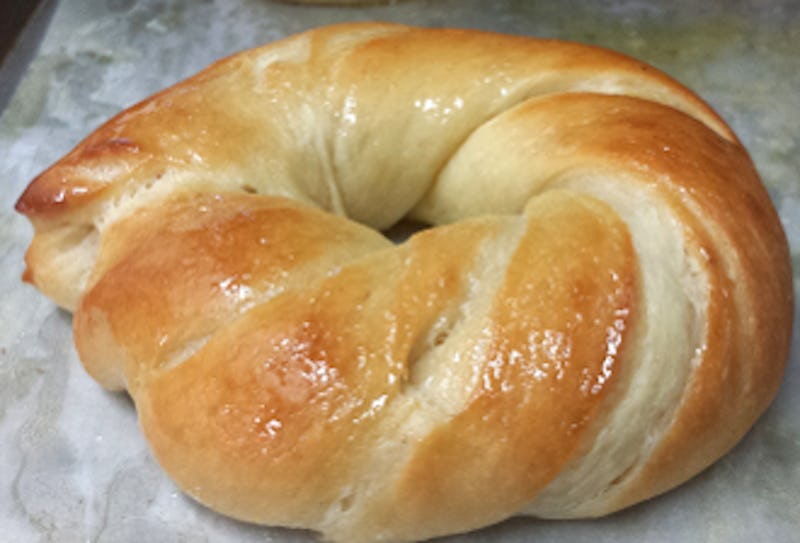 It appears a croissant-donut hybrid wasn't enough to appease the Gods of Inexplicable Food Crazes, so of course someone had to go and get all Dr. Frankenstein with a new pair of breakfast foods. Say goodbye to the Cronut and hello to the Cragel.
Created by Scot (yes, Scot with one "T") Rossillo of Brooklyn-based bakery The Bagel Shop, the Cragel is 50 percent croissant and 50 percent bagel; it claims to have "all of the characteristics of a bagel with the delicate flaky taste and texture of a croissant." Iiiiiiiinteresting. I'll be honest: I'm not entirely sure how that works, given that the point of the bagel is kind of on the opposite end of the flaky-not-flaky scale. But hey, given that Rosillo is said to be the "World's Premiere Bagel Artist," it's got to be pretty darn good, right?
Never having tried a cronut (somehow I just couldn't bring myself to wait three hours in line for a pastry – and that's really saying something, because I love pastries), I couldn't tell you how the Cragel compares to its forerunner; however, Gothamist reporter Lauren Evans declared after a taste test, "These are delicious. In a Cronut v. Cragel smackdown, these should hands-down win." High praise, indeed.
The best news? You don't have to live in New York to get one. These babies are available for order online, though there's a limit of six per customer. Just, y'know, in case you were hoping to have five dozen cragels delivered directly to your door.
Has anyone out there tried a cragel? If yes, how was it? Inquiring minds want to know!
Image: The Bagel Shop