These Were The Most Popular Foods Of 2015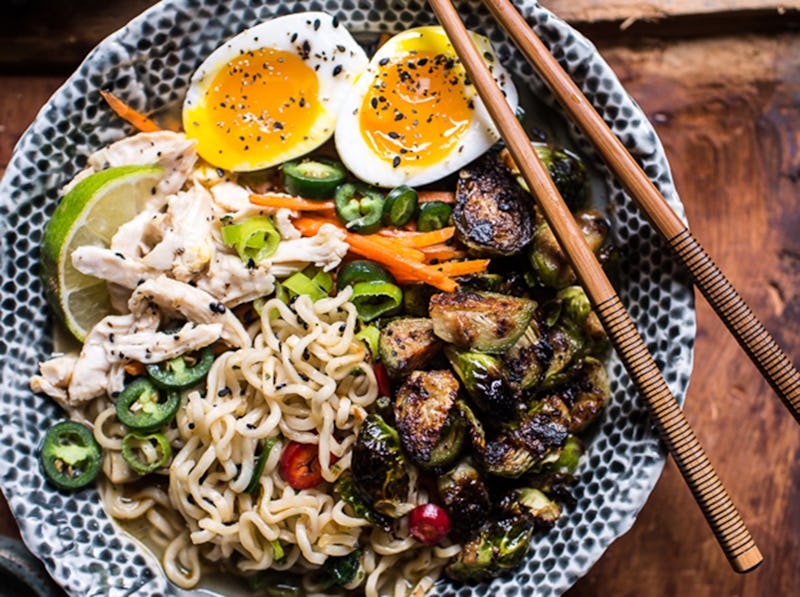 If there is anything we can learn from this list of most popular foods of 2015, it's that this last year was a delicious one. One of my favorite things about December is all of the end of the year lists that inundate the Internet. For some reason, I just really like to be reminded of all of the crazy/weird/awesome/amazing things we did and watched all year long. I especially love checking out what we searched for online (which I honestly feel like says so much about who we are), which is why the Google Yearly Trends lists are some of my favorite things. (And yes, I realize I sound like a giant nerd right now, but what can you do?) Along with the most searched news topics, how-to questions, and much more, there is a list for the most searched recipes of the year.
What did we all want to learn how to make in 2015? Not surprisingly, most of these recipes are classics — basic American home staples that anyone who likes to cook should know how to put together. From super specific and easy recipes (pumpkin seeds) to very random choices (cabbage?), the most searched for recipes of 2015 help make up a list of beloved dishes that are almost guaranteed to be crowd-pleasers. So learning how to make them yourself isn't such a bad idea!
Below are the top 10 most popular recipes of 2015, how to make the most basic form of the dish, and a recipe for something a little more unique, fun, and maybe slightly more difficult. Use your holiday time off to put these together, because honestly, why not?
1. Pumpkin Seeds
Classic Recipe: Salt and Pepper
Fresh roasted pumpkin seeds are one of the best things about fall, and luckily, making them couldn't be easier. The worst part is getting the seeds out of the pumpkin, and washing the slimy pumpkin guts off of them. Once they're clean, you simply roast them with salt and pepper for a treat that won't last very long (because they're that good). Back To Her Roots has the perfect recipe for beginners.
Fun Recipe: Cinnamon Sugar
Salty pumpkin seeds are the best, but sometimes you want something a little more sweet. Any variation of pumpkin seeds is honestly easy, but cinnamon sugar seeds are simple, sweet, and amazing. Try these by Back To Her Roots.
2. Sweet Potato Fries
Classic Recipe: Sweet Potato Fries with Garlic
There are so many things you can do with sweet potatoes, but making them into a slightly healthier version of fries definitely tops the list (after marshmallow-covered sweet potatoes, of course). Good Life Eats has a must-know recipe.
Fun Recipe: Tandoori Butter Sweet Potato Fries with Baked Feta Dip
Sweet potato fries can be super simple, fast, and easy — sometimes all you need is olive oil, salt, and pepper. Or you can put a fun spin on them like Half-Baked Harvest, and make them spicy/sweet with a cheesy baked dip that helps to make them the best side dish ever.
3. Philly Cheese Steak
Classic Recipe: Philly Cheese Steak Sandwiches
Steak, melted cheese, toasted bread, peppers... it's hard to get better than that when it comes to a really good sandwich. Philly cheese steak is a great hot sandwich recipe to know, and Table For Two has a good one.
Fun Recipe: Philly Cheese Steak Pretzel Rolls
A sandwich is arguably the best way to enjoy Philly cheese steak, but that doesn't mean there aren't other options. Put a fun spin on the recipe by baking it into pretzel rolls, like Cooking For Keeps.
4. Chicken
Classic Recipe: Lemon Chicken
A chicken recipe could literally be anything, so there are tons of classics out there to choose from. But one that almost never fails is lemon chicken, which is a pretty basic dish. This one by Damn Delicious is made with asparagus and potatoes, all in one delicious skillet.
Fun Recipe: Chicken Ramen with Brussels Sprouts
Again, there are thousands of things you can do with chicken, but here's a fun recipe from Half-Baked Harvest that's a little different and unexpected, if you're into that sort of thing. It's hard to do bad things with ramen or chicken, so put them together for something everyone will love.
5. Apple Pie
Classic Recipe: Double Crust Apple Pie
I don't care what you say — no pie is better than apple pie. This classic recipe by The Kitchn is taken straight from Magnolia Bakery in New York City, which has the best desserts ever.
Fun Recipe: Cider Bourbon Apple Pie With Oatmeal Cookie Crumble
You can't go wrong with classic apple pie, but sometimes it's fun to add other flavors. This one by How Sweet It Is includes a cookie crumble topping and a rich cider-bourbon flavor.
6. Brownie
Classic Recipe: Chocolate Brownies
When you think of brownies, you automatically think of chocolate brownies, which also happen to be one of the best desserts in the whole world. This Hershey's classic by My Baking Addiction should be a baking staple for everyone.
Fun Recipe: Turtle Brownies
You can do almost anything with brownies (I've even seen them made with avocado for a healthier version), but a personal favorite is to add nuts and caramel. Turtle brownies have nuts, extra chocolate, caramel, and basically all of the sugar. I love this recipe by Averie Cooks.
7. Pesto
Classic Recipe: Basil Pesto
Pesto is one of those things I truly feel like everyone should know how to make. It's easy, it makes great use of fresh ingredients, it's fast, and you can put it on almost anything for added flavor. It is also obviously delicious. Find an easy recipe at Damn Delicious.
Fun Recipe: Kale Pesto
Not into basil? There are other ways to enjoy pesto! This recipe by The Kitchn uses kale (you can also try Swiss chard) with walnuts and cheese.
8. Pancakes
Classic Recipe: Buttermilk Pancakes
Classic pancakes are so simple to make that I sometimes wonder why the boxed version even exists. These buttermilk pancakes by Natasha's Kitchen are fluffy and delicious. Enjoy them plain, or add toppings.
Fun Recipe: Rice Krispies Treat Pancakes
Pancakes don't need much to be more delicious than they already are, but if you want to do something fun, try these Rice Krispies treat pancakes by Half-Baked Harvest. As if that weren't sweet enough, they go along with a browned butter syrup. BRB, drooling.
9. Cabbage
Classic Recipe: Roasted Cabbage
There are so many things to do with cabbage that it's hard to know where to start. But if you're looking for something simple, this garlic roasted cabbage recipe by Cooking Classy is a great — and easy — place to start.
Fun Recipe: Fish Tacos with Cabbage Slaw
My personal favorite way to eat cabbage is when it's mixed into a slaw, and put on top of fish tacos. It's such a delicious dinner that is easier than it looks. Cooking Classy shows us how it's done.
10. Chili
Classic Recipe: Crock-Pot Chili
The best way to make chili is in a Crock-Pot, because as it sits and simmers all day, the flavors blend together even better. Plus, it makes your life a lot easier. This recipe by Family Fresh Cooking is one everyone should know how to make, because few things hit the spot better than a hot bowl of chili with melted cheese.
Fun Recipe: Vegetarian Chili
Don't get turned off by the "vegetarian" part of this recipe by Cookie and Kate. Veggie chilis can be just as good — if not better — than chili made with meat. This one uses lots of hearty spices and beans for the perfect flavor, and butternut squash for sweetness.
For more amazing food ideas, check out Bustle on YouTube.
Images: ; Good Life Eats; Half-Baked Harvest; Table For Two; Cooking For Keeps; Damn Delicious; Half-Baked Harvest; The Kitchn; How Sweet It Is; My Baking Addiction; Averie Cooks; Damn Delicious; The Kitchn; Natasha's Kitchen; Half-Baked Harvest; Cooking Classy; Cooking Classy; Family Fresh Cooking; Cookie and Kate