12 Exciting Books For Your Book Club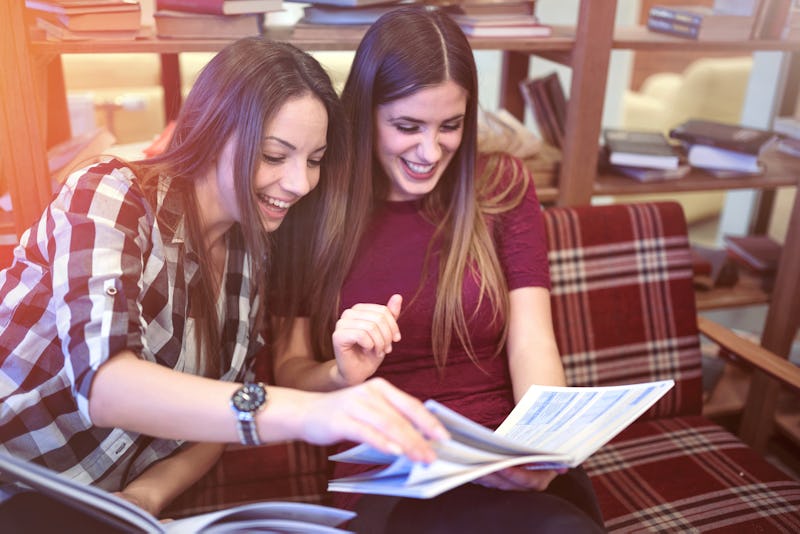 I love a good book club, but mostly for terribly lazy reasons. Book clubs not only keep me reading, but they also keep me honest. The knowledge that I'm going to have to talk about whatever I am reading with a group of my friends will at least make sure that I finish a book, and the depth in which I have to discuss it often keeps me from skimming. All in all book clubs definitely make reading not only a super enriching experience, but also something of a team sport. It's win/win!
However, choosing a book for your club can sometimes be agonizing. Do you stick with the classics? Read the bestsellers? Find the trendy new book everyone is talking about? For the intrepid club which wants to expand its horizons, these questions can weigh heavily. If you want to think outside of the box, where could you possibly start? Any book can be a "book club book," even if there isn't a reader's guide in the back.
Luckily for you and your club, I've compiled a list of 12 exciting books that all of you must read. These awesome stories are full of mystery, romance, and thrills, and you'll love chatting about them. So take a look, pick a story, and don't forget to bring snacks!
Two couples converge on a warm summer night in Amsterdam to have dinner, indulging in normal day-to-day conversation, although they hide a dark secret. Both couples have 15-year-old sons, and together those sons have committed a terrible crime. Caught on camera, the picture is grainy enough that the only people who know the identities of the perpetrators are their parents. As the night goes on, the subject of whether or not to turn their boys in is raised, and it starts a chain reaction that will threaten to destroy their friendships and each other's lives. It's a meditation on not only parenthood and ethics, but also on marriage, friendship, and so much more.
A disturbing true story, Give Me Everything You Have centers on the author and his experiences with being stalked by a former student through hate mail, online posting, and public accusations of sexual misconduct. Although the tale is told with warmth, humor, and compassion, the story is nevertheless terrifying. With online bullying and cyberstalking on the rise, this memoir has the potential to bring up a timely discussion with your club, and the beautifully lyrical writing makes it less of a heavy-handed lesson.
Is your book club full of Anglophiles? Well, Making History might be the right choice. When an aging German physicist teams up with a history grad student to find a way to make sure that Hitler was never born, they set off a chain of events that will change history ... and perhaps not for the better. This study of alternate history will definitely spawn a bunch of lively conversations, while Fry's humor makes sure that you are never bored while reading it.
A disturbing story about parenting in the vein of The Dinner, We Need to Talk About Kevin made a splash several years ago, thanks to the moving adaptation starring Tilda Swinton. But the novel stands on its own. Eva never really wanted to be a mother, and to make matters worse, her son is currently in prison after murdering nine people two days before his 16th birthday. Two years latert Eva must confront her feelings about not only the situation, but her relationship with Kevin. This dark story is essentially a mother's worst nightmare, and the horror of the situation will spawn plenty of discussions about family relationships, nature versus nurture, and mothering instinct.
After a terrible fight with her mother, 15-year-old Holly Sykes attempts to run away from home. Her lost weekend ends with a terrible disappearance in her family that sends shock waves across Holly's life. To make matters worse, Holly herself is a conduit for psychic activity, which has drawn the attention of two warring groups of mystics who want to put her to use. The Bone Clocks spans decades and focuses on several characters who affect Holly — it's an invisible war being fought on the fringes of society. This novel holds the potential for starting not only deep discussions about the nature of self, but also more lighthearted conversations, such as "How cool would it be to have magical powers?"
A.J. Fikry's life isn't exactly going the way he wanted. Recently widowed, he's also facing down the impending failure of his beloved bookstore. He spends most of his days hiding from his well-meaning sister-in-law who insists on dragging him out of his gloom and the book salesperson who refuses to be deterred by his horrible attitude, but nothing seems to help. Even his books no longer hold any pleasure for him. When an unexpected package arrives and changes his life, A.J. realizes that perhaps things aren't so bleak after all. This is an ideal book club book, given the celebration of bibliophiles, and the sprinkling of literary allusions throughout the story will make for a rather fun competition between the members to see who can identify them all.
No matter what Harry August does in his life, in death, he always returns to the same point in his life, but having retained everything he learned from the life before. At the end of his 11th life, a little girl warns him on his deathbed about the end of the world, and that it seems to be coming closer and closer with every cycle. Equal parts Groundhog Day and Life After Life with the added stakes of the apocalypse, this book has ample conversation fodder over the concept of how personal choices effect history, as well as one's own sense of self.
This is a Sherlock Holmes story officially canonized by the Doyle estate. The prologue begins with Watson explaining to the reader that now that Sherlock is dead, he's finally able to write about some of the stranger adventures they went on. When called upon to solve a seemingly normal crime involving murder and rare art, Holmes and Watson soon uncover several crimes involving the eponymous House of Silk. Book clubs centering around mysteries will love comparing Horowitz's Holmes to Doyle's Holmes, while the mystery itself is enough to read the book on its own merits.
This novel was written by Gilmore Girls actor Lauren Graham, and centers on Franny Banks, a struggling actor living in New York City. She only has six months left on her three-year deadline to "make it," and hasn't been very successful at all. Lacking the skills needed to make it in the real world and feeling pressure from her father to just come home and teach, Franny needs to decide whether to give up on her dream or to keep trying. If your book club loves the lighter things (and Gilmore Girls), then this is definitely the right choice for you.
It's France in 1939, and Vianne Mauriac has sent her husband to the front. To make matters worse, the Nazis invade and she is forced to take the enemy into her home, knowing that her life and that of her child are in constant danger. In the meantime, Vianne's rebellious 18-year-old sister falls in love with the mysterious Gäetan, a man who believes that the French can fight back against their oppressors. The Nightingale is a fascinating story of women during World War II, and your club will love discussing the agency of women in tough times, as well as their durability of spirit.
Has your club already finished Gone Girl and can't wait to find the next big thing? In A Dark, Dark Wood centers on crime writer Nora, who doesn't often leave her apartment, due to a taste for solitude. Her life is turned upside down when, out of the blue, she receives an invitation to the bachelorette party of her former high school best friend, Clare. Unfortunately, Clare seems to be marrying Nora's former boyfriend, and after not seeing any of them for eight years, she's a little confused as to why she would even be invited. Gathering together in a remote house in the woods, something terrible happens, and it's up to Nora to figure out why. This mystery has loads of twists and turns, and your club will love dissecting the characters and their motivations.
Middle-aged nurse Kate Cypher has decided to return to her small hometown in Vermont to take care of her mother, who has been afflicted with dementia. On the night of her arrival, a little girl is murdered in a strangely similar fashion to Kate's childhood friend Del, a dirt-poor girl tortured by her classmates who became a bit of a ghost story as a result. Drawn to the case, Kate must confront her past in order to figure out who the murderer is. Equal parts thriller, mystery, and ghost story, Promise Not to Tell will keep your book club guessing until the very end.
Image: Fotolia