You Can Control This Family's Holiday Lights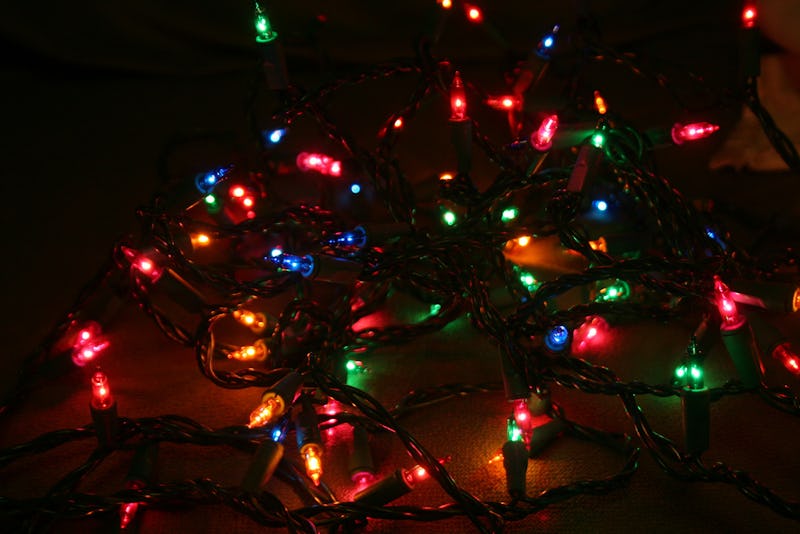 If you've had any trouble getting into the holiday spirit this season, perhaps what you need is a bit of illumination to drive out the bah-humbug of darkness. And thanks to a family letting strangers on the Internet control their holiday lights, now's your chance to feel very merry and, quite literally, bright.
For the sixth year in a row, IT professional Ken Woods and his wife Rebecca-Ellen are inviting random people on the Internet to orchestrate the lights strung all over their Fairbanks, Alaska home. Over the years, the setup has evolved as participation has grown. "The very first year we did it, we did one string of lights on the tree. It was cool, but then we added a web camera pointing at the tree and then [the reaction] blew up. A week into it, my wife turned to me and said, 'Next year, these are going outside.' It was super annoying in the middle of the night," Ken told ABC News.
Per Rebecca-Ellen's promise, the couple switched to outdoor lights the following year. Ken nailed a live camera to a tree outside of their home and built a dedicated computer-controlled switching box with ports allowing strangers the ability to light up everything from the living room windows to the front door wreath — at this very moment, more than 300 people are flicking the various twinklers on and off (info that comes courtesy of a fun "active users" statistic). In fact, says Woods, "You would not believe the number of people who sit for hours and turn the lights on and off."
For those of you battling your inner Grinch, yes. You really do control the lights. Don't believe it? Email Ken and he'll send you a temporary URL to control the tree inside their home. See also: No neighbors' retinas are harmed in the making of this online light show — there aren't any homes close enough to the Woods' household to actually be irritated by the orchestra of lights. Lastly, if you're wondering about the havoc holiday lights might wreak on the family's electric bill, well, you've got a point. As of Dec. 18, the estimated bill for the server costs alone is more than $400. If your heart has grown three sizes watching the Woods' holiday lights flicker on and off, though, you can always donate a few dollars toward the couple's annual light display.
After you feel sufficiently cheery (and/or hypnotized by holiday spirit) from staring at the Woods' live web cam, check out these other spectacular holiday light displays sure to put a twinkle in your eye this December.
1. The Force Is Strong With This One
Clearly, IT whiz Tom BetGeorge is a master Jedi when it comes to holiday lights. Last year, his Star Wars Music Light Show went viral and is picking up steam once again thanks to the excitement surrounding The Force Awakens. You can also ooh and ahh over this year's installation here.
2. Welcome to Arendelle
Since 2010, Texan John Storms and his family have been the hit of their neighborhood by displaying holiday light shows set to popular songs. But they really hit it out of the park with last year's light display synchronized to the song "Let It Go" from Disney's mega-hit, Frozen. While the YouTube clip may be brief, the real live show lasts for an hour — much to the delight of Storms' neighbors, who set up camping chairs in the street to watch (and sing) along.
3. Rock On, Holiday Metalheads
If Star Wars and Frozen aren't your speed, perhaps you'll get a kick out of YouTube user Slayer Bob's heavy metal holiday lights show set to none other than Slipknot. It's a rockin' good time, right down to the headbangin' snowman. No newbie to the holiday light show scene, Slayer Bob's past viral displays include heavy metal lights set to Machinehead and more.
Image: abbybatchelder/Flickr