Is Face Oil Better Than Moisturizer?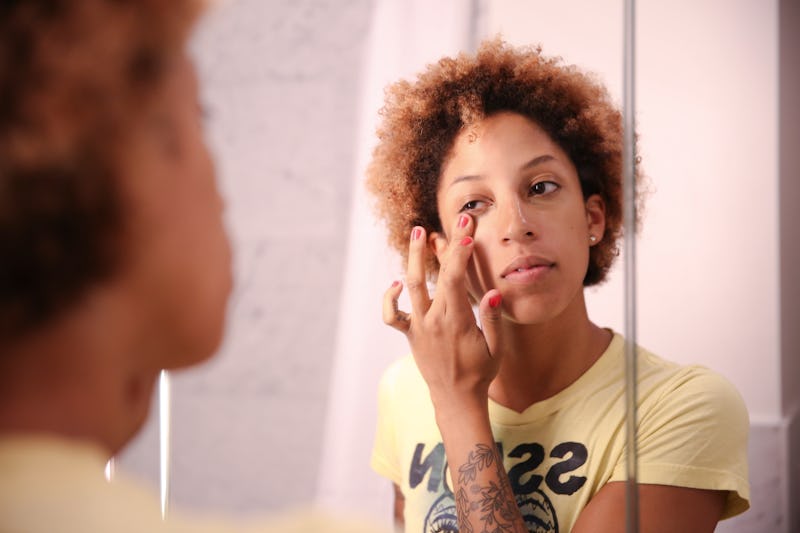 Given that everyone seems to have their own preferred method of skincare, it's not always easy to figure out which products are actually better than others — especially when it comes to moisturizing. If you have dry skin, you may be more game to experiment, but if your skin is oily, then you might be wondering: Is face oil really better than moisturizer? As it turns out, regardless of what your skin type is, you might want to consider swapping your moisturizer for face oil.
Facial oils have become all the rage in the beauty world, but if you already have oily skin, adding even more oil to your skin can be slightly unnerving. But take a deep breath and keep an open mind, because facial oil is actually better than moisturizer. Even if you have oily skin.
Here's the reason behind it: Common moisturizers can clog your pores and cause breakouts, plus adding oil to your skin will stop the overproduction of your skins natural oil, making your skin less oily. So that's reason enough to make the swap, but facial oils have other benefits, too. They can protect against environmental effects and deliver a strong dose of nutrients to your skin. Not just that, they are natural and contain no preservatives, are easily absorbed and won't clog pores, and are healing and help to repair skin. So there you have it. Oil up without fear.
If you want to add face oil into your beauty routine, here are seven to shop.
Radha Beauty Rosehip Oil, $14, Amazon
The name is pretty enough on it's own to make you want to try it, but rosehip oil is amazing for reducing fine lines, brightening your skin, and to combat scars or hyper-pigmentation.
Leven Rose Organic Jojoba Oil, $14, Amazon
Everyone is obsessed with jojoba oil right now, and for good reason. It will heal blemishes, moisturize skin, and can even be used as a makeup remover.
Pura d'or Argan Oil, $15, Amazon
Not only is this oil amazing for your face, but it can also be used on your hairs dry ends.
Badger Face Oil, $23, Amazon
This combination can be used on all skin types, and contains a ton of antioxidants.
A super hydrating oil like this one is great for rehydrating moisture-depleted skin.
If you have oily skin and are nervous about using face oil, try this non-greasy oil that will moisturize and balance your skin.
Now Foods Grapeseed Oil, $8, Amazon
This oil contains a ton of fatty acids to combat dryness.
Want more beauty tips? Check out the video below, and be sure to subscribe to Bustle's YouTube page for more hacks and tricks!
Images: Isla Murray/Bustle; Amazon