7 Hairstyles To Wear Christmas Morning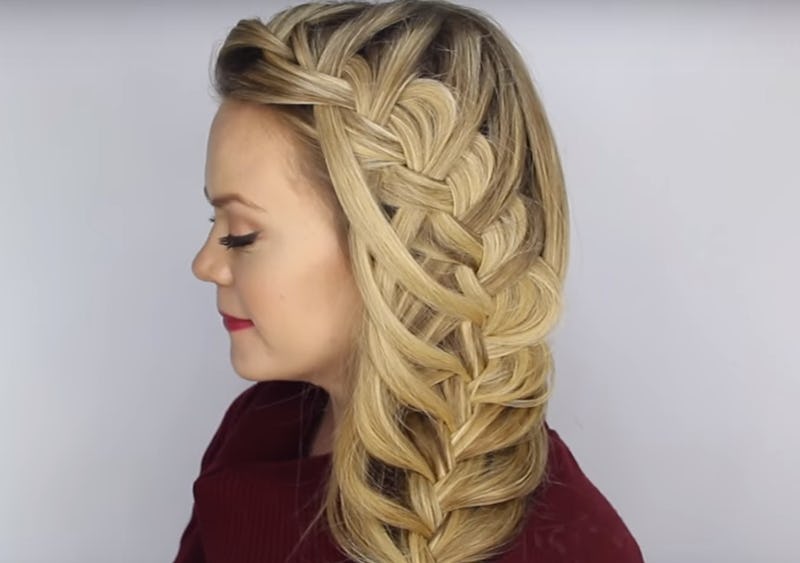 Getting ready for Christmas morning is problematic. On the one hand, you want to be all cozy and lazy in your PJ's, but on the other, you know there are going to be pictures snapped, and you don't exactly want to end up on someone's Insta looking like you just rolled out of bed. Which you obviously did, but whatever. Looking too done up, though, just looks silly, so I've rounded up some of the best hairstyles for Christmas morning that are messy enough for your jammies, but polished enough for social media. #winning!
Christmas is busy, and between opening presents, spending time with family, cooking, and eating, you definitely don't want to be spending an hour in the bathroom wasting any of the day. But you also probably want to tame your hair a little bit, so it's important to figure out your style ahead of time and make sure you know how to do it. While you might want to break out your curling or flat iron for Christmas dinner, the morning should be a little bit more relaxed. It's the whole "done but undone" look, you know the drill. So if you're in need of some inspiration, try one of these seven easy ideas for Christmas morning hair.
1. Messy Bun
I'm a HUGE advocate of the messy bun. Nothing says elegant like an up-do, but it takes literally seconds to do and you can still rock it even if your hair is dirty or not curled/straight/your desired texture.
2. Fishtail
It's a braids messier cousin.
3. Half-Up Ponytail
If you want to wear your hair down, but don't want it getting in your face with all the morning activity, then try a half-up ponytail.
4. High Ponytail
The higher the ponytail, the more volume you'll have, which looks a little more "done."
5. Waterfall Braid
A waterfall braid perfectly bridges the gap between messy and pretty, but you might not want to leave the "learning how" part til Christmas morning.
6. Headband Braid
You could keep your hair off your face with a headband...but a headband braid is just cooler.
7. Fishtail Ponytail
Can't decide if you want a fishtail or a ponytail? No worries, you don't have to.
Want more beauty tips? Check out the video below, and be sure to subscribe to Bustle's YouTube page for more hacks and tricks!
Images: YouTube