Kris Jenner's Old Candle Infomercial Is Perfect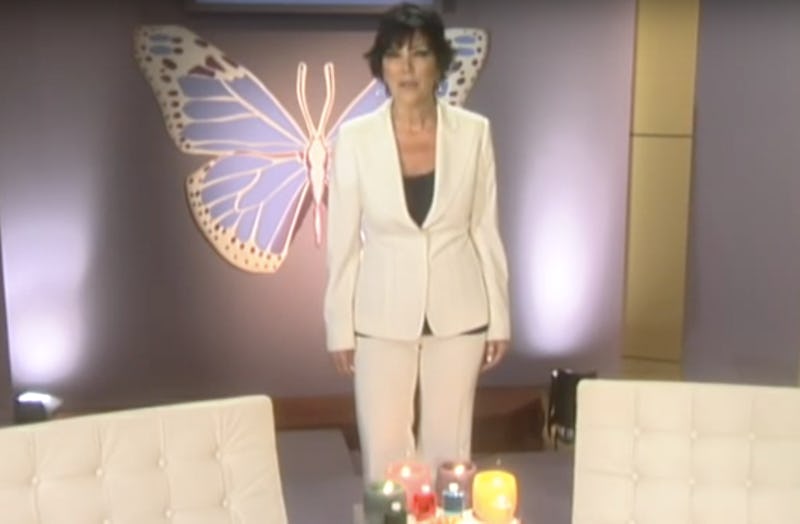 It's easy to forget that the Kardashian-Jenner clan were around long before our TV's were first graced with Keeping Up With The Kardashians. Kris Jenner in particular had a variety of careers before she was a momager — she was even a flight attendant. But, did you know that Kris Jenner once appeared in a candle infomercial? No? Well, thanks to a recently re-discovered video from what looks to be the early '00s, everyone can see just how jazzed Kris was about "wicks of wisdom," a specially formulated candle that, according to the informercial, is supposed to make all your hopes and dreams come true. If the mystical candles aren't enough to draw your attention, please take in Kris' spunky haircut, cream-colored pin stripped pantsuit and her thumb ring! You can see how excited she was about the product, or maybe just to be out of the house (the woman does have six children, after all).
People tend to dismiss the Kardashian family's fame, or trace it back to Kim's infamous sex tape, but the truth is that the first family of reality TV have been in the public eye for quite some time — especially during Kris' marriage to Robert Kardashian, Sr. I like to imagine that if there had been a Real Housewives of Calabasas in the '00s, Kris would've been a Bethenny Frankel-type mogul. Ah, what could've been!
Anyways, for those who don't have 28 minutes to sift through the glory of this infomercial and all of Kris' amazing moments, here are the clips from it that you absolutely cannot miss:
1. Kris' Introduction
She says it with such pomp and vigor! "Hello, I'm Kris Jenner!" Yes you are, girl! It's like she already knew that she would be the queen (sorry, kween) of an empire.
2. This Giant Butterfly
Kendrick Lamar's got nothing on Kris Jenner. Look at that majestic purple butterfly! Nothing says mystical candles designed to bring you money and power like a big butterfly.
3. Her Thumb Ring
It's great to know that Kris always had a dope signature style. She never let being a mom get in the way of her affinity for trends. I personally think she should break that thumb ring back out.
4. Her Talk Show Host Moment
Even then Kris had the charisma to pull off hosting. I hate that her actual talk show didn't make it, because she's such an obvious candidate for one. She's hosted a few other shows and it's always awesome.
5. When She Takes Questions
Channeling her inner Oprah, Kris begins to take questions from the audience. The longer you watch the video, the more clear it becomes that she really had star quality (*kuality) all along.
6. Those Hoop Earrings
Kris still rocks hoop earrings all the time, so it's cool to see that she incorporates some of her old style into her new life as a momager extraordinaire.
Some things never change.
But for real, Kris is, at her core, an entrepreneur. She's savvy as all get out, and it's awesome to have evidence that she was making a name for herself long before E! had anything to do with it.
Check out the full infomercial below.