7 Tips For Lighting Your Space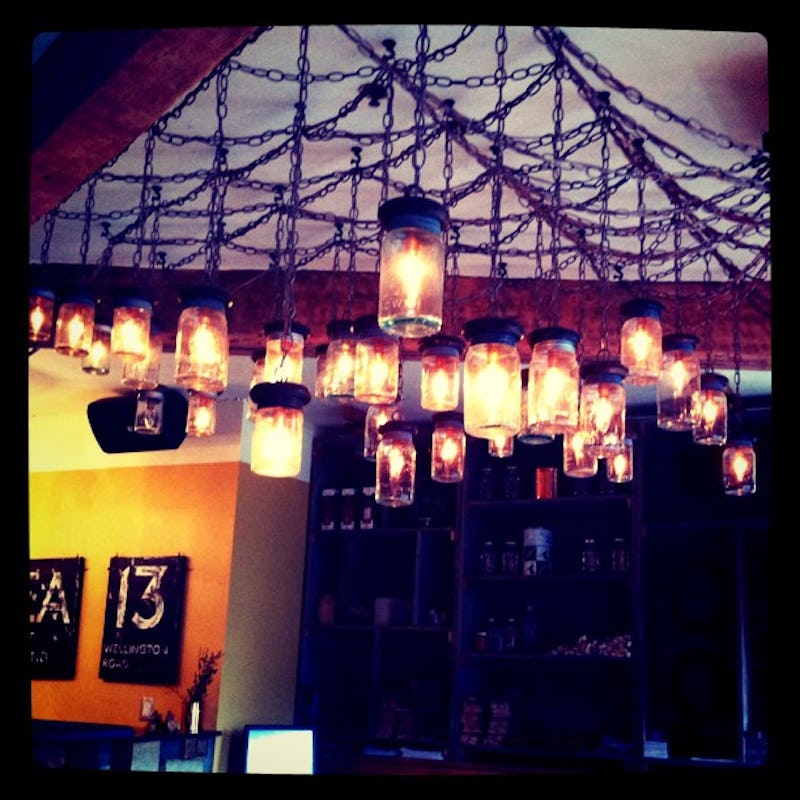 Proper lighting might not seem like all that big a deal, but I can tell you first hand that lighting a space for both function and overall mood, as well as knowing a few simple tips to brighten up your home can make a world of difference in your day-to-day comfort.
I didn't ever fully appreciate just how much lighting can make a difference in your life until I lived with a roommate who actually made decorative lights for a living. Because light was basically her "thing" she went to work rearranging and updating the light in our common areas, and the place went from pretty average to an incredibly cozy and appealing space where houseguests and roommates alike genuinely enjoyed spending time.
I often had friends who came over tell me that they loved the "feel" of my apartment and that that it just felt incredibly homey, and I'm 100 percent sure that most of what made them feel that way was how the space was lit. The light was never too harsh and generally had warm hues, but there was always solid light where we needed it most, like in the kitchen or in darker corners.
So if you're looking for a cheap and easy way to update a room in your home, here are seven lighting hacks that will seriously change your life.
1. Light Your Closet
Insta Bulb, $7.98, Amazon.com
In an article for Apartment Therapy design writer Dabney Frake suggested installing lights in your cabinets and wardrobes if they do not already have them, as it's a quick fix that will make life way easier. I can personally vouch for this one 100 percent — after one too many time cursing that I simply couldn't see what was in my super dark closet, I finally installed battery-operated lightbulbs, and my only complaint is that I didn't do it sooner.
2. Get A Dimmer
Lutron Credenza 300-Watt Plug-In Lamp Dimmer, $14.97, TheHomeDepot.com
Joseph A. Rey-Barreau, a lighting designer with the American Lighting Association, said that light is extremely important for creating ambiance in a space, and said to avoid bright or fluorescent overhead lights, instead opting for floor and table lamps with dimmers. "Not using a dimmer is like buying a radio with no volume knob," he said.
3. Get A Lamp For Right By Your Bed
Clip It Lamp, $24.97, The Land of Nod
This is totally a personal tip. Nothing is more annoying to me than snuggling into bed to read before falling asleep, getting super cozy and sleepy, and then having to get up to shut off an overhead light. Having a lamp right next to your bed, or even a little reader light will seriously make life so much nicer.
4. Light Up Your Makeup Station
Conair Double-Sided Battery-Operated Lighted Makeup Mirror, Polished Chrome Finish, $24.99, Amazon.com
In a piece on perfect makeup application, New York Magazine beauty editor Kathleen Hou stressed the importance of proper lighting for you face when you put makeup on. She said that natural light by a window is the best option, as it's "evenly diffused and clear, so you can easily see when something isn't blended properly," but that natural white light between 60 and 65 watts is the next best thing. She also said that standing in front of the light source, as opposed to below it, will minimize annoying shadows.
5. Keep Candles On Hand
In a piece for the About.com Home section, Feng Shui expert Rodika Tchi noted that candles can be an extremely important part of home decoration and relaxation. "Candles invoke the energy of purification and inspiration, they warm up the energy and help release daily stress," she said. I'm personally a huge fan of keeping a supply of cheap tea lights and a few simple jars on hand — that way I can create a super pretty centerpiece or just mellow mood lighting at a moment's notice.
6. Don't Be Afraid To DIY Your Own Fixtures
I'm a huge fan of DIY light fixtures as they give your space a super unique and homey feel. Hanging mason jar lamps are a perfect option if you're looking for cozy light from above.
7. Use Mirrors To Reflect Natural Light
Dubois Large Square Mirror, $199, Crateandbarrel.com
According to architect Regina Yunghans on a piece for Apartment Therapy, mirrors and other reflective objects are a great way to make a space look lighter and brighter. "Place a mirror on a wall adjacent to a window or opposite a window," she said. "When placed adjacent, a mirror will mimic the window and make it seem like you have more windows in the wall. When placed opposite, the mirror will reflect light and views from the window." She also noted that reflective objects will help to bounce the natural light all over your space.
Solid lighting is an incredibly important part of creating a homey and efficient space, and the good news is there are a ton of inexpensive ways to get the most out of your light.
Image: Carlos Pachecko, Markus Grossalber/Flickr