Here's Why Lip Balm Is The Best Multi-Tasker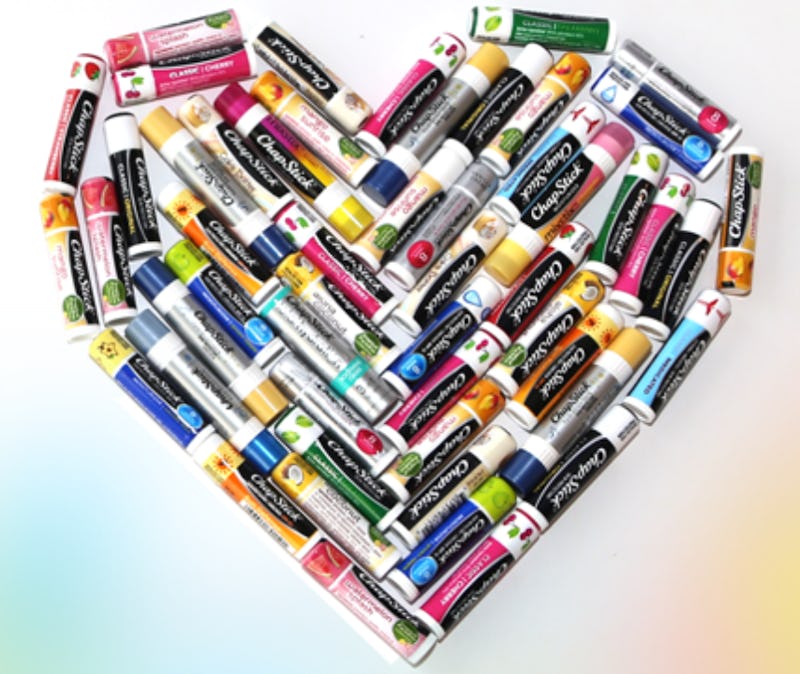 Lots of beauty products are multi-taskers than can serve many purposes effectively. You can use body mist as a hair perfume or a fabric refresher. You can substitute lipstick for a cream blush in a pinch. Then there's lip balm, the most multi-use beauty product you will ever own. Seriously. It's can be used on lips because duh, as well as the tips of your hair, on your brows, on dry patches of skin, and more.
Lip balm is both a holy grail and desert island product for me. I have to carry at least three in my bag at all times and I always have one or six within arm's reach on my desk or on my nightstand. There are even two or five or 25 in my car.
I love lip balm because it's malleable. A moist, creamy, and divine-smelling balm can pretty much sub for 10 other products and get the job done just as well, if not better than, the item it's replacing.
Here are the five other genius ways that I have used specific lip balms for... to fantastic results. It's a flexible product that has lead to so many beauty hacks. Thank me later for opening your eyes to the not-so-obvious power and properties of lip balm.
1. Lips & Cheeks
Lip balm is formulated for lips. Duh. But an ever-so-slightly tinted balm can be used as a gloss, as a cheek tint, or as a skin highlighter. Smith's wildly popular Rosebud Salve, with its glorious shine, divine texture, and hint of pink color can be used anywhere on the face, hair, or body. It's dewy texture allows it to illuminate skin. Plus, the vintage tin is the cutest. ($6, sephora.com)
2. Tips
A waxy but not-too-greasy balm, like the eos spheres, can be used to tame hair flyaways or split ends. On dry or windy days, I dab a dot, and by "dot," I mean a tiny, measured amount, between my fingers and rake through the ends of my hair to keep things in check. ($3.29, evolutionofsmooth.com)
3. Cuticles
When I dip my finger in a pot of balm and slather it across my lips, I am not perplexed by what to do with any excess. I am not going to return it to the pot, because that's... icky. Instead of rubbing on my jeans and leading to waste, I smooth it into my dry cuticles, especially in winter, to keep them hydrated. Sara Happ's The Lip Slip One Luxe Balm is my absolute favorite. It's richer than Warren Buffett and offers megawatt shine for my lips and maximum moisture for my cutes, since it dissolves wonderfully. ($24, nordstrom.com)
4. Hand Cream
A dense lip balm, like an extra emollient lip butter, can pinch hit for your hand cream or be used to soothe rough patches if you are desperate. I crush hard on Soap & Paper Factory's Mint Julep Lip Butter. It's extra tingly on my lips, but I have resorted to scooping out a chunk and using it to moisturize my hands, since it melts into the skin. Ahh! ($9, soapandpaperfactory.com)
5. Brow Tamer
Lip balm can tame errant brows, too. If you aren't able to pluck or trim a couple of uncooperative brow hairs, a touch of ChapStick, applied with you finger, as opposed to directly form the tube, can keep 'em in line. You can totally use it to shape your brows. (Price varies, drugstores)
Lip balm is so flexible. It bends to your beauty needs perfectly.
Images: Courtesy Brands (5)