11 Platform Heels For All Day Comfort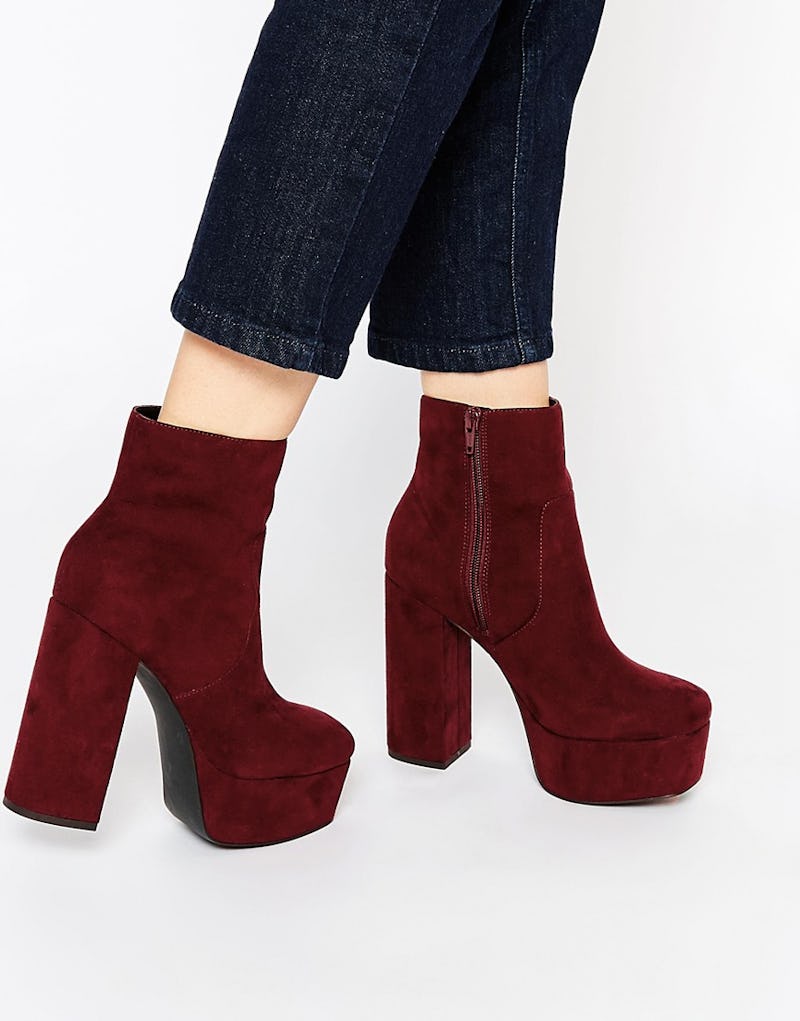 This year, I'm starting a campaign against uncomfortable shoes, because whoever said fashion before comfort clearly hasn't had a true night out. That's where platform heels come in: Not only are they super cute, but you can dance in them all night long, no problemo. Because nothing kills your buzz quite like having to sit down and rub your feet down as they swell in pain. When I go out, I want to go out,no exceptions.
At this point, I've accepted my fate. As a fellow short girl, my goal is to wear the highest possible heels to even make the photo with my friends (especially my best friend — He's 6'2). Or, if I'm going to a concert or music venue and it's general admission, high heels are an absolute necessity. Otherwise, it's just sweaty armpits that I'm seeing all night long. But, living in New York City, it's nearly impossible to wear your highest heels for an entire evening out.
Of course, if I had an unlimited funds, I could take an Uber or cab anywhere. But, alas, I don't live in that fantasy, and walking from the subway stop to my destination (or home) is a very real thing. And that's when platform heels come in and save the day. Especially for a night like New Year's Eve, they're clutch. Below, find some of the best platforms that'll keep you dancing the entire night, and you won't even need the alcohol to numb the pain in your feet.
1. The Lace Up
Missguided Platform Lace Up, $68, Missguided
Can you get more badass than these? Nope.
2. Keepin' It Simple
Boohoo Night Lorna Ankle Strap Block Platform Heels, $42, Boohoo
Plus a chunky heel. I could definitely dance in these all night long.
3. Metallic
Qupid Metallic T-Strap Chunky Platform Heels, $39, Charlotte Russe
Throwback to the '70s with this one.
4. The Capped Toe
Charlotte Russe Chunky Platform Heels, $36, Charlotte Russe
I'm never going to say no to a nude suede heel.
5. The Bootie
Faith Sapphire Bordeaux Platform Heeled Boots, $43, ASOS
Comfy and warm: Check and check.
6. Triple Threat
Monki Platform Heeled Sandal, $90, ASOS
And if you want to get your inner Cher Horowitz, these will accomplish just that.
7. The Animal Print
Boohoo Zoe Leopard Closed Toe Platform Heel, $32, Boohoo
For when you need to add a little statement to your look.
8. The Pop Of Red
Nine West Carnation Platform Sandals, $99. Macys
With a pair of statement stockings or some fun socks, these are definitely some serious party shoes.
9. The Trusty Clog
SMILE Wooden Platform Clogs, $90, Top Shop
I own these clogs, and I can attest to their unparalleled comfort, especially when walking longer distances.
10. For '70s Enthusiasts
Missguided 70's Platform Block Heel Sandals, $59, Missguided
Eternally obsessed with these. They're pretty much perfect with a floral jumpsuit.
11. The Mule
Topshop Sagittarius Leather Ankle Strap Open Toe Platform Sandal, $95, Nordstrom
No other shoe has been as big this year than the mule, and for good reason!
This year, join me in the no pain campaign, and ditch your uncomfortable shoes. 'Tis the season, as chunky heels are becoming more and more on trend, too. Platform heels, we're coming for you.