Where To Buy A Massive Ring Just Like Kylie's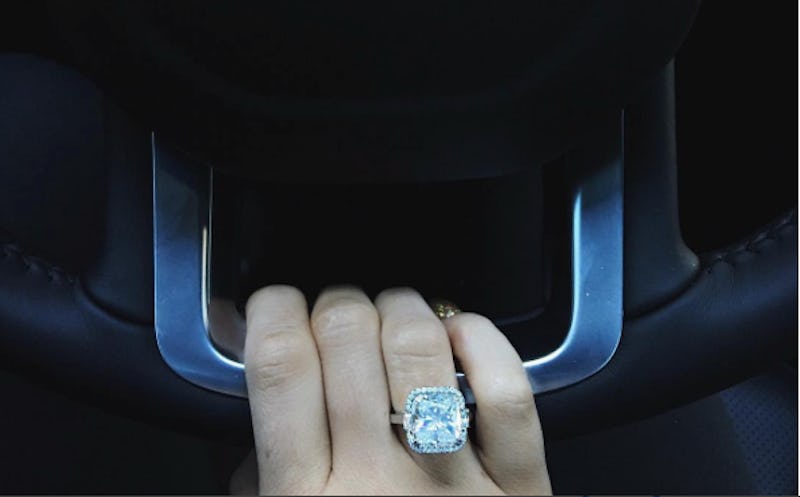 We all know that diamonds are a girl's best friend. So, when reality TV-star, Kylie Jenner showed off a diamond ring on Instagram that was completely enormous, the Internet went crazy. Everything from engagement rumors to secret wedding plans spread like wild-fire across the web. However, before you start stalking Instagram for wedding updates, Jenner went on record saying the rumors weren't true. According to her website, it's just a present from a "special someone."
While I'm not usually the one to keep up with Kardashian-Jenner clan, I am almost always interested in impressive jewelry. Just look at that ring! It's a complete showstopper.
For us non-Jenners, enormous diamond rings aren't exactly in our normal monthly budget (sigh). So, when it comes to copying King Kylie's jewelry game, it's easiest to turn to faux stones instead. I promise that no one will judge you for not rocking a real 15 carats, so don't worry about your gems looking less than pristine. There are plenty of faux diamond rings out there that look just as fabulous as their pricier counterparts. No budget planning needed! Here are seven fabulous diamond rings that could double as Kylie Jenner's.
1. A Ravishing Rock
Engagement Ring, $49.95, Fantasy Jewlery Box
While the band of Kylie's ring isn't bejeweled, there is nothing wrong with a few extra diamonds.
2. Set In Stone
Engagement Ring, $14.71, Overstock
What's better than one row of diamonds? Two, obviously.
3. Silver Stars
Engagement Ring, $120, Overstock
Oh, hello beautiful.
4. Bling Bling
Engagement Ring, $134, Overstock
Can I have one for every finger?
5. Cold Cuts
Diamond Ring, $49, Berricle
Oh, this old thing?
6. Ice Queen
Vintage Ring, $45, Emitations
Icy bling has never looked so good.
7. Plush In Platinum
Vintage Ring, $105, Overstock Silver
This ring is definitely worth a few more Instagram followers.
You don't have to have the wallet of a queen to live like King Kylie. These faux diamond rings are perfect for those who want their own stunning bling.
Images: KylieJenner/Instagram; Courtesy Brands