Anastasia Beverly Hills Launches New Glow Kits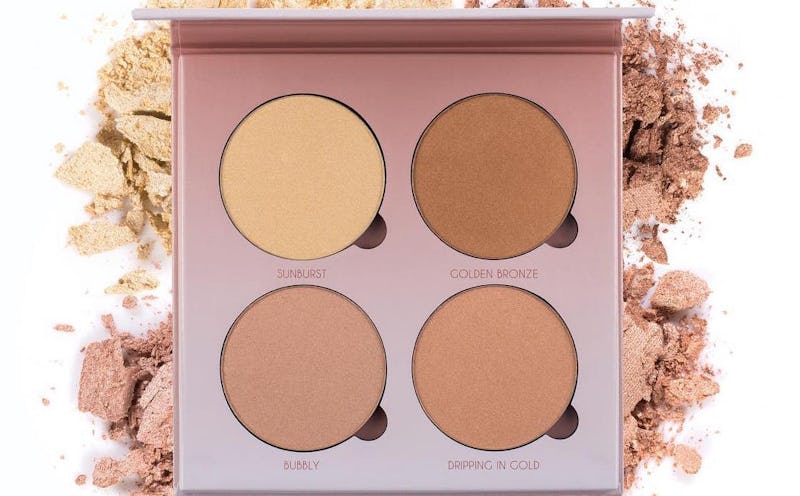 Ladies, are you sitting down? Prepare to brace yourselves. According to Allure, Anastasia Beverly Hills launched Glow Kits, two affordable highlighting palettes from makeup legend Anastasia Soara herself. Yes, the company responsible for our contour obsession now has highlighter kits for every skin tone, and they're what glowy face dreams are made of.
In honor of founder Anastasia Soare's birthday on Monday, the company launched Glow Kits on its website, announcing the big reveal on their Instagram account. The first Instagram caption read, "Surprise 🎉🎉my birthday gift for all my followers, clients and everyone that supports our brand. Love you ! GLEAM highlighting kit. Glow Kits are now live on my website $40 😱😱❤️ #abhglow #anastasiabeverlyhills"
There are two kits, each containing four shimmer highlight shades. One palette appears to be for fairer skin tones with rosy and pale highlights, while the other is for medium to dark tones, featuring deep bronze shades. This versatility in products is why Anastasia Beverly Hills is beloved by bloggers, celebrities, and makeup artists alike.
"We put six contour colors in one kit, and I'm basically doing the same exact thing with our Glow Kits," said Claudia Soare, Anastasia's daughter and the president of the company, according to Allure . "I'm taking four of our highlighters that are the same size and putting them in one palette."
Even though the palettes appear to be for two different types of wearers at first glance, they're actually seasonal. One is lighter for winter, while the other is warmer for the summer months. If you don't feel light using it all over your face, they also make for beautiful eyeshadow shades in addition to highlighters and bronzers. The options for use are really up to the owner's imagination.
"I wanted to create the Gleam kit because I wanted to do something that reminded people of winter, so they could create that snow princess vibe," Soare told Allure. So while it does work for everyone, it's especially helpful for lighter-skinned customers looking for a wearable highlight. "A lot of times we hear from our ultra-fair customers that gold and peach and bronze don't work, and that she prefers a silvery highlighter," says Claudia. "It's a category that's kind of ignored for fair-skinned girls."
But really, when I checked out the swatches of the new palettes, I realized they all could look great on any skin tone.
Surprisingly, the kits are in still available on anastasiabeverlyhills.com and retail for $40. The product description says it's a "metallic powder highlighters for intense luminosity" and you should "layer shades together or wear them separately on eyes and body. For even more glow, apply with a damp makeup brush." You don't have to tell me twice!
I have a feeling this product will be on the cheeks of tons of vloggers and celebs in the coming months, and soon a cult-favorite product. Khloe Kardashian is already a huge fan of their Illuminators, so I'm sure we'll be seeing her rock this new product on her Instagram very soon.
Want more beauty tips? Check out the video below, and be sure to subscribe to Bustle's YouTube page for more hacks and tricks!
Image: @anastasiabeverlyhills/Instagram