What To Expect From 'Star Wars: Episode VIII'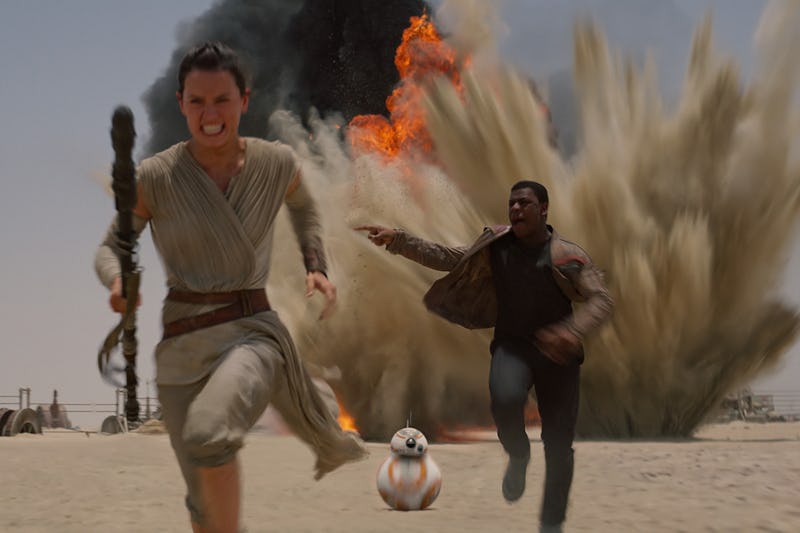 If there's one thing Star Wars fans can count on, it's that the next two films in the Star Wars series are going to be pretty darn "weird" — at least, that is what a friend of Rian Johnson, the writer and director of Star Wars: Episode VIII is saying. In an exclusive interview with the Los Angeles Times , Lawrence Kasdan — who was a screenwriter for Star Wars: Episode VII — The Force Awakens — expressed enthusiasm for Johnson leading the screenwriting charge for the next two movies. Specifically, of Johnson taking the reigns of the script for the next two installments, Lawrence said: "These movies will all be so different... Johnson is a friend of mine — he's going to make some weird thing." In other words, this movie is going to be a lot different than the previous seven. So, what should Star Wars fans expect from Star Wars: Episode VIII ?
Well, given what we know of the next film in the series — it was recently revealed that some scenes had already begun filming — it's likely that these next two film will be pretty different from the ones that have come before. In fact, with Johnson at the helm, anything is possible for it.
But given what we know of Johnson and his previous work, I think there are a few things that audiences can expect from Episode VIII.
Stunning Scenery
According to Screen Rant, Johnson has already begun shooting some sequences for the newest film in Ireland. And you can be sure that Ireland as a backdrop coupled with Johnson's amazing cinematic eye is sure to be a doozy of a combination.
Some Serious Metaphors
Johnson is responsible for the episode of Breaking Bad that had everyone talking. Remember "The Fly"? That episode was directed by Rian Johnson and involved the perfect narrative setup: Two guys stuck in a meth lab with one very hairy metaphor getting in their way.
Some Crazy Time Travel
Like Looper, Johnson's dimension-busting movie, it might be possible that Episode VIII will involve some time travel that includes old characters coming back.
Love-Driven Storylines
In The Brothers Bloom and Brick, Johnson wrote and directed movies that featured protagonists who were driven to act by their love for the women in their lives. I'm hoping Johnson pulls some of that into Episode VIII.
As different as Episode VIII may be with Johnson at the helm, given what we know about his cinematic record, there are a few things we can probably count on. Only time will tell if Johnson sticks to the script for this movie or approaches it completely out of left field. Either way, it's bound to be absolutely amazing.
Images: Walt Disney Pictures; Giphy (4)