15 Cute Sports Bra To Get You Motivated In 2016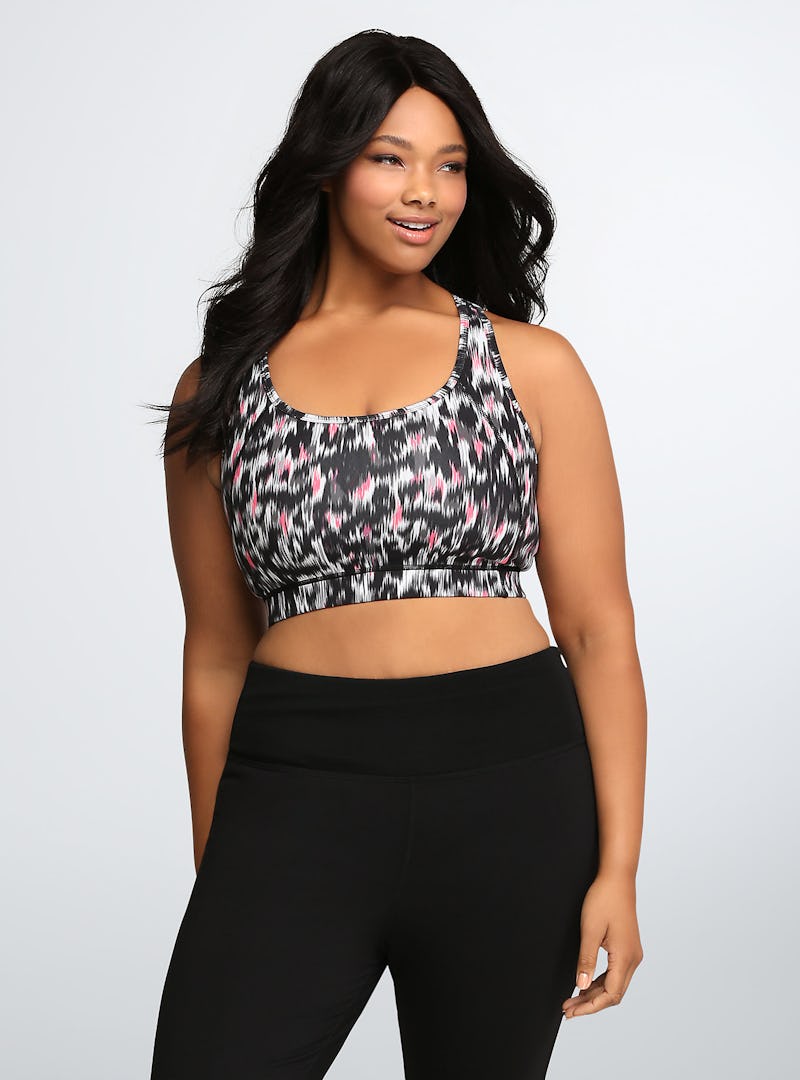 I've been part of a gym for about eight months now, and I'd say that I've successfully gone for three, maybe. The struggle is real, but I'm thinking the trick is to invest in some cute sports bras to kick up my motivation. I mean, what got me to sign up for the gym in the first place was picking up a cool pair of sneakers and tricking myself into thinking I'd actually go.
At this point, the only way I'll go back to the gym is if someone takes my hand and forces me to walk there, makes me run on the treadmill, and watches me intensely as I lift some (baby) weights. My last savior is finding something cute that I just have to wear to the gym. Cue: the sports bras. And today, there's so many cool ones out there that I can even see myself wearing to brunch or even work!
With athleisure basically ruling 2015, it's more and more common to see people rocking the same thing to lunch as they would to the gym. Joggers have basically become the norm — I've definitely worn my Free Runs with a blazer and black trousers. Essentially, the line between work and play has pretty much blurred, which means ultimate comfort for all of us, and that, I definitely won't complain about.
So in honor of 2016 and my New Year's resolution of "gym-ing" more, here are 15 cute sports bras that'll definitely get you motivated — or at the very least, keep you cute and comfortable at brunch.
1. A Little Leopard Print
Varley Rose Leopard Palisades Sports Bra, $70, avenue32.com
With a black mesh top over it? Too cool.
2. Strappy & Sassy
Criss Cross Sports Bra, $24, humblechic.com
With a loose tank, this is the perfect bra to transition between yoga and lunch.
3. The '80s Throwback
Forever 21 High Impact Heathered Ombre-Paneled Sports Bra, $14.90, forever21.com
If you're a lover of all things neon, this one's for you.
4. Mesh Paneling
Varley Terri Sports Bra With Mesh Panel, $60, bergdorfgoodman.com
You can't deny that you want this bra in your workout/brunch ensemble.
5. Pretty Cutouts
Missguided Active Cross Back Sports Bra Monochrome, $20.40, missguidedus.com
If your dresses, tops, and skirts can have cutouts, why can't your bra?!
6. XXX
Heroine Sport X-Front Printed Sports Bra, $110, bergdorfgoodman.com
OK, seriously, this bra is a work of art.
7. Colorblock
Alo Zena Bra, $60, aloyoga.com
Color blocking is always a good idea, and this bra proves just that.
8. Pretty Florals
Live The Process Seamless Grid Bra, $130, dianiboutique.com
Though this one's all about flowers, the blacks, greys, and greens keep it from feeling too girly.
9. Textured Beauty
Vimmia Aliegro Sports Bra, $92, revolveclothing.com
It's all about the details, and if you look closely enough, you'll see the gorgeous texture on this badass bra.
10. Crop Top
Free People Bonita Bra, $58, freepeople.com
This may be a more low-impact bra, for yoga or pilates, but it pretty much doubles as a cute crop for summer days.
11. The Classic
Nike Pro Indy Dri-Fit Sports Bra, $45, shop.nordstrom.com
Because sometimes, minimal is best.
12. Front Zip
C9 Champion Women's Plus Size Compression Zip Front Sports Bra, $15.40, target.com
Easy to put on and take off.
13. The Wild Print
Torrid Active Abstract Print Sports Bra, $38.50, torrid.com
Whether you're going on a hike, on a run, or to a weight-lifting class, you'll definitely be the edgiest one in the place.
14. Bringing Sexy Back
So Low Athletic Cut Out Sports Bra, $74, revolveclothing.com
Seriously, I'd wear this under a sheer white button up out to dinner.
15. A Serious Pop Of Color
Elomi Energise Underwire Sports Bra, $66, herroom.com
Serious support and serious style. Count me in.
Want more style tips? Check out the video below, and be sure to subscribe to Bustle's YouTube page for more hacks and tricks!
Images: Courtesy of Brands