'Dawson's Creek': Where Are They Now?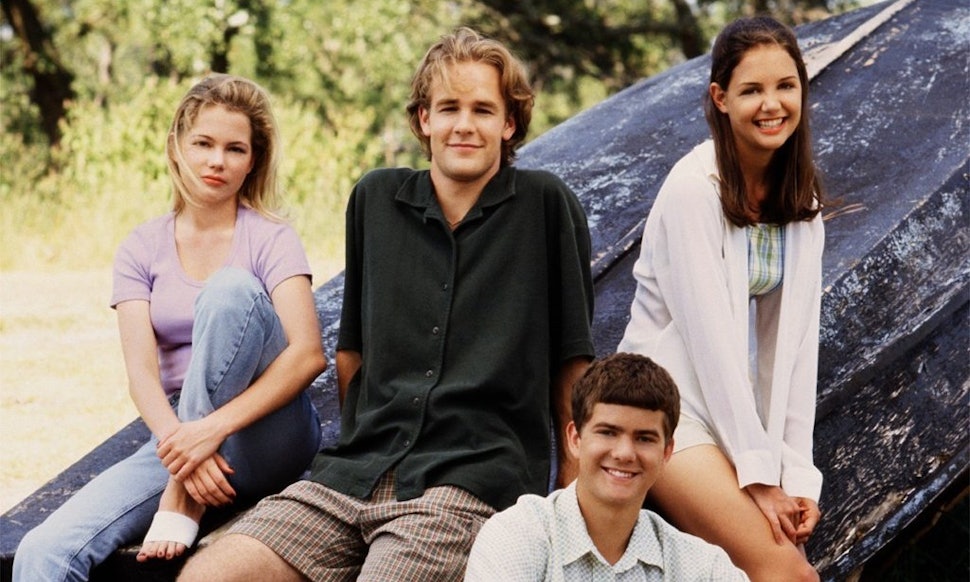 It's been 16 years since we first met Dawson Leery and Joey Potter, back when the WB was still a channel and frosted tips were a thing (looking at you, Pacey). A lot has changed since 1998, including the stars of the beloved teen sitcom. Check out the main cast then and now.
Image: The WB
Katie Holmes as Joey Potter
The only member of the cast to be in all 128 episodes, Katie Holmes played the quintessential girl-next-door to Van Der Beek's Dawson. "So much of me is in Joey and it really felt like I grew up on television," said Holmes to Cosmopolitan in 2004.
Image: The WB
Katie Holmes
Since her big break, Holmes has starred in several movies, most notably Pieces of April, First Daughter and Batman Begins. She even portrayed Jacqueline Kennedy in an eight-part miniseries opposite Rob Lowe. Holmes has been a tabloid favorite for the past decade for her love life and for birthing the most famous child in Hollywood. She'll return to the big screen this year in the adaptation of The Giver.
James Van Der Beek as Dawson Leery
An aspiring filmmaker, Dawson Leery and his best friend/soulmate Joey Potter have been watching films together forever, especially that of Steven Spielberg. Despite losing Joey to his best friend, the three of them remain good friends even after Jen dies. In the series' finale, Dawson goes on to become the executive writer and producer of The Creek, a meta reference to the show itself.
Image: The WB
James Van Der Beek
After his Dawson fame, Van Der Beek has done some TV movies and guest spots on popular TV shows, including How I Met Your Mother and One Tree Hill. His best role since Dawson's Creek was a fictionalized version of himself on the cancelled Don't Trust the B- in Apartment 23. For now, he lives on in meme form.
Joshua Jackson as Pacey Witter
Despite everything, Pacey finally got the girl. The Pacey/Dawson debate was the original Peeta/Gail situation, and the series finale left half the audience cheering and the other half wishing Joey had chosen Dawson instead.
Image: The WB
Joshua Jackson
After Dawson's Creek ended in 2003, Jackson did a few movies and TV episodes. He was cast in his first reoccurring role since his days as Pacey in J.J. Abrams' Fringe. The series ended in 2013. Nowadays, you can find Jackson with his stunning wife, Diane Kruger.
Michelle Williams as Jen Lindley
Michelle Williams was able to transform rebellious bad girl Jen Lindley into someone the audience rooted for. And after living what seemed like the worst life ever, she tragically died at age 25.
Image: The WB
Michelle Williams
Williams is the most successful of the seven cast members (um, hello Louis Vuitton ad), and has done a lot since her Dawson days. She's starred opposite Leo DiCaprio and Ryan Gosling, and earned an Oscar nomination for her portrayal as Marilyn Monroe. And on top of everything, she's a mom to the late Heath Ledger's daughter, Matilda.
Kerr Smith as Jack McPhee
At the time, Dawson's Creek was the leading teen drama and tackled taboo issues that Glee, One Tree Hill, or any other teen drama now cover without much controversy. Kerr Smith's character Jack was a closeted teen that learned to deal with coming out and the loss of a sibling, along with the mental health issues his twin and mother faced. Smith was also the first to share an onscreen kiss with another man on primetime TV.
Image: The WB
Kerr Smith
Since 2003, Smith has done some work on horror films and a few small reoccurring guest roles on various shows. His last notable role was on the cancelled CW show, Life Unexpected.
Meredith Monroe as Andie McPhee
Meredith Monroe joined the cast in season two as a love interest for Pacey, but left in season four when producers shared that her character's only story arc left would be a relationship with Dawson. Monroe's Andie had mental health problems, which was another taboo subject at the time.
Image: The WB
Meredith Monroe
After leaving Dawson's Creek for good, Monroe had a bunch of guest roles in popular TV series, as well as made-for-TV movies. She also starred as FBI Agent Aaron Hotchner's wife on Criminal Minds before being killed on the 100th episode of the show.
Busy Philipps as Audrey Liddell
Best known for her role as Kim Kelly on the short-lived Freaks and Geeks, Philipps joined the cast in 2001 as Joey Potter's college roommate. Her character Audrey Liddell is an L.A. blonde with singing aspirations. She and Pacey dated for a bit before having a terrible breakup.
Image: The WB
Busy Philipps
After the series ended in 2004, Philipps had various guest roles on television before landing ER in 2006. Currently, she stars on ABC's Cougar Town as Laurie Keller.