The Background Of Lt. James Lenk & Steven Avery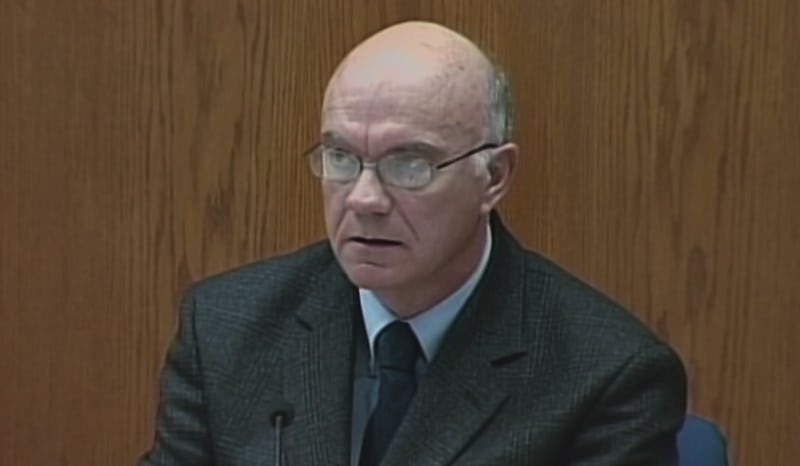 It's quite possible by now that you've heard the name Steven Avery, thanks to the hyper-popular documentary series Making a Murderer. Avery, 53, is currently serving a life sentence in prison without possibility of parole, following his 2007 conviction for the murder of photographer Teresa Halbach. But now, with the Netflix series taking a closer look at the case, doubts are being cast on the conviction, with allegations of evidence tampering and coerced testimony flying. The people involved are under increased scrutiny. For example: Who is Lt. James Lenk?
First, some essential background. The 2007 conviction was not the first time Avery was sentenced to some major prison time in Manitowoc County, Wisc. ― in 1985, he was convicted of rape and assault. He was ultimately exonerated by DNA evidence in 2003, a staggering 18 years after he was put away, in a case that was a considerable black eye for county authorities. After getting out, Avery filed a multi-million dollar lawsuit against the county, as well as its former district attorney and sheriff.
If you've been watching Making a Murderer, then Lenk's face might look familiar to you. Lenk was one of two officers from the Manitowoc County Sheriff's Office chiefly tasked with investigating Halbach's 2006 murder, and during the trial, he came under some heavy probing.
As the Appleton Post-Crescent details, Lenk was accused of planting evidence to incriminate Avery, including DNA evidence by way of a blood sample, and Avery's defense highlighted this possibility at trial to try to weaken the state's case. Lenk flatly denied this. It was also revealed through questioning by Avery's attorney, Dean Strang, that Lenk had volunteered to search Avery's bedroom, despite the fact that he'd been deposed just weeks prior as part of Avery's aforementioned lawsuit. When Strang asked Lenk if he thought it would've been fairer to Avery to have somebody who hadn't been deposed in the suit search the room, Lenk replied, "No sir, I don't think it would've been."
Needless to say, this is an absolutely crucial point. Although there's nothing presented in Making a Murderer that makes what actually happened plain and ironclad, if you believe the allegations that have been directed at Lenk, the entire case is thrown into doubt. Bustle has reached out to the Manitowoc County Sheriff's Department for comment.
For the record, former prosecutor Ken Kratz, who handled the Avery case for the state of Wisconsin, has publicly condemned these accusations, both at the time and since Making a Murderer debuted, accusing its creators of omitting relevant evidence. When Avery's defense took aim at Lenk's credibility in 2007, he made the following remarks to the press, calling it "deplorable":
At least around here, maybe not in Milwaukee, maybe not in Brookfield, maybe not in Madison, but around these parts, if you're gonna suggest that a cop is crooked, you're gonna suggest that a cop committed crimes, then you better have something other than your elbows on the table.
Image: Making a Murderer/Netflix