How To Make Coconut Oil For Hair Use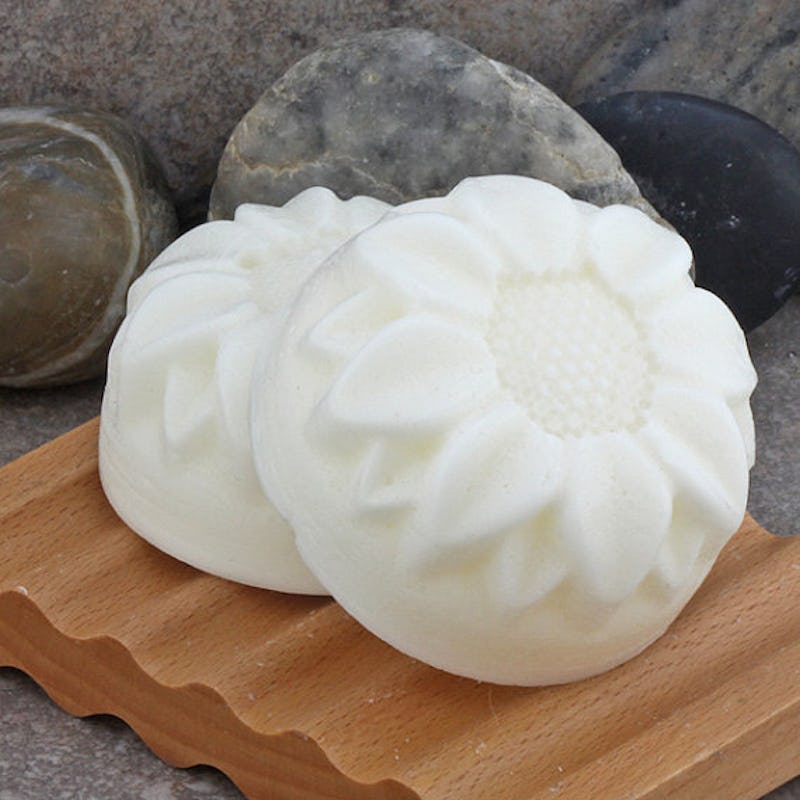 Coconut oil continues to take over the world full force, so it's time to embrace this magical product if you haven't already. If you're still unsure how to make coconut oil for hair use, have no worries at all. It's so much easier than you think!
In case you've never used coconut oil for your hair, the most popular way also happens to be the easiest. For the most wonderfully cheap DIY deep conditioning hair mask, all you have to do is literally take a large spoonful of softened coconut oil (you can melt coconut oil lightly over your stove or in the microwave) and rub it through your hair until it's completely coated. Then, cover your hair with a shower mask and leave the coconut oil in it for anywhere from fifteen minutes to an hour. Head to the shower after to rinse it all out with shampoo. Once your hair dries, you'll notice how much more hydrated it is.
If the idea of directly covering all of your hair in coconut oil is intimidating though, no worries. I was skeptical at first, and decided to ease my way in by using hair products with coconut oil in them. But once I realized the coconut oil made my hair soft instead of greasy, I went all in!
Organic Virgin Coconut Oil, $26, Amazon
Below are some of my favorite products infused with the dream oil. Once you've gotten your feet wet (or should I say, hair wet) and feel more comfortable with the product, I encourage you to take the full, all-natural coconut oil plunge. You won't regret it!
1. Texturizing Beach Sea Spray
Texturizing Beach Sea Spray, $12, Green Lovely Products
With a combination of purified sea water and luxurious coconut oil, this product will give your hair effortless waves in a flash.
2. Hair Shine Pomade
Hair Shine Pomade, $7.50, OrionBotanical
For a sleek (but not greasy) finish, reach for this organic coconut oil-infused pomade that smells like tropical dreams come true.
3. Salty Mermaid Shampoo
Salty Mermaid Shampoo, $16, SunyIslandBlu
This harsh chemical-free shampoo is super concentrated, so a little goes a long way and each bottle lasts forever. I love how light, clean, and hydrated my hairs feels after using it!
4. Split End Balm
Split End Balm, $5.50, TrueLineage
If frizz is raging all over your head, a few swipes of this balm will smooth everything down and also leave your hair smelling like you just stepped out of the shower.
5. Solid Hair Conditioning Bar
Solid Hair Conditioning Bar, $9, AlaiynaBSoaps
This bar is beautiful, perfect for sensitive skin, and full of coconut, shea, argan, and cocoa oils for a luxuriously moisturizing conditioning experience.
6. Coconut Oil And Olive Oil Hair Mask
Coconut Oil And Olive Oil Hair Mask, $10, Amazon
This mask takes the already perfect coconut oil mask and makes it even better thanks to the addition of essential oils like rosemary, lavender, and thyme. Bliss.
7. Tamarind And Coconut Shampoo Bar
Tamarind And Coconut Shampoo Bar, $1, Futuregiftdelivery
Admittedly, the first time I used this bar I also wanted to lick it. It just smells that delicious. It's also 100 percent vegan!
Want more beauty tips? Check out the video below, and be sure to subscribe to Bustle's YouTube page for more hacks and tricks!
Images: Courtesy of Brands